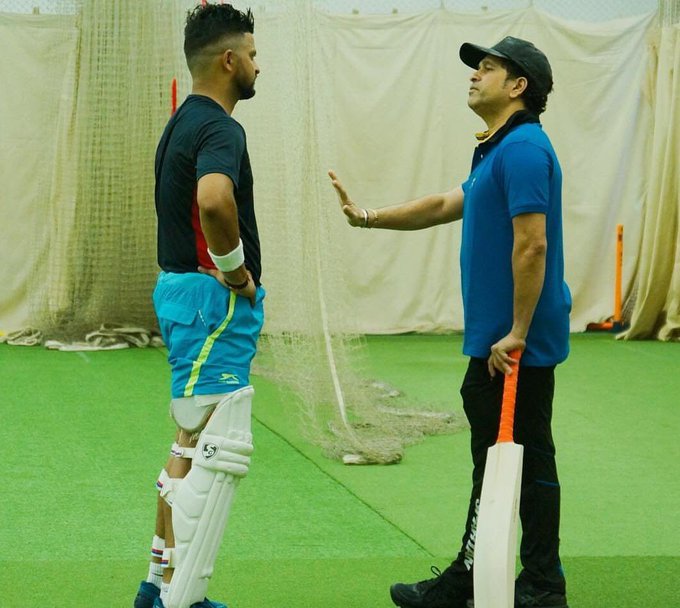 No matter how bad your day is going, we can promise you, these top 10 tweets can brief about India (24-Apr-2018) in a minute.
1. Suresh Raina is tweeting about #HappyBirthdaySachin .


To the man who united a billion Indians and brought a smile to their faces everytime he walked out to bat. A dream that he turned into reality.

Sachin is an emotion.. Sachin is a phenomena!

Happy birthday, Paaji!! @sachin_rt

#HappyBirthdaySachin pic.twitter.com/PRVNVnAFVw

— Suresh Raina🇮🇳 (@ImRaina) April 24, 2018
2. MadhuPurnima Kishwar is tweeting about #Mehbooba .


Why is Shehla Rashid collecting lakhs of rupees for #Asifa family to fight legal case when Mehbooba govt taking the lead in prosecuting the accused? Is this meant to get the testimonies doctored to perfection? Right now Asifa family script exposes holes in PDP/Shehla version

— MadhuPurnima Kishwar (@madhukishwar) April 16, 2018
3. Kiren Rijiju is tweeting about Meghalaya .


The revocation of the Armed Forces (Special Powers) Act by Home Ministry from Assam, Meghalaya & most areas of Arunachal Pradesh is due to significant improvement of security scenario in North-East India in last 4 years.

— Kiren Rijiju (@KirenRijiju) April 23, 2018
4. Sanjay Jha is tweeting about #OlaCab .


Cancelled #OlaCab driver because his name was Modi. In summer, one can do with less hot air.

— Sanjay Jha (@JhaSanjay) April 23, 2018
5. khemchand sharma is tweeting about #VenkaiahNaidu .


We thanks VP Shri #VenkaiahNaidu ji for Rejecting #Impeachmentmotion against CJI Dipak Misra ji moved by Congress
Reasons-
Politically Motivated
7 MPs already retired
Lacked in numbers of MP in LS

It will save dignity of SC & Stop disturbance in #RamMandir case. #CJIDipakMisra pic.twitter.com/RI5USZKc3l

— khemchand sharma (@SharmaKhemchand) April 23, 2018
6. Vivek Agnihotri is tweeting about #Gadchiroli .


First, 16 of their comrades got killed by brave @crpfindia in Gadchiroli. And Now this. #UrabnNaxals will try every dirty trick to stay in the game which is slowly being destroyed by the current government. https://t.co/EpzFBO3j8q

— Vivek Agnihotri (@vivekagnihotri) April 23, 2018
7. Sumit kadel is tweeting about #Diya .


Shilpa ji k paas sabse kimiti jo chiz hai woh aap shilpians ho.. Unke acche karam ka yeh nayaab taufa diya hai ishwar ne inhe..Meiney kai star ki loyal fan following dekhi hai, shilpians love towards her is unconditional. Salaam karta hoo aise fans ko👍👍👍

— Sumit M kadel (@SumitkadeI) April 22, 2018
8. Randeep Singh Surjewala is tweeting about #MODIfiedReddyBros .


Modiji comes to rescue of 'Bellary Gang'

'No one stole Iron-ore' worth Rs 35,000 Crore!

Why is Modiji & Shri Amit Shah shielding accused of 'Loot of Public Money' & 'Plundering of Natural Resources' & reason for giving 8 BJP tickets to 'Reddy Brothers & Co'? #MODIfiedReddyBros pic.twitter.com/D8qfR0I4ds

— Randeep Singh Surjewala (@rssurjewala) April 24, 2018
9. Shobha Karandlaje is tweeting about #BadamiWithBJP .


Mr @siddaramaiah is being fooled by his intelligence team by asking him to contest in Badami.When 20 out of 26 Taluk Panchayat is won by BJP & majority of Grama Panchayat is with BJP. It looks like @INCIndia mislead him & wants to finish his political career. #BadamiWithBJP

— Shobha Karandlaje (@ShobhaBJP) April 24, 2018
10. Aditya Raj Kaul is tweeting about #DontSpareVVIPKiller .


Is there a guarantee that Manu Sharma, killer of Jessica Lal, will not again murder an innocent in fit of rage if he is set free in society? Who will take the risk of giving a guarantee that he is reformed from being a brutal killer? #DONTSPAREVVIPKILLER

— Aditya Raj Kaul (@AdityaRajKaul) April 23, 2018