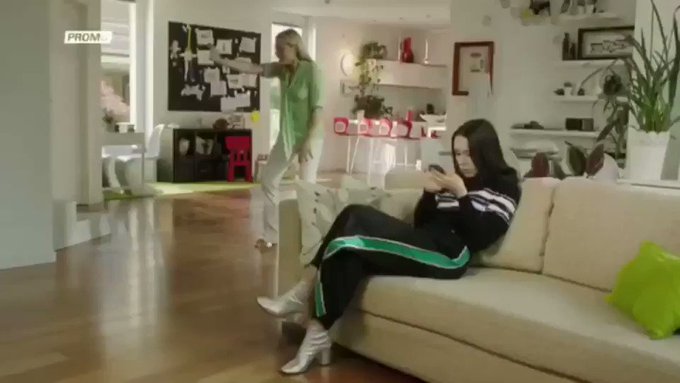 No matter how busy your day was, we can promise you, these top 10 tweets can brief about Italy (04-May-2018) in a minute.
The best of Twitter Today In Italy
1. michelle hunziker had tweeted about #vuoiscommettere .


Vuoi Scommettere? Ci siamo quasi....!!! A partire dal 7 Maggio su canale 5 dopo @Striscia!
Vi baciooooooo ❤❤❤#vuoiscommettere pic.twitter.com/7m9LTzJ4rX

— michelle hunziker (@m_hunziker) May 2, 2018
2. michelle hunziker had tweeted about #vuoiscommettere .


Attenzione amici, piccolo cambiamento 😊
Vi comunico che la prima puntata di #VuoiScommettere? andrà in onda il 17 maggio sempre in prima serata su Canale5 subito dopo @Striscia! pic.twitter.com/Zbi74DdFU5

— michelle hunziker (@m_hunziker) May 3, 2018
3. Nicola Morra had tweeted about Rosatellum .


Adesso il monstrum è il #Rosatellum.
Lo dicevamo noi M5S e tutti zitti. Tutti.

Ora vogliono un Governo per cambiare #Rosatellum.
Per sopprimere ciò che loro stessi hanno partorito!

Fate pace col cervello, ve ne prego.

— Nicola Morra (@NicolaMorra63) May 4, 2018
4. exStabilimentoFlorio had tweeted about #domenicalmuseo .


Domenica 6 maggio 2018 ritorna in Sicilia #domenicalmuseo 😍ingresso gratuito in tutti i musei e parchi archeologici regionali 😜 ph Vito Lombardo #Favignana #exstabilimentoflorio pic.twitter.com/DDI71gh7Yk

— exStabilimentoFlorio (@exTonnaraFlorio) May 4, 2018
5. ???? ?? had tweeted about #PerColpaDellaJuve .


Reina va al Milan #PerColpaDellaJuve
Simeone ha fatto tripletta #PerColpaDellaJuve
ADL non spende soldi #PerColpaDellaJuve

Potrei ascoltarvi per sempre 😍

— 𝓝𝓲𝓷𝓪 𝓙𝓾 (@nina_ju_) May 3, 2018
6. Claudio Quintanilla had tweeted about Jn 15 .


Para ser amigos de Jesús debemos vivir sus enseñanzas: "ámense los unos a los otros como yo les he amado" #EvangelioDelDía Jn 15,12-17

— Claudio Quintanilla (@QuintanillaY) May 4, 2018
7. Adriano Attus had tweeted about #Dogliani .


Possiamo considerare la carta stampata un "nuovo medium"? E la #data #visualization può contribuire al successo di un giornale? Ne parliamo oggi al @FestivaldellaTv di #Dogliani con @wildmazzini, @raphael_zanotti, @fedfragapane e @signorelli82 https://t.co/sWXTUAzgjm pic.twitter.com/nngyrAj1UZ

— Adriano Attus (@adrianoattus) May 4, 2018
8. Martina Belluschi had tweeted about #MATRIMONIOAPRIMAVISTA .


Complimenti esperti avete riunito tutte le persone che odio di più al mondo: il sessista, il moscio, la rompicazzo, la sottomessa e per finire l'ingrata. Roberto ti salvi solo tu #Matrimonioaprimavista

— Martina Belluschi (@Marti_bellu) May 3, 2018
9. MILE Milena Lazzaroni had tweeted about #HoSempre .


E... come vuoi iniziarla una giornata se non con un #sorriso? #HoSempre pensato fosse il miglior saluto ...lo credo ancora 🙂#HappyFriday 😍 pic.twitter.com/nyGwQwbRLz

— MILE Milena Lazzaroni (@MilenaLazzaroni) May 4, 2018
10. Barbara Segalerba ??? had tweeted about #ErmalMetaRILive .


#ErmalMetaRILive tu che guardi al cielo ed è subito #Sanremo2016 ❤ hai ammaliato anche le 🌟🌟🌟 e le hai cambiate pure a noi!! E adesso tocca a quelle di Lisbona!! Forza ragazzo!! Siamo con te!! 💪😘 #NonMiAveteFattoNiente #esc2018 pic.twitter.com/pDfwmYk4WJ

— Barbara Segalerba 🌱💛🐺 (@BarbaraSegaler1) May 4, 2018