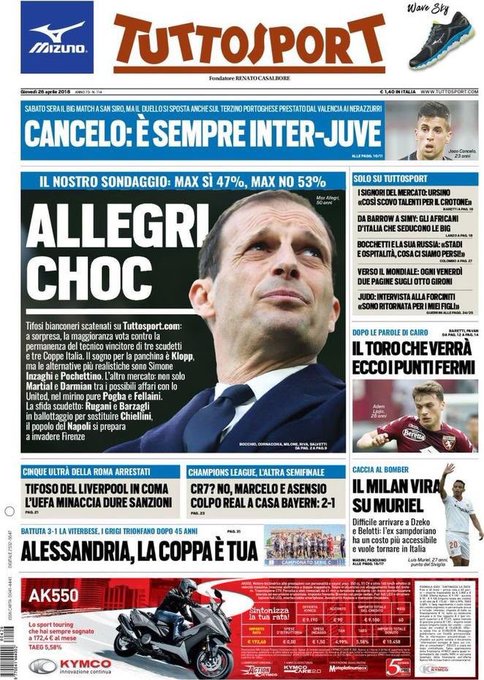 No matter how busy your day was, we can promise you, these top 10 tweets can brief about Italy (12-May-2018) in a minute.
The best of Twitter Today In Italy
1. Fabrizio Biasin had tweeted about #intersassuolo .


Tutti parlano di #LazioInter:

- #DeVrij
- gli assenti.
- la grande attesa.

Ma #Spalletti non è fesso e oggi ci parlerà di #InterSassuolo, che al momento è parecchio più importante di #LazioInter.

Senza #InterSassuolo non esiste #LazioInter, guai a chi si fa fregare.

— Fabrizio Biasin (@FBiasin) May 11, 2018
2. Maurizio Pistocchi had tweeted about Il 12 .


Nel periodo d'oro del calcio italiano-1986/2000- la Juventus ha vinto solo 3 scudetti. Dal 2011 ad oggi ne ha vinti 7.Solo due, 2011/12 e 2017/18, contro avversari competitivi, e tra le polemiche. Il Segreto dopo Juve-Napoli pic.twitter.com/WJVVaJDl3t

— Maurizio Pistocchi (@pisto_gol) May 11, 2018
3. Nicola Morra had tweeted about #riabilitazione .


#Berlusconi secondo il tribunale del Riesame di Milano è di nuovo candidabile.
Ce ne faremo una ragione.
La vera sfida è far capire, a chi lo voglia, che è "invotabile".
Ora come prima. Ora come dalla nascita di FI.#riabilitazione #Severino

— Nicola Morra (@NicolaMorra63) May 12, 2018
4. Italrugby had tweeted about #CARvGLO .


Dopo @sergioparisse, @JakePolledri?

Il flanker di #Italrugby questa sera in campo a Bilbao nella Finale di @ERChallengeCup #CARvGLO con la maglia del @gloucesterrugby

📺 diretta @Eurosport_IT 2 alle 21 pic.twitter.com/OqjUfFqm5g

— Italrugby (@Federugby) May 11, 2018
5. La Stampa had tweeted about #lanuovastampa .


Domani in edicola #lanuovastampa ecco @Maumol che presenta la nuova veste grafica: "Due giornali in uno" pic.twitter.com/TIZOblxLMw

— La Stampa (@LaStampa) May 11, 2018
6. Marco Amelia had tweeted about #BeneventoGenoa .


Oggi seguiremo i due anticipi #BeneventoGenoa e #InterSassuolo: appuntamento dalle ore 17.00 su @PremiumSportHD (canale 370-380) con SerieALive.#serieapremium #sportmediaset #seriea #Benevento #Genoa #Inter #Sassuolo pic.twitter.com/pccIU0q7qA

— Marco Amelia (@AmeliaGoalie) May 12, 2018
7. ValentinaPetrini had tweeted about #NemoRai2 .


Grazie!!! #NemoRai2 https://t.co/8iLIWa1tsY

— ValentinaPetrini (@ValentinaPetrin) May 12, 2018
8. Travel blog Calabria – South Italy had tweeted about #buonsabato .


La #direttameteo e #marelive per @3BMeteo da uno dei balconi più belli al 🌏. Auguriamo un #BuonSabato e #BuonWeekend. #CapoVaticano, #CostaTirrenica, #SudItalia. pic.twitter.com/MeDQnS6mYo

— Travel blog Calabria - South Italy (@calabriaonline) May 12, 2018
9. roberto #antifascista had tweeted about #flattax .


Perché puntare all'equità, se è più facile avere l'uguaglianza?
Finalmente i #poveri potranno essere uguali ai #ricchi!
Pagheranno le loro stesse percentuali di tasse!
Siate felici, questo potrebbe essere un grande giorno (per i ricchi)!#flattax

Pagherete caro

— roberto #antifascista (@roby800) May 12, 2018
10. Alessandra Marconi had tweeted about #BolognaChievo .


"Questo tifo è proprio quello che serviva". Domenica una cornice di pubblico che non si vedeva da tempo per supportare e sostenere il #Chievo. I ringraziamenti di #Pellissier, @Sorrentino e gli applausi da parte del Chievo Fan Official. Oggi su @larena 🗞Domenica #BolognaChievo pic.twitter.com/OdElH3BnvU

— Alessandra Marconi (@Ale87marconi) May 11, 2018