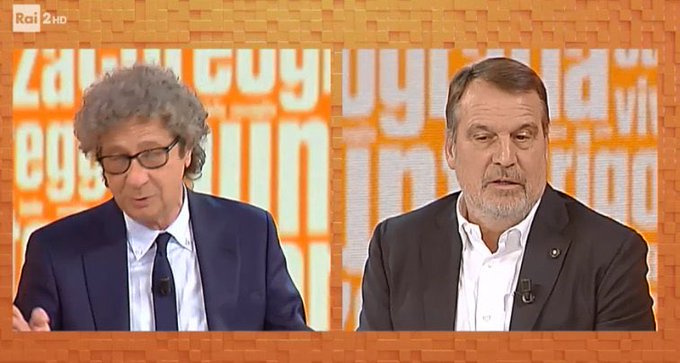 No matter how busy your day was, we can promise you, these top 10 tweets can brief about Italy (16-May-2018) in a minute.
The best of Twitter Today In Italy
1. Maurizio Pistocchi had tweeted about #cucchi .


"Abbiamo vinto 36 scudetti"(Chiellini)""Non voglio discutere, ma gli Scudetti sono 34"(Cucchi). "Ma tanto li hai vinti,che te ne frega"(Marco Tardelli) LaDomenica Sportiva 13maggio2018 SERVIzioPubblico pic.twitter.com/aI6TXWmv3O

— Maurizio Pistocchi (@pisto_gol) May 14, 2018
2. FIGC had tweeted about #Mancini .


Roberto Mancini è il nuovo commissario tecnico della Nazionale: presentazione ai Media domani, martedì 15 maggio, alle ore 12 presso il Centro tecnico federale di Coverciano. Info accrediti: https://t.co/6ALP7YhokR pic.twitter.com/wszXfKNmJF

— FIGC (@FIGC) May 14, 2018
3. Riccardo Fraccaro had tweeted about #MaratonaMentana .


In Germania ci sono voluti 6 mesi. In Olanda 7, in Spagna 10. Il Governo del cambiamento presto sarà pronto ma stiamo innovando la politica: preferiamo definire bene i temi, invece di dare la priorità ai nomi. Nella Terza Repubblica vengono prima i cittadini #maratonamentana #M5S pic.twitter.com/d5vUNDkNIg

— Riccardo Fraccaro (@riccardo_fra) May 14, 2018
4. ANNALISA had tweeted about #LauraPausini .


E auguri di cuore alla Queen @LauraPausini ❤️

— ANNALISA (@NaliOfficial) May 16, 2018
5. Giovanni Ferrari had tweeted about Nina Moric .


La fragilità di Nina Moric mi fa impressione. Come si fa a sfruttare il suo essere una donna fragile per aumentare gli ascolti? Mi provoca dolore vederla lì, così, indifesa, di fianco a gente che la usa per i propri interessi. #GF15

— Giovanni Ferrari (@GiovanniFerrar) May 15, 2018
6. Quirinale had tweeted about #Quirinale .


#Quirinale: Il Presidente #Mattarella riceve la delegazione del "MoVimento 5 stelle" #consultazioni pic.twitter.com/0HMof5k8SV

— Quirinale (@Quirinale) May 14, 2018
7. Rai Radio2 had tweeted about osimo .


Buongiorno da Osimo, arrivo della undicesima tappa! Ritwitta e andrai veloce in salita, in discesa e in pianura #giro101 ascoltaci su https://t.co/LX1vqzHbvp pic.twitter.com/s43aGwRrce

— Rai Radio2 (@RaiRadio2) May 16, 2018
8. Riccardo Scandellari had tweeted about #SASForumMilan .


Sembrerebbe esserci una correlazione tra il numero di premi Nobel e il consumo di cioccolata. Più cioccolata si consuma e più si diventa intelligenti?
I dati dicono questo, ma i dati da soli non significano nulla senza analisi: "Correlation is not causation" #SASforumMilan #AI pic.twitter.com/XcjUkD7ZE3

— Riccardo Scandellari (@skande) May 15, 2018
9. Giovanni Scotto had tweeted about #delaurentiis .


Finito il pranzo tra #Sarri e #DeLaurentiis a casa dell'allenatore. Confermato l'incontro interlocutorio, le parti di aggiorneranno di nuovo domani. Si lavora per proseguire insieme, c'è ottimismo. Se tutto andrà bene il tecnico rinnoverà per un altro anno.

— Giovanni Scotto (@scottotweet) May 16, 2018
10. Gianlu ⓢ ⓘ ⓡ had tweeted about #ilicic .


Dopo anni finalmente uno che saprebbe battere punizioni e angoli!!! Per me è un grosso si!!! #Ilicic ⚫️🔵

— Gianlu ⓢ ⓘ ⓡ (@Gianlu_Sir) May 16, 2018