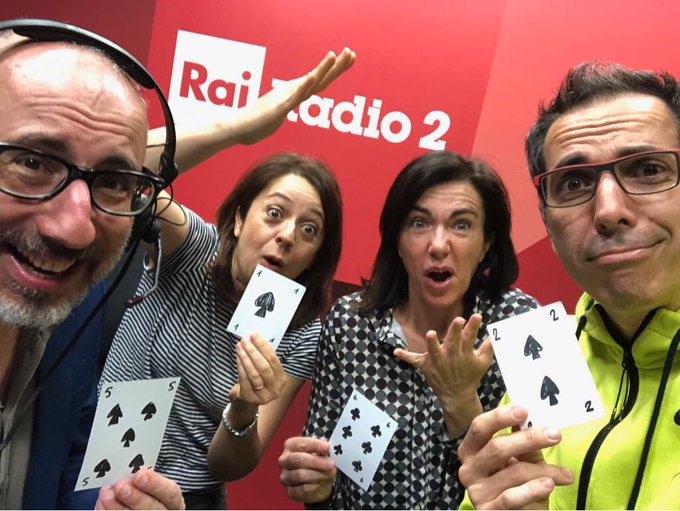 No matter how busy your day was, we can promise you, these top 10 tweets can brief about Italy (27-Apr-2018) in a minute.
The best of Twitter Today In Italy
1. Tg La7 had tweeted about #consultazionibis .


#consultazionibis @luigidimaio . Capisco chi tra i nostri dice "mai col Pd" così come quelli del Pd che dicono "Mai con il M5s". Cerchiamo di ragionare con nuove ottiche, per fare le cose

— Tg La7 (@TgLa7) April 26, 2018
2. Rai Radio2 had tweeted about #27aprile .


Frascati: vietati i giochi di carte per turpiloquio. Buona idea o una ...ata? Ritwitta e farai sempre scopa! Ascoltaci su https://t.co/3GKp6jhkoi #27aprile #carte #parolacce pic.twitter.com/zwUrjB8Tvi

— Rai Radio2 (@RaiRadio2) April 27, 2018
3. mariano cirino had tweeted about #cassese .


Una lezione di democrazia da Sabino #Cassese. Felici di averlo ospitato per la prima volta a #piazzapulita

— mariano cirino (@marianski65) April 26, 2018
4. Tg La7 had tweeted about #consultazionibis .


#consultazionibis @luigidimaio stiamo cercando di mettere al centro i problemi delle persone senza pensare al tornaconto del @Mov5Stelle

— Tg La7 (@TgLa7) April 26, 2018
5. Michele Emiliano had tweeted about #VillaggioColdiretti .


L'agricoltura è il cuore della nostra economia. Oggi si apre a Bari il #VillaggioColdiretti, siamo felici di accogliere migliaia di agricoltori e di valorizzare le eccellenze del Made in Italy @coldiretti pic.twitter.com/gfnr40V7D8

— Michele Emiliano (@micheleemiliano) April 27, 2018
6. diogomainardi had tweeted about Compadre de Lula .


Compadre de Lula fala em 'claríssimo entendimento do STF' para se livrar de Moro https://t.co/ZiKhPTQUk5

— diogomainardi (@diogomainardi) April 27, 2018
7. Giorgio Papallo had tweeted about #portaaporta .


#Rosato a #portaaporta: "Noi siamo compatibili con Forza Italia. Con Movimento 5 stelle, no".
Ecco, appunto, sono 25 anni che vediamo questa compatibilità.
Vero Violante?https://t.co/g4GvnPIiNo

— Giorgio Papallo (@giopge) April 27, 2018
8. Corinna Caccianiga had tweeted about #cespazio .


Le merendine non servono! Su Marte io e @aapv2016 abbiamo aperto una pizzeria! 😜 e #cespazio per tutti gli #amicidicespazio!

— Corinna Caccianiga (@CorinnaCora) April 27, 2018
9. Nico had tweeted about #consultazionibis .


Quando #Berlusconi lo metterà in culo a #Salvini (succederà) io sarò qui con i popcorn a leggere le reazioni dei leghisti che stanno scassando la minchia sul possibile accordo #M5S - #PD ...#SalviniHaPaura#consultazioni #consultazionibis #Consultazioni2018

— Nico (@nicorst) April 27, 2018
10. il mulo seduto had tweeted about Sossio .


Diffidate sempre di chi parla di sé in terza persona. #sossio #uominiedonne

— il mulo seduto (@steffvolponius) April 27, 2018