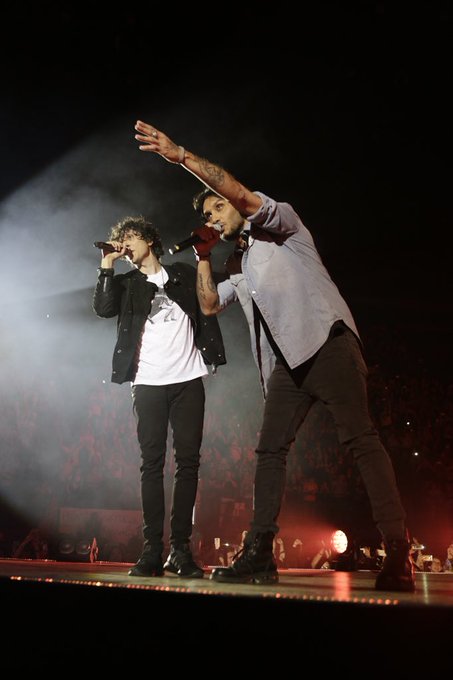 No matter how busy your day was, we can promise you, these top 10 tweets can brief about Italy (30-Apr-2018) in a minute.
The best of Twitter Today In Italy
1. Maurizio Pistocchi had tweeted about Icardi .


Inter-Juventus 2:3 La Juventus in 2' minuti ribalta una gara che aveva condotto in 11 >10 ( espulsione di Vecino al 18')con DCosta , subendo la rimonta dell'Inter-Icardi, aut.Barzagli-grazie ai gol di Cuadrado/Higuain. Gravissimi errori di Orsato, che hanno condizionato la gara

— Maurizio Pistocchi (@pisto_gol) April 28, 2018
2. Radio 105 had tweeted about #ermalmetalivealforum .


Non mi avete fatto niente. @FabrizioMoroOff e @MetaErmal ancora insieme sul palco del Forum! #em105 #fabriziomoro #ermameta #ErmalMetaForum #ErmalMetaLivealForum pic.twitter.com/eni49GtsPe

— Radio 105 (@Radio105) April 28, 2018
3. michelle hunziker had tweeted about #29aprile .


Realizzarsi nella vita è già una grande conquista. Ma il vero successo è vincere la scommessa d'amore...camminare con l'uomo che ami fino alla fine dei giorni e creare una famiglia da amare. Forse proprio perché difficile da realizzare è la mia scommessa più importante.#29aprile pic.twitter.com/nv1zGr7gDU

— Michelle Hunziker (@m_hunziker) April 29, 2018
4. Giorgio La Porta had tweeted about #leiene .


Che bello il grillino #Fico che sale sulla sua #autoblu con tanto di scorta come un perfetto politicante della #casta. Ora i militanti del #M5S diranno che le scorte sono giuste o staranno zitti come cagnetti addomesticati? Ipocriti e incoerenti! #LeIene https://t.co/sXB33INAFG pic.twitter.com/NegymVY4Kd

— Giorgio La Porta (@Giorgiolaporta) April 29, 2018
5. michelle hunziker had tweeted about #thewall .


Questa sera ci troverete ospiti del nostro Gerry Scotti a THE WALL!
Vi aspettiamo in prima serata su #Canale5!#TheWall pic.twitter.com/2RfBIO8CHD

— Michelle Hunziker (@m_hunziker) April 22, 2018
6. Ivan Scalfarotto had tweeted about palazzo chigi .


Veramente simpatico @luigidimaio che tiene bloccato il Paese da due mesi perché o lui va a Palazzo Chigi o niente, e si permette pure di parlare dell'ego di @matteorenzi.

— Ivan Scalfarotto 🇪🇺 (@ivanscalfarotto) April 30, 2018
7. Fabrizio Biasin had tweeted about #demagistris .


#DeMagistris è un politico.
I politici sfruttano i momenti.
I politici ti dicono quello che vuoi sentirti dire.
Lavorano sui grandi numeri: "Qualcuno capirà che lo faccio per raccattare consensi, ma molti altri no".
Sta ad ognuno di noi non farsi fregare. pic.twitter.com/FIwJdEZTep

— Fabrizio Biasin (@FBiasin) April 30, 2018
8. SPAL had tweeted about #VeronaSPAL .


Scatti di #VeronaSPAL#ForzaSpal pic.twitter.com/tkNuiiuky8

— SPAL (@spalferrara) April 29, 2018
9. Andrea Giorgi had tweeted about sirigu .


Sirigu stasera ha parato pure le bestemmie che ho tirato! #TORINOLAZIO

— Andrea Giorgi (@andreagiorgiSsl) April 29, 2018
10. Christian Puggioni had tweeted about #beneventoudinese .


E se sarà sudata, onori la città...Una passione così è una grande risorsa. Onoriamola fino alla fine, insieme! Alè Stregoni! #benevento #BeneventoUdinese #serieatim #tifosi @bncalcio @SerieA_TIM pic.twitter.com/HWorq5BrnL

— Christian Puggioni (@Puggio_1) April 29, 2018