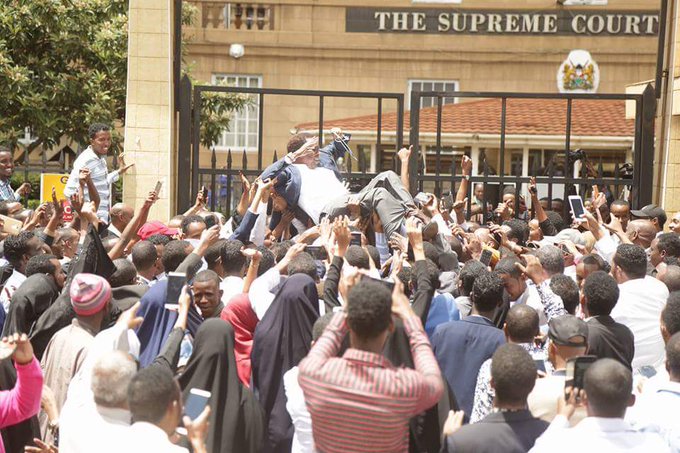 No matter how bad your day is going, we can promise you, these top 10 tweets can brief about Kenya (21-Apr-2018) in a minute.
1. Donald B Kipkorir is tweeting about wafula chebukati .


Wafula Chebukati was never given a chance to exercise his mandate as Chairman Of IEBC ... He was undermined throughout by the CEO, the Vice Chair & Cohorts ... I advise Chebukati to stay put & serve the balance of his mandate.

— Donald B Kipkorir (@DonaldBKipkorir) April 16, 2018
2. Boniface Mwangi is tweeting about Raila .


Is @RailaOdinga doing a farewell tour? Ama he is jobless? All this handshakes are meaningless to the masses who believed in him. IF the people who died, got wounded and lost property protesting on his behalf don't get justice, Raila will retire as a sellout. https://t.co/NdxXQiFwqx

— Boniface Mwangi (@bonifacemwangi) April 20, 2018
3. Ahmednasir Abdullahi is tweeting about Wajir .


First time in my 25 years career as a lawyer that a client gave me this treatment...thanks to the the good people of Wajir...@ASHAKURHUSSEIN @WehliyeMohamed @DonaldBKipkorir @makaumutua @WMutunga @Paul_Muite @HonAdenDuale @AbdikadirMohami @Asmali77 pic.twitter.com/NYMtYoWoiv

— Ahmednasir Abdullahi (@ahmednasirlaw) April 21, 2018
4. #TeamShaffie is tweeting about Sema .


Sema Balls....WaaaauuuuuHhhhhh @Kiss100Kenya #AdelleAndShaffieOnKISS @ADELLEO pic.twitter.com/7Ssm3uUUoN

— #TeamShaffie (@ShaffieWeru) April 19, 2018
5. Churchill is tweeting about #NextYear .


Gotta listen to this... @OCTOPIZZO #NextYear

— Churchill (@MwalimChurchill) April 20, 2018
6. Trendinalia Kenya is tweeting about Game Yetu .


⒈ #NextYear
⒉ BREAKING NEWS
⒊ #CityMallNyaliFunWeekends
⒋ #ARealManIs
⒌ #MaishaConcertFriday
⒍ #PhotoPhridayOnKISS
⒎ J Cole
⒏ Rwanda
⒐ Game Yetu
⒑ High Court

2018/4/20 09:50 EAT #trndnl https://t.co/6AyDQDZQ89

— Trendinalia Kenya (@trendinaliaKE) April 20, 2018
7. The African Voice is tweeting about #ExperienceTangaza .


#ExperienceTangaza Tangaza university college is a constituent college of the Catholic university of East Africa and is recognized by the ministry of Education.

— The African Voice (@teddyeugene) April 20, 2018
8. Mark Luther is tweeting about #PraiseFestWithTodd .


Took up this challenge... One of my favorite songs, always on repeat 🔄#toddcoverchallenge #praisefestwithtodd#grooveawards#MarkLutherMusic pic.twitter.com/f3CdIbJvXa

— Mark Luther (@Mark_Luther_) April 20, 2018
9. Trendinalia Kenya is tweeting about #KTNWeekendExpress .


⒈ #YouthandDevolutionKE
⒉ #RIPAvicii
⒊ Arsenal
⒋ #MomboAGM2018
⒌ #KuzaAwards2018
⒍ DP Ruto
⒎ #KTNWeekendExpress
⒏ Rwanda
⒐ Big Four
⒑ MP Grace Kipchoim

2018/4/21 13:51 EAT #trndnl https://t.co/6AyDQDZQ89

— Trendinalia Kenya (@trendinaliaKE) April 21, 2018
10. Kenya Red Cross is tweeting about Nyeri .


Thegu Ward in Kieni, Nyeri, after heavy downpour this morning. pic.twitter.com/bYUvqPETQY

— Kenya Red Cross (@KenyaRedCross) April 21, 2018