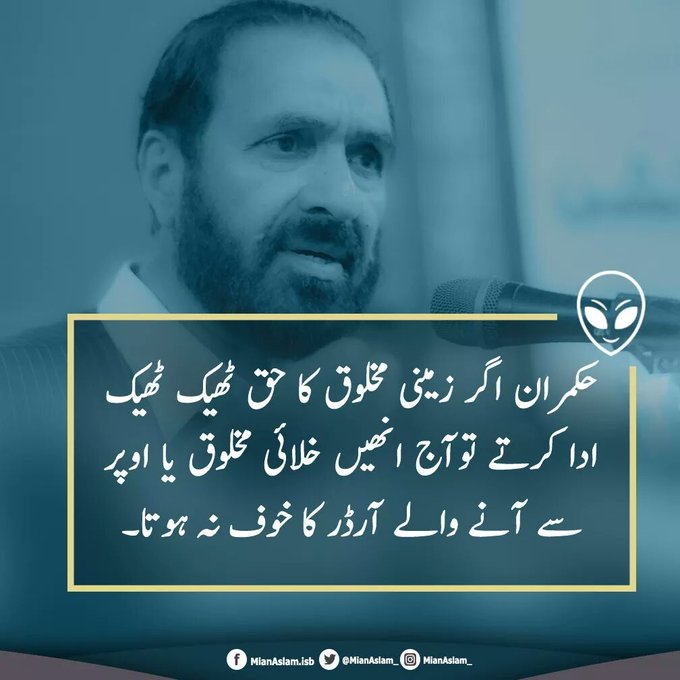 No matter how busy your day was, we can promise you, these top 10 tweets can brief about Pakistan (14-May-2018) in a minute.
The best of Twitter Today In Pakistan
1. Mubasher Lucman had tweeted about article 6 .


Nawaz Shareef should be prosecuted under Article 6 of the constitution. He is a Disgrace & an Abomonation. A Two time CM & Three time PM. He has clearly acted against his own country and that too falsely. All those who vote for Ganjas will be considered anti state henceforth

— Mubasher Lucman (@mubasherlucman) May 13, 2018
2. Ameer Abbas had tweeted about #MilitaryTrialForNS .


Can Mian M Nawaz Sharif utter such statements, wasn't he under OATH as PM ?

Here is the oath of PM 👇https://t.co/iBv5sOgwWa

#Article6ForNawazSharif
#ArrestTraitorNawaz
#MilitaryTrialForNS
#TraitorNawazExposed
#MumbaiAttacks

— Ameer Abbas (@ameerabbas84) May 13, 2018
3. Mian Aslam had tweeted about #MMA_MinarePakistanJalsa .


The people only stand with those who serve them when in power.

You need to learn from MMA on how to serve people. IA#MMA_MinarePakistanJalsa pic.twitter.com/gaQNqHdUfe

— Mian Aslam (@MianAslam_) May 13, 2018
4. Mian Aslam had tweeted about #GetReadyForMMAJalsa .


Not Just Another Jalsi...
13 May will be Lota Free & HUGE RISE OF MMA. IA.#GetReadyForMMAJalsa pic.twitter.com/arEAW7RcAC

— Mian Aslam (@MianAslam_) May 12, 2018
5. Munir Ahmed had tweeted about #TimeToRefineYourself .


6. Aasia Ishaque 🇵🇰 had tweeted about #NeelumValley .


پاکستان کا قیمتی سرمایہ ضائع ہو گیا،
٥ ہلاک ٢٥ ابتک لاپتہ
اگر اس پُل پہ کوئی وارننگ نہیں لکھی تھی کہ پُل کمزور ہے تو حکومتِ ان تمام بچوں کی موت کی زمہ دار ہے.
ایک ماں کی حیثیت سے میں سوچتی ہوں کہ اللہ پاک ان پیارے پیارے بچوں کی مائیں کیسے روز جیئیں گی اور مریں گی؟#NeelumValley pic.twitter.com/8WYQcozc2K

— Aasia Ishaque 🇵🇰 (@aasia_ishaque) May 13, 2018
7. Sheikh Hassan had tweeted about Rehman Malik .


Rana sanaullah defend kr rha NS ki statement ko yeah keh kr k Rehman malik nay bhi yeahi kaha tha. Ktny chawal han yar yeah

— Sheikh Hassan (@umairhassanoo01) May 14, 2018
8. Galaxy Lollywood had tweeted about #MahiraKhan .


Day 2 at Cannes and here is look number one! Mahira Khan wears a dress by Blumarine, earrings by Zohra Rahman, rings by Maanesten, styled by Amar Faiz and lensed by Shakil Bin Afzal#MahiraKhan #MahiraxLorealPK #LorealPKatCannes pic.twitter.com/qGkM6gD5oS

— Galaxy Lollywood (@galaxylollywood) May 14, 2018
9. Muhammad Zubair had tweeted about #dasangaazadida .


#ManzoorPashteen told that he was harassed by Sindh police at several points from Punjab border to Karachi. The police has used abusive language and snached the mobile phone of his fellows. #DaSangaAzadiDa #PashtunLongMarch2Karachi

— Muhammad Zubair (@zchodhury) May 13, 2018
10. Newsonepk had tweeted about #Ramzan .


Thank you from Barkat-e-Ramzan team and Maya Khan for such a… https://t.co/ouG0siHtOo

— Newsonepk (@newsonepk) May 13, 2018