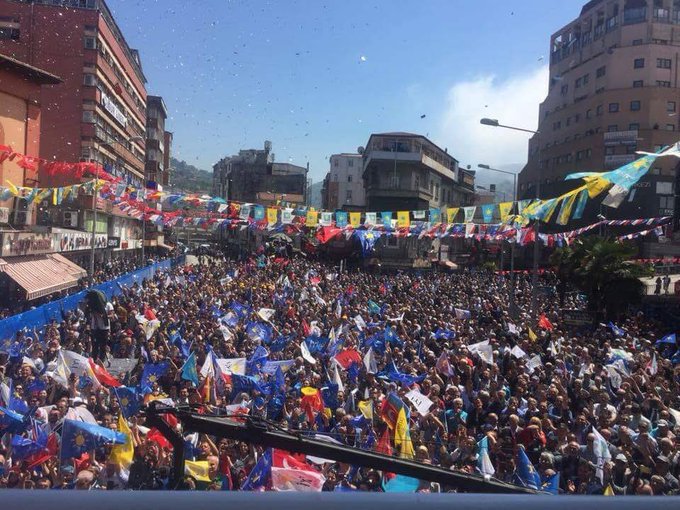 No matter how busy your day was, we can promise you, these top 10 tweets can brief about Turkey (07-May-2018) in a minute.
The best of Twitter Today In Turkey
1. Mehmet Aslan had tweeted about Cumhurbaşkanı MeralAkşener .


Muhteşem bir kalabalık, muazzam bir ilgi var...
İşte Zonguldak!
Milletimiz bizi destekliyor ve @meralaksener 'i Cumhurbaşkanı görmek istiyor...
Allah'ım sen yüzümü kara çıkartma🤲 pic.twitter.com/UJcjvde1aJ

— Mehmet Aslan (@Aslnmhmt) April 28, 2018
2. Ahmet Cihat Sancar had tweeted about Gomis .


3. Şehriyâr had tweeted about Mutlu Pazarlar .


Yunus Emre bu dünyada
İki kişi kalur derler
Meğer Hızır İlyas ola
Ab-ı hayat içmiş gibi...

Bugün yeryüzünün bir yerinde bir araya gelen bu iki gönül insanına Selam olsun...
Sevenlerinin de Yolları açık, işleri pâk, Hudâ yoldaşları olsun...

Mutlu Pazarlar pic.twitter.com/N6wddU3fnD

— Şehriyâr (@davutgoksu) May 6, 2018
4. ι̇вrαнι̇м вαşol had tweeted about Mustafa Er .


5. umberto oko had tweeted about Igor Tudor .


eşkıyadan da beter uslan be igor tudor pic.twitter.com/GPCdxmdHoX

— monsieur umberto öko (@UmbertoOko) May 6, 2018
6. Ebru💛💙#Haziran2018 had tweeted about Tebrikler Fenerbahçem .


7. 🦁 Ayberk 🌕🔴 had tweeted about MAÇ GÜNÜ .


8. Samet Ç had tweeted about #GratisBoykot .


9. Morbit angel had tweeted about #Hıdırellez .


10. kenan çağlayan had tweeted about #BirleşikDünyaDevleti .


#birleşikdünyadevleti
Hayırlı olsun 👏🏿👏🏿👏🏿 pic.twitter.com/VCphtgrV0K

— kenan çağlayan (@kenan_124) May 6, 2018