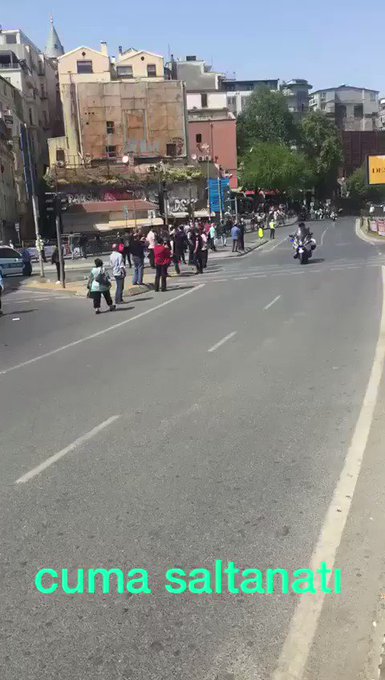 No matter how busy your day was, we can promise you, these top 10 tweets can brief about Turkey (13-May-2018) in a minute.
The best of Twitter Today In Turkey
1. 🇹🇷 Atila Sertel had tweeted about S I K I L D I K .


Bu saltanat bitsin artık...
S I K I L D I K pic.twitter.com/s5RnyWzX3j

— 🇹🇷 Atila Sertel (@AtillaSertell) May 11, 2018
2. Hulusi Belgu had tweeted about Ali Koç .


Sayın Başkan benden aday olduğumda 100 M Dolar getir başkan sen ol dedi, dünde Ali Koç 500 M Euro versin destekliyim demiş. Sen kulübü batır, zarar ettir kaybetiğin parayı biz verelim ne güzel dünya! Sayın başkanFenerbahçe başkanlığı satılık değil seçilen gereğini yapar.

— Hulusi Belgu (@HulusiBelgu) May 12, 2018
3. Şenol Pehlivan had tweeted about #AnnemDerki .


4. Şenol Pehlivan had tweeted about #SevgidirAnneyeEnGüzelHediye .


5. Ahmet Cihat Sancar had tweeted about #Kararlıyız .


6. Alim TUNC had tweeted about #HemşirelerGünü .


Hayatı bizler için yaşanır kılan hemşirelerimize minnettarız.
12 Mayıs #HemşirelerGünü kutlu olsun... pic.twitter.com/5QqADQvVbN

— Alim TUNÇ (@alimtunc) May 11, 2018
7. sinem çiçek had tweeted about #GelGöğsümeSığYarim .


8. ismail_Kus had tweeted about Bakan Çavuşoğlu .


Btso olarak 53. İstişare toplantısında Başbakan Yard. Sn. Hakan Çavuşoğlu ve Enerji Bakan'ı Sn. Berat Albayrak'ı Bursa İş Dünyası ile biraraya getirdik. pic.twitter.com/sowPvWcYg0

— ismail_Kus (@ismailkus16) May 12, 2018
9. f.arda had tweeted about Ömer Ali .


Ömer Ali'nin golünden sonra küçük taraftarımız. Sayın hocam oyunculara izletin lütfen fenerbahçe maçına bu kardeşimiz için saldırsınlar #SizinGücünüzBizimTutkumuz #BirlikteBaşaracağız @atancagdas pic.twitter.com/CcwIvtQKVr

— f.arda (@fahrettinarda) May 12, 2018
10. kemal kaptaner had tweeted about #istanbulkültürçalıştayı .


Sayın Numan Kurtulmuş @TCKulturTurizm Bakanımız sunumlardan notlarını alıyor.#istanbulkültürçalıştayı pic.twitter.com/EdLN3nkSvf

— kemal kaptaner (@kemalkaptaner) May 12, 2018