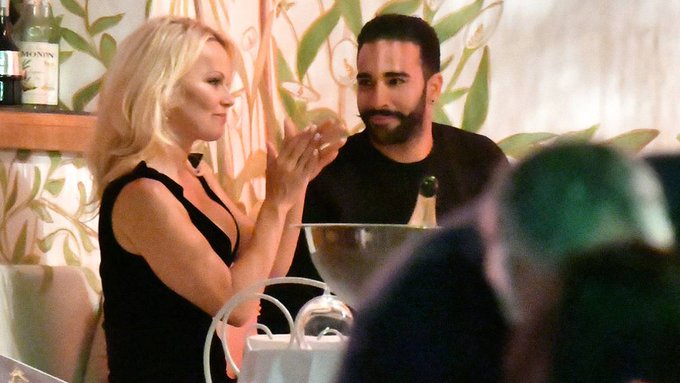 No matter how busy your day was, we can promise you, these top 10 tweets can brief about United Kingdom (18-May-2018) in a minute.
The best of Twitter Today In United Kingdom
1. Aamer Anwar🎗🌹 tweeted about Belgium .


After losing in Belgium Judge Llarena warns Germany not to make same mistake, so when will u dare warn us in Scotland? We are waiting for you too😂#DefendClara🎗 @ClaraPonsati #LlibertatPresosPolitics🌹 https://t.co/EuPksPIQm5

— Aamer Anwar🎗🌹 (@AamerAnwar) May 17, 2018
2. DjMaRiiO tweeted about pamela anderson .


3. The Sportsman tweeted about Benzema .


😅 Martial, Rabiot, Lacazette, Ben Yedder and Benzema have all been left out of the France Squad

Meanwhile England include Cahill, Welbeck and Henderson

Levels pic.twitter.com/Ug7ismk2g1

— The Sportsman (@TheSportsman) May 17, 2018
4. Thula Sindi tweeted about mampintsha .


Very unfortunate that Babes was ambushed on radio into revealing that Mampintsha was physically abusing her.
The abuse and the fault REMAINS with Mampintsha... HE is the abuser

— Thula Sindi (@thulasindi) May 18, 2018
5. Ewan Gunn tweeted about #diageo .


Dalwhinnie Distillery today, with just a little snow on the hills behind. #dalwhinnie #scotch #whisky #distillery #diageo #diageodistilleries pic.twitter.com/GHtTYOi6bI

— Ewan Gunn (@ewangunn) May 13, 2018
6. Giles Coren tweeted about BBC Breakfast .


These two clowns will be serving breakfast up a volcano in Chile tonight on BBC2 at 8pm. #AmazingHotels #BBC #PossibleFoodPoisoningScandal pic.twitter.com/VfmQMAwDgo

— Giles Coren (@gilescoren) May 17, 2018
7. Zia Ur Rehman tweeted about #fata .


It is called blackmailing .
As a protest against #FATA merger, JUIF has been boycotting (means opposing) anti-polio vaccination drive in tribal areas. https://t.co/mlytwsNtV4

— Zia Ur Rehman (@zalmayzia) May 18, 2018
8. CAPuk tweeted about #creditawards18 .


Tonight we are the chosen charity for the Credit Awards! #CreditAwards18 pic.twitter.com/Eco770iznn

— CAPuk (@CAPuk) May 17, 2018
9. GM Chamber tweeted about #GMCCDinner2018 .


I want GM to be the UK's leading green city and the UK's leading digital city - @AndyBurnhamGM at #GMCCDinner2018 pic.twitter.com/j7IPXGshhb

— GM Chamber (@gmchamber) May 17, 2018
10. Thula Sindi tweeted about #GetItBack .


Hmmm this #GetItBack video campaign by @CastleMilkStout has me in my feels... In a good way.
Reclaiming our space, land and economy in South Africa is paramount to getting the IT back. What are your thoughts? pic.twitter.com/BgKyY6UjBo

— Thula Sindi (@thulasindi) May 18, 2018