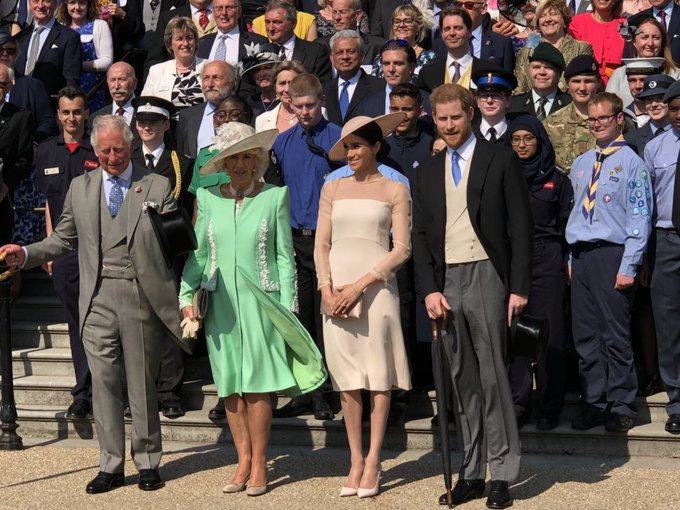 No matter how busy your day was, we can promise you, these top 10 tweets can brief about United Kingdom (24-May-2018) in a minute.
The best of Twitter Today In United Kingdom
1. Emily Nash tweeted about Garden .


Lovely images of Harry, Meghan, Charles and Camilla at the Garden Party: pic.twitter.com/HNrDiE9D4r

— Emily Nash (@emynash) May 22, 2018
2. Keith Downie tweeted about Jack Ross .


I understand Sunderland have agreed terms with St Mirren boss Jack Ross to become their new manager. Ross was Manager of the Year in Scotland this season.

— Keith Downie (@SkySports_Keith) May 23, 2018
3. The Royal Family tweeted about #DofE .


#GoldAward holders share their #DofE stories with The Countess of Wessex earlier today pic.twitter.com/uxftkU8W9J

— The Royal Family (@RoyalFamily) May 24, 2018
4. Bobby Robson Film tweeted about #MoreThanAManager .


Huge thanks to all of you @henrywinter and Terry Butcher in attendance at @wembleystadium for the screening of #MoreThanAManager. An unforgettable, emotional evening. Thanks for your incredible support. Special thanks to @SBRFoundation. Next stop @Official_ITFC Portman Road! pic.twitter.com/k0Io9VQeFQ

— Bobby Robson Film (@bobbyrobsonfilm) May 23, 2018
5. Megan Branson tweeted about #uxlondon .


6. Sam Coates Times tweeted about David Gauke .


Justice Secretary David Gauke is currently giving an interview on @BBCr4today in which he subconsciously did a little impression of predecessor Chris Grayling

Gauke said "We could say 'let's never release anyone on a temporary license...'"

- and changed his voice as he did so

— Sam Coates Times (@SamCoatesTimes) May 24, 2018
7. Ian Hamilton tweeted about #gamedev .


Calling all #gamedev #indiedev! You need to know about CVAA, legal accessibility requirements for in-game comms functionality, affects all games launched for US market from Jan 1st. Learn about it direct from Karen Peltz Strauss of the FCC: https://t.co/ZoRk2dbiQa @GA_Conf #a11y

— Ian Hamilton (@ianhamilton_) May 23, 2018
8. Princess Academy tweeted about #generationcruise .


#TeamPrincess ready for day two at @CLIAUK Conference 2018 #GenerationCruise pic.twitter.com/ajFO8BMLj4

— Princess Cruises UK Travel Agents (@PrincessUKSales) May 24, 2018
9. Barry Lewis tweeted about #MoreThanAManager .


It's 2:30am & just got back from a special screening of @bobbyrobsonfilm @wembleystadium in London absolutely incredible documentary & storytelling #MoreThanAManager pic.twitter.com/g0S9UObxih

— Barry Lewis (@MrBarryLewis) May 24, 2018
10. Catrin Owen tweeted about #uxlondon .


Day 1 of volunteering at UX London done. Feeling very inspired after @olishaw's masterclass on designing for Impact 👩🏼‍💻💡#ux #design #volunteer #inspired #uxlondon pic.twitter.com/bzVIv7dZqG

— Catrin Owen (@catrincreates) May 23, 2018