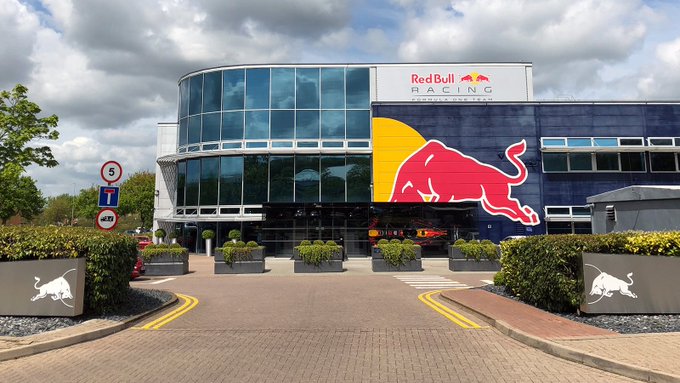 No matter how busy your day was, we can promise you, these top 10 tweets can brief about United Kingdom (03-May-2018) in a minute.
The best of Twitter Today In United Kingdom
1. Red Bull Racing had tweeted about #LoveMK .


No place like home... #LoveMK pic.twitter.com/8w8BC6xagR

— Red Bull Racing (@redbullracing) May 3, 2018
2. Stephen Canning had tweeted about #VoteConservative .


From blaming @BorisJohnson for the Salisbury attack to defending Syrian tyrant Assad and denying the Holocaust - if you vote #Labour tomorrow these are the people you are supporting. Don't be that person, #VoteConservative.https://t.co/QZ5yVjR7xH

— 丂ㄒ乇卩卄乇几 匚卂几几丨几Ꮆ (@EssexCanning) May 2, 2018
3. ASPoliceHorses had tweeted about #MMBHT .


Somerset & Quantock relax and eat some grass after their shift at @bhorsetrials today - some great community engagement working in partnership with our @ASPoliceOST colleagues #Mountedpatrols #MMBHT pic.twitter.com/GuzL8aQGyd

— ASPoliceHorses (@ASPoliceHorses) May 2, 2018
4. Alice Fearn had tweeted about #TBThursday .


#TBThursday to 3 years ago when I toured with these absolute beauties ❤️ @mrmichaelball @adrianhansel @sandramarvinuk #goodtimes #tourbusofdreams pic.twitter.com/tlvR7ohhsn

— Alice Fearn (@alice_fearn) May 3, 2018
5. Key 103 had tweeted about #SuperheroDay .


Tomorrow, @MissGAtkinson @HASLAMMATT & @Toolyboy will be staying on air AS LONG AS IT TAKES to raise £70,000 for #SuperheroDay and @TeenageCancer ✨ pic.twitter.com/ebwrUWl2T5

— Hits Radio (@hitsradiouk) May 3, 2018
6. UEFA.com had tweeted about #u17euro .


The Norway, Slovenia and Portugal coaches complete the Group B line-up #U17EURO pic.twitter.com/5WiGoshaZB

— UEFA.com (@UEFAcom) May 3, 2018
7. tabitha goldstaub had tweeted about #AInarratives .


Amazing room of thinkers ready for the 4th #AINarratives session. So important to get this right if we are to continue to bring the public along with innovation. If you want to hear from the group come to https://t.co/LnQBnQMxNY pic.twitter.com/M9lM1gZRjj

— tabitha goldstaub (@tabithagold) May 3, 2018
8. Carolyn Harris had tweeted about Virgin Media .


Yet to hear a credible reason for this. If @virginmedia Swansea
Flag ship being dumped what does that say about the company.
Will be working with colleagues over coming weeks to assist staff.

800 jobs cut as Virgin Media to shut Swansea call centre - https://t.co/s1fLz5cVNH

— Carolyn Harris (@carolynharris24) May 3, 2018
9. Jake Tilson had tweeted about #LoeweCraftPrize .


It's with great pride and love that I can announce that the 2018 #LOEWEcraftprize winner is my extraordinary wife Jennifer Lee pic.twitter.com/byrZcxvwDw

— Jake Tilson (@JakeTilson) May 3, 2018
10. Pete Lansley had tweeted about #U17EURO .


All ready for the #U17Euro, the @UoDFootyJournos have been interviewing eight of the tournament coaches here @StGeorgesPark, including #YoungLions' Steve Cooper. All tomorrow's matches covered. Here we go pic.twitter.com/yBsZ76g9Lg

— Pete Lansley (@PeteLansley) May 3, 2018