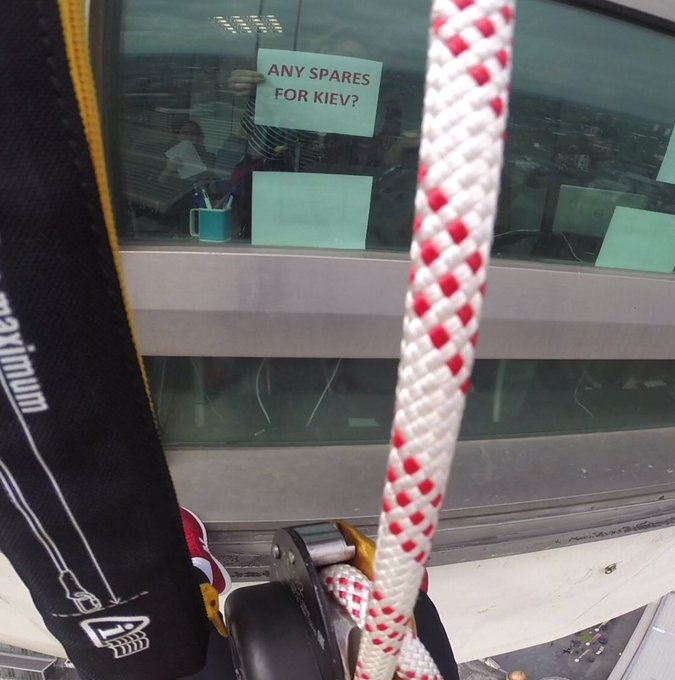 No matter how busy your day was, we can promise you, these top 10 tweets can brief about United Kingdom (05-May-2018) in a minute.
The best of Twitter Today In United Kingdom
1. Peter Moore had tweeted about Liverpool .


So you're abseiling down the 452 ft @RadioCity967 Tower here in Liverpool, when you see this. Nice try @lizzidoyle 😊😊😊 pic.twitter.com/6dlN8xXRXN

— Peter Moore (@PeterMooreLFC) May 4, 2018
2. Christian Martin had tweeted about #SuperRugby .


Se imaginan un club de fútbol argentino jugando la Champions League en Europa y derrotando a todos los grandes en su tierra? Eso es lo que esta haciendo @JaguaresARG en @SuperRugby HISTORICO https://t.co/BN6oc89Rsf

— Christian Martin (@askomartin) May 4, 2018
3. Scott Patterson had tweeted about Fellaini .


Love Fellaini giving it the big 'un and holding the club to ransom over his contract... and then playing like this days later 😂

— Scott Patterson (@R_o_M) May 4, 2018
4. Doncaster Rovers FC had tweeted about Keepmoat Stadium .


👏🏻| Congratulations to @AFCWimbledon on retaining their @SkyBetLeagueOne status, we look forward to welcoming you to the Keepmoat Stadium once again next season. #DRFC https://t.co/Dr9EyQettO

— Doncaster Rovers FC (@drfc_official) May 1, 2018
5. Bennetts British Superbike Championship had tweeted about #OultonBSB .


VIDEO: Look who has landed at @Oulton_Park - it's @kiyonariryuichi getting set for his return with @HondaRacingBSB this weekend #OultonBSB pic.twitter.com/9hTisPEEyM

— Bennetts British Superbike Championship (@OfficialBSB) May 4, 2018
6. Paul Ferguson had tweeted about Isle of Dogs .


2 years ago today I was in San Francisco living my gayest life in the Castro, a year ago today I was on Nijima Island tanning on a Pacific beach enjoying Golden Week. Today I'm waking up hanging out my arse on the Isle of Dogs.

— Paul Ferguson (@pokemon_paul) May 5, 2018
7. The Sportsman had tweeted about #SuperheroDay .


😢 The worst superhero of all-time.#SuperHeroDay pic.twitter.com/a4JvFh9qFA

— The Sportsman (@TheSportsman) May 4, 2018
8. Barrie McDermott 🏉 had tweeted about #SLLeeWar .


What a fantastic game of Rugby League that was, big win for @wolvesrl 9 from 9 for them @Darylclark9 was all class - quality game from @Harvey_Livett I've just seen @kevjonbrown & suggested he gives Harvey the watch Stevo bought in Lanzarote back in 2003 😂 #SLLeeWar

— Barrie McDermott 🏉 (@RLBarrieMc10) May 4, 2018
9. Portsmouth FC had tweeted about Brett Pitman .


📸 A familiar sight this season 👇#Pompey captain Brett Pitman wheels away in celebration after netting his 2️⃣4️⃣th goal in all competitions pic.twitter.com/k9vIBNsomX

— Portsmouth FC (@officialpompey) May 5, 2018
10. Fábio Ostermann had tweeted about Barroso .


Agora no Brazil Forum UK 2018, ao fim da ótima palestra do Ministro Barroso, uma doida no meio do público começou a gritar "Lula Livre" e "Lula Prisioneiro Político".

Vaias e risadas do público perante a performance tresloucada da petista 😂😂😂

— Fábio Ostermann (@FabioOstermann) May 5, 2018