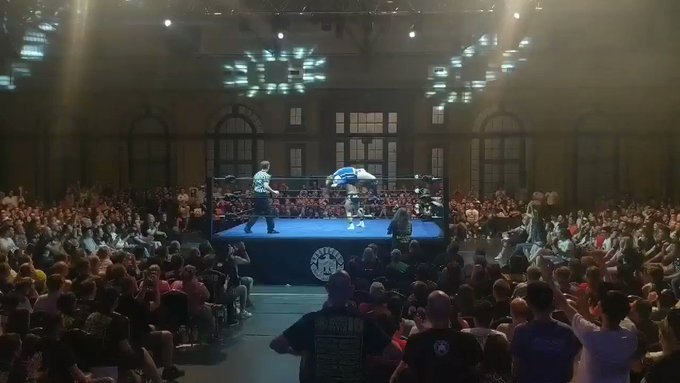 No matter how busy your day was, we can promise you, these top 10 tweets can brief about United Kingdom (07-May-2018) in a minute.
The best of Twitter Today In United Kingdom
1. Chris Wheatley had tweeted about Happy Bank .


Wenger: "I would be happy to sit in the North Bank. It depends if I work somewhere else or not. If you can offer me a ticket then fantastic. The positive of that is I can shout at the next manager."

— Chris Wheatley (@ChrisWheatley_) May 6, 2018
2. PROGRESS Wrestling had tweeted about #SSS16 .


.@Tyler_Bate just showed an incredible fest of strength to defeat @KassiusOhno. Wow. #BigStrongBoi #SSS16 pic.twitter.com/smr2V595zD

— PROGRESS Wrestling (@ThisIs_Progress) May 6, 2018
3. PROGRESS Wrestling had tweeted about #SSS16 .


After receiving a shoe from a fan, the #Shoezerweight - @PeteDunneYxB - strikes again. #SSS16 pic.twitter.com/9NqHmeiQ4c

— PROGRESS Wrestling (@ThisIs_Progress) May 6, 2018
4. Luciana Berger had tweeted about WIN News .


Tories have reinstated two councillors to their party following hideous racist posts. @BrandonLewis & co - this makes a mockery of your candidate "respect" pledge https://t.co/AF7k51lBPe

— Luciana Berger (@lucianaberger) May 6, 2018
5. Wolves Council had tweeted about #Proud2BeWolves .


The open top buses have arrived! How awesome do these look? Wolverhampton are you ready to party? #Proud2BeWolves #wwfc pic.twitter.com/lSHWTGx1EC

— Wolves Council (@WolvesCouncil) May 7, 2018
6. Roisin Ingle had tweeted about Ombudsman .


Emily O'Reilly, who is now Europea Ombudsman, praised @RositaBoland and said she suspected that more details about #AnnLovett would now emerge. "The first thread has been pulled." @EUombudsman https://t.co/MAgkEqPE9k

— Roisin Jingle🌲 (@roisiningle) May 7, 2018
7. Shea had tweeted about #VforVictory .


Very much looking forward to representing @Team_Vitality alongside @Tommey, @Peatie and @Wailers_WL. Very excited to compete alongside these guys and achieve great things together #VforVictory 🇫🇷🐝

— Shea (@QwiKeR) May 7, 2018
8. Superscoreboard had tweeted about Dave King .


Dave King says Rangers aim to raise around £6 million from a share issue next month.

However no new investors -

"At this stage there is nothing external other than existing shareholders and existing investors.

We are not talking to anyone new or anyone not there already"

— Superscoreboard (@ClydeSSB) May 7, 2018
9. YorkshireEveningPost had tweeted about #tourdeyorkshire .


Leeds looking lovely in the sunshine as the bumper crowd awaits @letouryorkshire finish - 10k to go 🚴‍♂️🚴‍♂️ #tourdeyorkshire pic.twitter.com/YJDVGS4ax2

— YorkshireEveningPost (@LeedsNews) May 6, 2018
10. Radka Hovadova had tweeted about #1000Guineas .


Guineas weekend 🏇🏇 #1000Guineas #Newmarket #racing pic.twitter.com/fv41KLsfMc

— Radka Hovadova (@RRadkahovadova) May 6, 2018