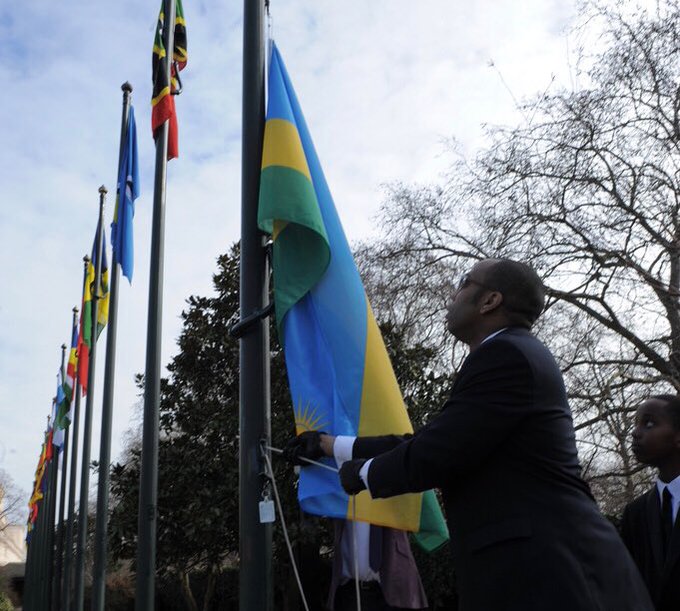 No matter how bad your day is going, we can promise you, these top 10 tweets can brief about United Kingdom (22-Apr-2018) in a minute.
1. The Commonwealth is tweeting about Rwanda .


#Rwanda will host the next #Commonwealth Heads of Goverment Meeting in 2020#ourCommonwealth #CHOGM2020@RwandaGov pic.twitter.com/vGTO09F0yE

— The Commonwealth (@commonwealthsec) April 20, 2018
2. Welsh Labour is tweeting about #WelshLab18 .


Congratulations to @carolynharris24, our new @WelshLabour Deputy Leader! #WelshLab18 pic.twitter.com/FYK7S2Bdtq

— Welsh Labour (@WelshLabour) April 21, 2018
3. Welsh Labour is tweeting about #WelshLab18 .


"Since I was elected your leader, I've made one thing the touchstone of my work, of our work as a party and a Government - and that is a commitment to fairness, in all its forms" - @AMCarwyn #WelshLab18 | Read the full speech here: https://t.co/mrQANemGJr pic.twitter.com/Z1agNXkbno

— Welsh Labour (@WelshLabour) April 21, 2018
4. michelle heaton is tweeting about #SherlockGnomes .


Looking forward to the film ... eating their faces off as usual lol 😂 #sherlockgnomes… https://t.co/Pa8vAcLBNZ

— michelle heaton (@wonderwomanshel) April 22, 2018
5. Chezza is tweeting about #KeithAndPaddyPictureShow .


Please tell me @TomCruise has seen #KeithAndPaddyPictureShow #TopGun I would like to think he would laugh.. a lot! Also big 👍 to the legend that is @PaulChuckle2 brilliant cameo

— Chezza (@topham_cheryl) April 21, 2018
6. Mark McCaughrean is tweeting about #spacerocks .


We have an audience 🤘 Just minutes to go at @spacerockslive: very exciting #spacerocks 😎 pic.twitter.com/ZTrBNDT9CD

— Mark McCaughrean (@markmccaughrean) April 22, 2018
7. Bradley Judge is tweeting about #WestEndEurovision .


Excited for a bit of West End Eurovision tonight!! Can't wait to see my girl @GNicoleUK do her thing 😍😍😍 #westendeurovision

— Bradley Judge (@BradJudge) April 22, 2018
8. Linda Bell is tweeting about #bbcbh .


Well hallelujah and thank you Janice Galloway on @BBCRadio4 #bbcbh for shining a light on the many Sparkian literary wonders beyond Miss Brodie!

— Linda Bell (@Lindabell15) April 15, 2018
9. Luke Harvey is tweeting about #firstontheroad .


Good luck to all involved with the first closed road stage rally happening in England today. Fingers crossed for a safe successful event @corbeaurally #FirstOnTheRoad

— Luke Harvey (@Rallycameraman) April 22, 2018
10. FergalO'Brien Racing is tweeting about #FramptonDonaire .


Well done @RealCFrampton

Those skipping sessions with @PaddyBrennan81 really paid dividends #FramptonDonaire

— FergalO'Brien Racing (@FOBRacing) April 22, 2018