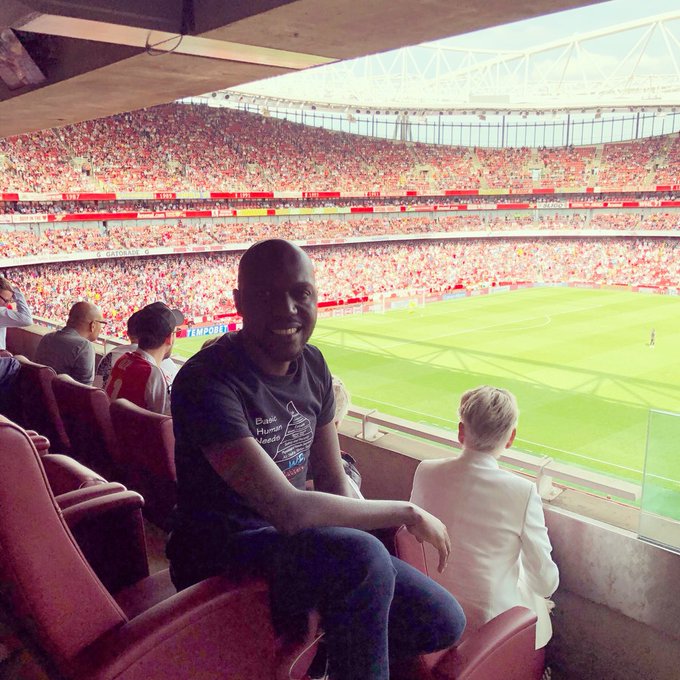 No matter how bad your day is going, we can promise you, these top 10 tweets can brief about United Kingdom (23-Apr-2018) in a minute.
1. Larry Madowo is tweeting about West Ham .


Arsenal always win when I come to watch a game but today's 4-1 beating of West Ham was extra special. The fans are ecstatic pic.twitter.com/ATv76uCCq3

— Larry Madowo (@LarryMadowo) April 22, 2018
2. Paul Mason is tweeting about BBC News .


From May 1968 to the miners strike BBC reporting was distorted by recruiting only people loyal to establishment https://t.co/mZ0WeB8wQh (..)

— Paul Mason (@paulmasonnews) April 22, 2018
3. Mark Beaumont is tweeting about #BigPedal .


Superb weekend of cycling around Oban - and a cracking community event - well done all riders and volunteers. I'm now en route to Manchester to be on @BBCBreakfast in the morning so tune in to hear all about #BigPedal #schools @sustrans @SustransScot https://t.co/DK1hUjYDfE

— Mark Beaumont (@MrMarkBeaumont) April 22, 2018
4. Shakespeare B Trust is tweeting about #ShakespearesBirthday .


Good morning, it's #ShakespearesBirthday & #StGeorgesDay 🏴󠁧󠁢󠁥󠁮󠁧󠁿 Our Head of Research @Paul_Edmondson will be chatting all things Shakespeare live on @BBCRadio2 @achrisevans Breakfast Show at 08:40. Do tune in...📻 pic.twitter.com/mhQbaa1jFt

— Shakespeare B Trust (@ShakespeareBT) April 23, 2018
5. Helle Thorning S is tweeting about #SyriaConf2018 .


Would you send your children to a school that looked like this?

This is the scene that @save_children have recreated today in #Brussels to remind leaders of the reality of millions of #ChildrenofSyria #SyriaConf2018 #EndWaronChildren pic.twitter.com/j7DJS8Az7F

— Helle Thorning S (@HelleThorning_S) April 23, 2018
6. World Snooker is tweeting about Jamie Jones .


What an afternoon! 👌

Jamie Jones goes through with an incredible deciding-frame victory over Shaun Murphy - tune in now for the evening session 📺 #ilovesnooker @Betfred pic.twitter.com/A4V3ZcRGkT

— World Snooker (@WorldSnooker) April 23, 2018
7. Mr Dore is tweeting about Jack Lester .


Bring back Jack Lester to @NFFC Academy with Gary Brazil & Gareth Holmes #nffc 🔴⚪️ pic.twitter.com/lQsv17S1oT

— Mr Dore (@ItsMrDore) April 23, 2018
8. Darren Bell is tweeting about west end eurovision .


West End Eurovision funsies! pic.twitter.com/UGT9Ns0plb

— Darren Bell (@darren_bell) April 22, 2018
9. BusbyHotel is tweeting about #ScotHotelAwards .


Fantastic result - we all knew she was the best GM in Scotland @ScotHotelAwards #ParryNumber1#BuzzInBusby pic.twitter.com/Kxgyx1VepS

— BusbyHotel (@TheBusbyHotel) April 22, 2018
10. Passion Nonce is tweeting about #popmaster .


6 and 9. That bloke who lost with 33 on Friday has just thrown his radio out of the window. #Popmaster

— Announce Simeone (@CS_CFC) April 23, 2018