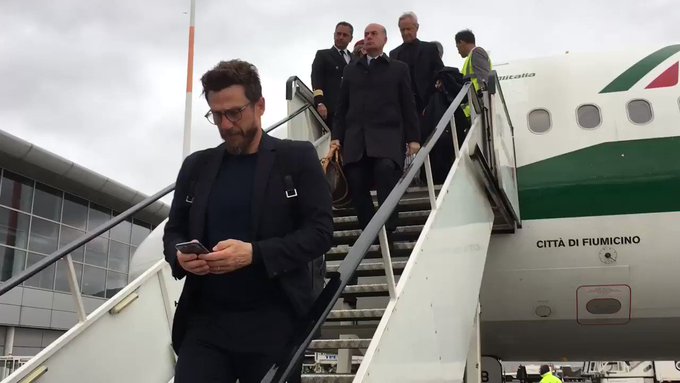 No matter how bad your day is going, we can promise you, these top 10 tweets can brief about United Kingdom (24-Apr-2018) in a minute.
The best of Twitter Today In United Kingdom
1. AS Roma is tweeting about #LFCRoma .


📍 Liverpool 🏴󠁧󠁢󠁥󠁮󠁧󠁿#ASRoma #LFCRoma #UCL pic.twitter.com/YaGIJyGi3C

— AS Roma (@OfficialASRoma) April 23, 2018
2. Christian Martin is tweeting about #ChampionsxFOX .


Llueve en Liverpool. El local favorito en esta ida de 1/2F. Nunca lo fue esta temporada. La durisima Roma del gran General romano De Rossi va por la gloria junto a la guardia pretoriana argentina de @Fede2Fazio y @D_10Perotti #ChampionsxFOX en vivo 10h con toda la previa pic.twitter.com/8PgXl3egbD

— Christian Martin (@askomartin) April 24, 2018
3. Matthew Sweet is tweeting about Mark Rylance .


Just writing a very important letter to Mark Rylance in which I prove Occam didn't invent the razor.

— Matthew Sweet (@DrMatthewSweet) April 24, 2018
4. Luke Fraser Yates is tweeting about #MadeInChelsea .


Hahah I agree 😭 had THE best time filming for this and @EllaJaneyy was the perfect duet partner ❤️👏🏼 #madeinchelsea https://t.co/Q8UVN0Am0v

— Luke Fraser Yates (@lukefraseryates) April 23, 2018
5. Dale Miller is tweeting about Ross Glendinning Medal .


Having been lucky enough to once judge the Ross Glendinning Medal, I'm stunned at the decision to scrap one of the derby's best traditions. A poor, ill-judged decision. Some strong leadership needed to reverse this move #WesternDerby

— Dale Miller (@miller_dj) April 23, 2018
6. The Bike Specialists is tweeting about #inspirationmonday .


Having read #ClassicBikeMagazine since being a boy, it's a special moment when I see my son on the back page advertising The Bike Specialists 😍. It was worth all the bribery to get the perfect photo ☺#Dreams #InspirationMonday #motorcycles #motorhour #MotivationMonday #ducati pic.twitter.com/4r9d6daC9D

— The Bike Specialists (@BikeSpecialists) April 23, 2018
7. Tim Berglund is tweeting about #KafkaSummit .


A true statement from Stefan Bauer of AUDI at #kafkasummit pic.twitter.com/qhyHmQNncv

— Tim Berglund (@tlberglund) April 24, 2018
8. ST Alliance is tweeting about #STM2018 .


Look! We're trending!😀#STM2018 pic.twitter.com/KgqeKBhcvw

— ST Alliance (@st_alliance) April 24, 2018
9. Emma Leech is tweeting about #UnAwardsWinners18 .


Heading to Birmingham to talk about @lborouniversity + @LoughboroughSU multi-award winning #SpitHappens campaign #UnAwardsWinners18 . See you there. https://t.co/mMKd0xBVZu

— Emma Leech (@EmmaJ70) April 24, 2018
10. Cassie Robinson. is tweeting about #PeoplePowerTech .


We can create more digital rights but challenge will be ppl knowing they have them, ppl wanting to exercise them & ppl knowing how to use them. That's why we're looking at collective responses @doteveryoneuk that move it away from an individuals responsiblity #PeoplePowerTech

— Cassie Robinson. (@CassieRobinson) April 24, 2018