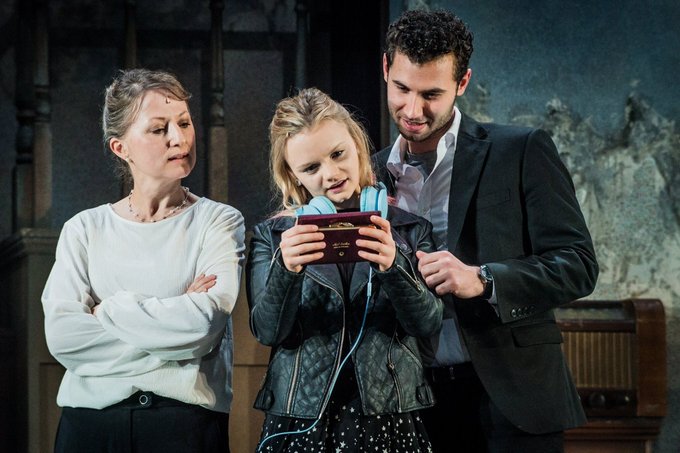 No matter how busy your day was, we can promise you, these top 10 tweets can brief about United Kingdom (27-Apr-2018) in a minute.
The best of Twitter Today In United Kingdom
1. Courtney Act had tweeted about #dragrace .


So I don't think @TheVixensworld, @BlairStClair, and @miz_cracker were nearly as unfunny and awkward as the laugh track would have you believe.
*waits for fan re-edit with more enthused laugh track* #dragrace

— Courtney Act (@courtneyact) April 27, 2018
2. Ivan Scalfarotto had tweeted about #senzadime .


L'ottimismo è sempre apprezzabile, figuriamoci se arriva dalla terza carica dello Stato. Meno apprezzabile è sollevare aspettative in una questione così delicata, sperando che si arrivi senza accorgersene a un punto di non ritorno. Io, come tanti, resto contrario. #senzadime

— Ivan Scalfarotto 🇪🇺 (@ivanscalfarotto) April 26, 2018
3. Jake Cohen had tweeted about Craven Cottage .


4. Mark Shenton had tweeted about #PiecesOfString .


Heading to Colchester tonight for the opening of #PiecesOfString at @mercurytheatre. Good to see UK regional theatres trying ORIGINAL British musicals, not just jukeboxes based on old film titles and revivals. https://t.co/uJnsvLZoaC

— Mark Shenton (@ShentonStage) April 27, 2018
5. Andy Coxon had tweeted about #PiecesOfString .


PRESS NIGHT @mercurytheatre for #PiecesOfString ... let's do it!! #BeThereAtTheBeginning pic.twitter.com/Z1SZozH3ui

— Andy Coxon (@andycoxonuk) April 27, 2018
6. FUTWIZ had tweeted about #ELeagueFinals .


Massive congrats to @Samer96_ - the @ELeagueAus champion!

To retire from competitive FIFA last year, then to come back for the ELeague with @SydneyFC and go on to win the whole thing is an incredible achievement.#ELeagueFinals #FIFA18 https://t.co/4rVAu9eBqs

— FUTWIZ (@FUTWIZ) April 26, 2018
7. Marc had tweeted about #PiecesOfString .


It's a @mercurytheatre kinda week @PoleroidTheatre #PlasticPlay tonight, catching up with @markweinman @ThommyCoombes then Press night tomorrow for #piecesofstring It's all happening in Colchester.

— Marc (@marcfrankum) April 26, 2018
8. Tom [PositiveLad] had tweeted about Harold Shipman .


I don't know who Simon Evans is. But he looks like Harold Shipman and sounds like Farage. Either way he's about as funny as leukaemia. #bbcqt

— Tom [PositiveLad] (@PositiveLad) April 26, 2018
9. Chris Wheatley had tweeted about FA Youth Cup .


FA Youth Cup final first leg at Stamford Bridge tonight. #FAYouthCup pic.twitter.com/PaLJpRhCq2

— Chris Wheatley (@ChrisWheatley_) April 27, 2018
10. Nick Bish had tweeted about #awardsawards .


Exciting day for #UKHospitality today. @ALMROpsAwards is Finalist for no fewer than 3 prizes at the #AwardsAwards announced at #WaldorfHilton .
Thanks to judges, our team and fantastic ops managers involved over the years. #WishUsLuck

— Nick Bish (@BishNick) April 27, 2018