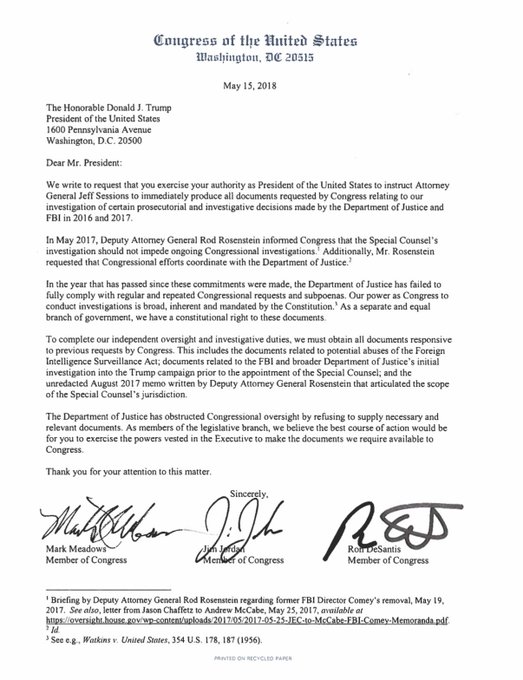 No matter how busy your day was, we can promise you, these top 10 tweets can brief about United States (17-May-2018) in a minute.
The best of Twitter Today In United States
1. Rep. Jim Jordan tweeted about general .


It's high time for transparency. The DOJ and FBI have continually and repeatedly thwarted congressional oversight. We're asking @realDonaldTrump to direct the Attorney General to give us the documents—because the American people deserve answers. pic.twitter.com/aigq97jm7A

— Rep. Jim Jordan (@Jim_Jordan) May 16, 2018
2. Matt McDermott tweeted about #health .


Can pundits stop saying that there are "extremists" in both parties?

On the right, an "extremist" denies science and embraces white supremacy.

On the left, an "extremist" is a woman who wants health care for all Americans.

These ... are not polar extremes.

— Matt McDermott (@mattmfm) May 16, 2018
3. Seoul Dynasty 🐯 tweeted about #OWL2018 .


TO KICK OFF STAGE 4, WE'LL BE DOING A GIVEAWAY EVERY WEEK UNTIL THE END OF MAY!

💖 THIS WEEKS FEATURED ITEM IS THE @TeamRazer BLACKWIDOW CHROMA QUARTZ! 💖

LIKE, RT, FOLLOW & REPLY BELOW W/ #RazerSeoul!

WINNERS WILL BE PICKED 5/21 AT 3PM PST! 🐯#SEOULDYNASTY #GENG #OWL2018 pic.twitter.com/Lhh21c096q

— Seoul Dynasty 🐯 (@SeoulDynasty) May 16, 2018
4. Natasha Thahane tweeted about #TheQueenMzansi .


... #TheQueenMzansi pic.twitter.com/nIbe6NUerW

— Natasha Thahane (@Natasha_Thahane) May 14, 2018
5. Cam Inman tweeted about Reuben Foster .


Reuben Foster's accuser just gave extensive testimony, says he did not hit her once and actually she struck him with hanger.
"I was threatening Reuben. ... that I was going to f*** up his career"
Called 911 3x because "I wanted to be extra. I wanted him to go down. I was pissed"

— Cam Inman (@CamInman) May 17, 2018
6. Golden State Warriors tweeted about #StrengthInNumbers .


Work. #StrengthInNumbers pic.twitter.com/3ti4YJu0d6

— Golden State Warriors (@warriors) May 16, 2018
7. Cam Inman tweeted about Reuben Foster .


Reuben Foster attorney to accuser Ennis:
Did Mr Foster ever hit you?
No sir
You lied because in your words you wanted to take him down?
Yes sir (cries, grabs tissue)
To ruin his career?
Yes sir (cries)
Because this breakup was final?
Yes sir. I'm sorry. I apologize to everybody

— Cam Inman (@CamInman) May 17, 2018
8. Dr David Frawley tweeted about gone are the days .


The government of @narendramodi has consistently been popular with the people of India. India at last has a hard working and trustworthy leader, striving tirelessly for the good of all. Gone are the days of the shadow government!https://t.co/PNWDnuR14L

— Dr David Frawley (@davidfrawleyved) May 14, 2018
9. Collider tweeted about #dopinder .


#Deadpool2 emojis are here! #Cable  #LuckyDomino  #Dopinder  #Colossus  #NegasonicTeenageWarhead  #BlindAl  #PeterW  #TotalBedlam  #Shatterstar  #Zeitgeist116

— Collider (@Collider) May 16, 2018
10. Lele Pons tweeted about Lele Pons .


THANK YOU @VARIETY and @xpangler for this amazing story! I AM SO EXCITED TO BE THE HOST OF THE VOICE MEXICO!!!! THANKS TO EVERYONE WHO SUPPORTS ME!!! https://t.co/yy4CAcywbl

— Lele Pons (@lelepons) May 16, 2018