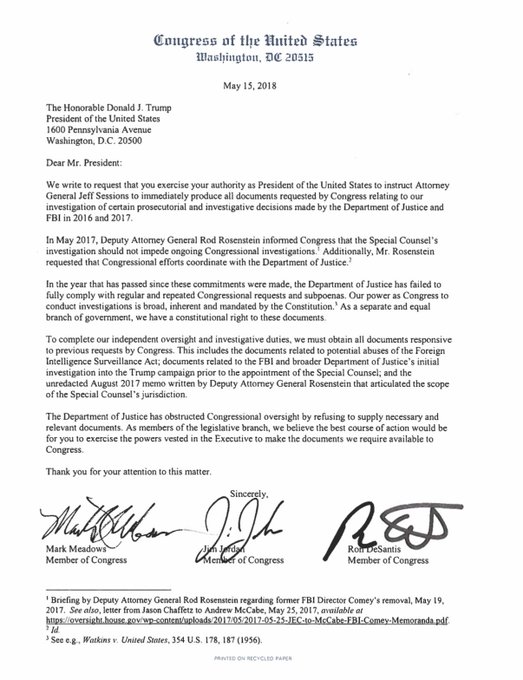 No matter how busy your day was, we can promise you, these top 10 tweets can brief about United States (18-May-2018) in a minute.
The best of Twitter Today In United States
1. Khalid tweeted about santa fe .


My prayers go out to everyone affected by the Santa Fe School shooting. Something needs to change. kids should not have to fear for their life while going to school, they should feel safe. We need control

— Khalid (@thegreatkhalid) May 18, 2018
2. Rep. Jim Jordan tweeted about The General .


It's high time for transparency. The DOJ and FBI have continually and repeatedly thwarted congressional oversight. We're asking @realDonaldTrump to direct the Attorney General to give us the documents—because the American people deserve answers. pic.twitter.com/aigq97jm7A

— Rep. Jim Jordan (@Jim_Jordan) May 16, 2018
3. Joy Reid tweeted about speaker .


This is an extraordinary admission by the current Speaker, that he and his party are indeed refusing to do their constitutional duty as a check and balance on the president simply because he is a Republican, and that only giving control to the other party will restore oversight. https://t.co/E3eN4ZXgkE

— Joy Reid (@JoyAnnReid) May 18, 2018
4. Gavin Thomas tweeted about #flashbackfriday .


💙 #FlashbackFriday pic.twitter.com/ftDIjBZDVz

— Gavin Thomas (@gavinthomas) May 18, 2018
5. Dr David Frawley tweeted about gone are the days .


The government of @narendramodi has consistently been popular with the people of India. India at last has a hard working and trustworthy leader, striving tirelessly for the good of all. Gone are the days of the shadow government!https://t.co/PNWDnuR14L

— Dr David Frawley (@davidfrawleyved) May 14, 2018
6. 103.3 AMP Radio tweeted about #newmusicfriday .


Let's see what everyone is listening to this #NewMusicFriday!!!🎧@ddlovato @cleanbandit @Camila_Cabello @Pharrell @BTS_twt #lovatics #camilizers #BTSARMY ⬇️⬇️

— 103.3 AMP Radio (@1033ampradio) May 18, 2018
7. Gérard Araud tweeted about #iran .


Because of the US sanctions, the oil company Total will suspend its activities in Iran. A chinese company will replace it. I am sure there is some logic in this policy.

— Gérard Araud (@GerardAraud) May 17, 2018
8. Ballislife.com tweeted about Elfrid Payton .


ELFRID PAYTON CUT HIS HAIR!!! pic.twitter.com/0OkTz2ccZ6

— Ballislife.com (@Ballislife) May 18, 2018
9. David Leavitt tweeted about #guncontrolnow .


The victims of Santa Fe High deserve more than just "thoughts and prayers." They need actions. #GunControl #GunControlNow

— David Leavitt (@David_Leavitt) May 18, 2018
10. 5 Seconds Of Summer tweeted about ashton .


That's me!!! Ashton! You know me well

— 5 Seconds Of Summer (@5SOS) May 18, 2018