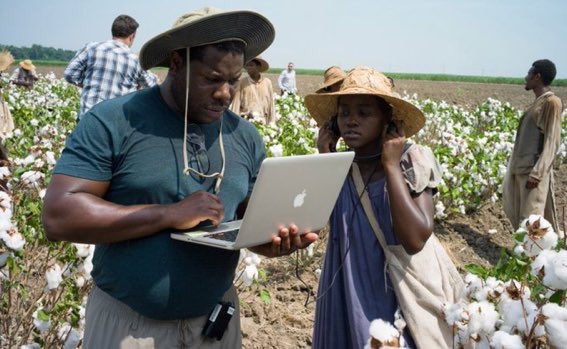 No matter how busy your day was, we can promise you, these top 10 tweets can brief about United States (03-May-2018) in a minute.
The best of Twitter Today In United States
1. Luke Lawal Jr. had tweeted about #IfSlaveryWasAChoice .


Setting up the work playlist for the day #IfSlaveryWasAChoice pic.twitter.com/Tp8vEfvlCz

— Luke Lawal Jr. (@lukelawal) May 2, 2018
2. Blair LM Kelley had tweeted about #Family .


Not only did my ancestors and Kanye's ancestors survive, they managed to make a way to make a new culture, remake family and faith. And in the process, make a culture so formidable that it continues to change the world.

— Blair LM Kelley (@profblmkelley) May 2, 2018
3. Steve Silberman had tweeted about #Politics .


The fact that a flagrantly demented pathological liar who faked a note from his doctor was able to convince voters that his female opponent was not healthy enough to be President tells you everything to need to know about what women in politics are up against.

— Steve Silberman (@stevesilberman) May 2, 2018
4. Brit Hume had tweeted about Rudy Giuliani .


Rudy Giuliani tells @seanhannity POTUS reimbursed the $130,000 lawyer Michael Cohen paid Stormy Daniels, which would mean it was not an illegal campaign contributions by Cohen.

— Brit Hume (@brithume) May 3, 2018
5. Ballislife.com had tweeted about Accident .


😂 When Danny Ainge threw the ball at the back of Mario Elie's head and acted like it was an accident.

He was fined $5K for the "accident" pic.twitter.com/R7obdBv98d

— Ballislife.com (@Ballislife) May 2, 2018
6. Col. Morris Davis had tweeted about Ramadán .


After Rudy's @realDonaldTrump confessional on @seanhannity, look for @FoxNews to air a special tomorrow on @HillaryClinton aborting @georgesoros's love child conceived during Ramadan while they ate tofu carried in an @NPR tote bag that was packed in the trunk of their Prius.

— Col. Morris Davis (@ColMorrisDavis) May 3, 2018
7. Jussie Smollett had tweeted about #Empire .


.@EmpireFOX is renewed for season 5. Thank you to everyone who watches. It's because of you that the ho stroll awaits my return for one more year... 👢👊🏿👢#Empire

https://t.co/QjLJpLHZW7

— Jussie Smollett (@JussieSmollett) May 2, 2018
8. Brit Hume had tweeted about Election Day .


Which establishes that Trump is a mendacious philanderer. Which was pretty well known on election day 2016. The voters decided to elect him anyway. https://t.co/hglfN3i5Ag

— Brit Hume (@brithume) May 3, 2018
9. Andy Park had tweeted about All Star .


2012-The AVENGERS gets highest opening weekend of all time. 2015-Jurassic World new leader, @Kevfeige asked me to do congratulatory painting of @prattprattpratt on a Mjolnir holding T-Rex. 2015-Star Wars TFA new leader & yesterday #AvengersInfinityWar gets baton back #socool pic.twitter.com/phyufYfpeE

— Andy Park (@andyparkart) May 1, 2018
10. El Nuevo Día had tweeted about #manifestantes .


Momento en que se desató el enfrentamiento entre la Policía y los manifestantes del #paronacional. Vídeo Suministrado. Sigue las incidencias en https://t.co/gZK23fI14W pic.twitter.com/l7KRZ3o4ad

— El Nuevo Día (@ElNuevoDia) May 1, 2018