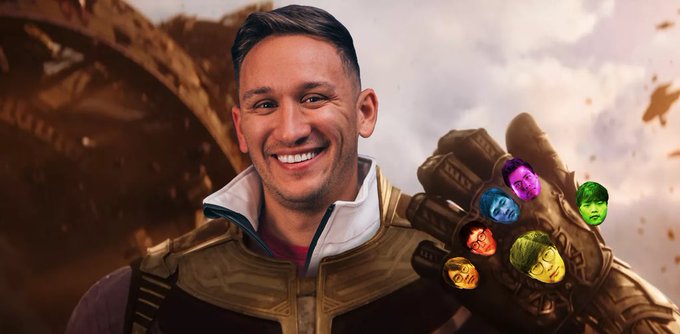 No matter how busy your day was, we can promise you, these top 10 tweets can brief about United States (11-May-2018) in a minute.
The best of Twitter Today In United States
1. Ryan J. Reilly had tweeted about Iranian .


"Never believe an Iranian, because if their lips are moving, they're lying."

- Oliver North, the now president-elect of the NRA, on Hannity just now.

2018!

— Ryan J. Reilly (@ryanjreilly) May 10, 2018
2. Steve Arhancet had tweeted about #MSI2018 .


Stark, I hope the people of Earth will remember you. #MSI2018 pic.twitter.com/c8va0LQZfI

— Steve Arhancet (@LiQuiD112) May 10, 2018
3. Buffalo Bills had tweeted about buffalo .


Your 2018 Buffalo Bills Rookies are home. 💯 #GoBills pic.twitter.com/yKlwCSDDEO

— Buffalo Bills (@buffalobills) May 11, 2018
4. Ozzy Osbourne had tweeted about Ozzy Osbourne .


SAN DIEGO!

5 MONTHS until #NoMoreTours2 at @MattressFirmAmp with @StoneSour!

TIX: https://t.co/wj6aIKJIuI

VIP Packages: https://t.co/S9G0mMgp46 pic.twitter.com/COH1cEUzPl

— Ozzy Osbourne (@OzzyOsbourne) May 9, 2018
5. Elias Toufexis had tweeted about #theexpanse .


I wrote a quick little thing about #TheExpanse in light of @Syfy letting the show go. pic.twitter.com/Ev1f3xuDpT

— 𝙴𝚕𝚒𝚊𝚜 𝚃𝚘𝚞𝚏𝚎𝚡𝚒𝚜 (@EliasToufexis) May 11, 2018
6. Titan Athletics had tweeted about Titan .


Very sad day in the Titan Family today, as we've lost one of our own. Former @WBBTitans (2011-15) standout Natalie Williams has passed away. She also worked in our department as a marketing intern. Her big smile, her infectious laugh and fantastic energy will be missed. RIP Nat pic.twitter.com/on4bW0jj8V

— Titans Athletics (@FullertonTitans) May 9, 2018
7. Ernst Roets had tweeted about AfriForum .


We discussed #LandExpropriation and #FarmMurders at the US House of Representatives yesterday. Today we're heading to the Senate. @afriforum @kalliekriel #AfriForumUSA pic.twitter.com/HiUEmGXm2O

— Ernst Roets (@ErnstRoets) May 10, 2018
8. David Leavitt had tweeted about #StatisticallySpeaking .


#StatisticallySpeaking a much as I hate Donald Trump he's bound to do at least one thing right, and it should be to resign before being forcibly removed from office.

— David Leavitt (@David_Leavitt) May 11, 2018
9. Ernst Roets had tweeted about AfriForum .


We had a very constructive meeting in the office of Senator Ted Cruz today. #AfriForumUSA@afriforum @kalliekriel pic.twitter.com/cGr8lRG5aW

— Ernst Roets (@ErnstRoets) May 10, 2018
10. INDIGOCHILDRICK had tweeted about Lean 4 Real .


die lit** Lean 4 Real ft. @Skepta (Produced by INDIGOCHILDRICK) pic.twitter.com/O8qf5LkoFK

— INDIGOCHILDRICK (@IndigoChildRick) May 11, 2018