#IndyCar Twitter Trend : The Most Popular Tweets | Canada
Special moment for @MenardsRacing No. 22 cars this morning at @IMS! #BrickyardTriple #IndyCar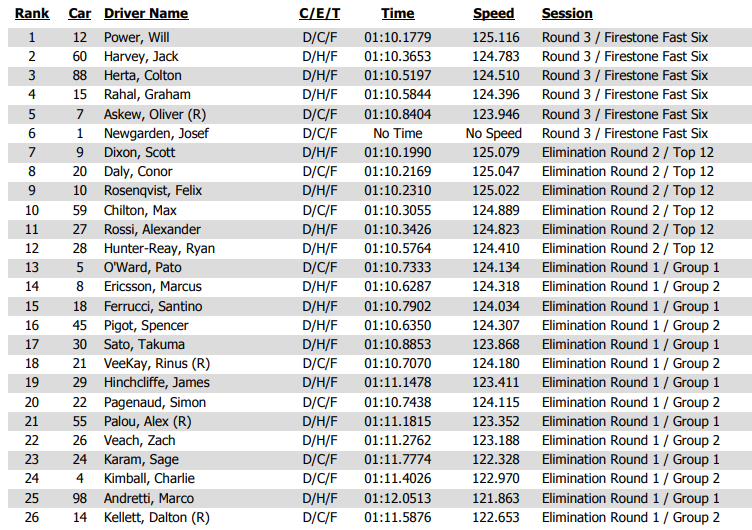 #IndyCar on Twitter
Jiří Šlégl ()
Forma jako hrom. Dixon vyhrál v USA už tři závody #IndyCar v řadě!
レッドブル・ホンダ NEWS ()
【Formula1-Data】 インディカー第3戦ロードアメリカ決勝:ディクソン3連勝、佐藤琢磨 後方から挽回「1周目は最悪だった」: 2020年NTTインディカー・シリーズ第3戦ロードアメリカ(REV Group Grand Prix presented by… #F1JP
稲D🇯🇵 ()
「もう出てるよ!」 「出てますか?はい。」 なんだこれ?w ヘッドフォンだとたまによく聞こえるな。
Víctor Seara ()
Todos los años digo lo mismo, pero anoche volví a ver una carrera de la Indycar en Road América y me parece un circuito sensacional. Mientras tanto, Dixon, tres de tres. El rookie Palou P3. Hoy, otra carrera.
Richard Craill ()
Cracking #IndyCar race this morning. Dixon v Power was great and the young guns in that series are racy but Dixon is just unstoppable. What he and his team continue to do is remarkable. They continue to engineer new ways to win.
IndyCar al día ()
¡ESTADO DEL CAMPEONATO! Toma una captura de pantalla de la puntuación general de #IndyCar tras la jornada de este sábado; vigencia hasta la tarde de mañana #REVGROUPGP -->
Mike Haag ()
@scottdixon9 still untouchable with third straight win of 2020 after exciting first race at Road America #IndyCar #REVGroupG
Pilotos Database ()
Confira o Resultado completo da prova #1 da IndyCar em Road America, vencida por Scott Dixon - em sua 3ª vitória
Joey Barnes ()
Can we talk about this rookie class? Minimal testing (only preseason back in January/February) and three different rookies finishing in the top 10 through the opening 3 races, including a podium today, and a top 5 last week. Stout group. #IndyCar #REVGROUPGP
AJ 'Coronavirus Sucks' Helotie ()
Gosh dang it Scott Dixon. I'm trying to get more into IndyCar. I won't want to when you're the only driver who ever
NAPA Racing ()
Well, another rough race day for @AlexanderRossi. Hope he and the No. 27 team can turn things around tomorrow in the second race of this doubleheader weekend @roadamerica. #IndyCar
Bruna Rodrigues ()
Primeira corrida da IndyCar moderna que meu pai assiste. Está horrorizado. Os caras são loucos, jogam o carro pra cima de qualquer tá louco (tá adorando)
Babi Franzin em 🏠 ()
Achei desnecessário no BandSports falar que o Rossi "tá com algum vírus e não está ele mesmo". #IndyCar
IndyCar on NBC ()
From all of us in the IndyCar family, Keep fighting and win that race, @lindythackston.
Texas Motor Speedway ()
Disaster for Josef Newgarden! After leading every lap he falls to 10th on Pit Lane after his machine stalls twice! #INDYCAR | #RoadAmerica
Tony DiZinno ()
The lack of action in the two network races is being made up for in this one today. #IndyCar #REVGroupGP
Kobe Lambeth ()
Wow. Josef Newgarden stalled in the pits, after building up a massive lead. Drama! #INDYCAR #REVGROUPGP
Nick DeGroot ()
Power and Dixon getting after it! This will be for the race lead now that Newgarden had his issues. #IndyCar
OpenWheelWorld.net ()
Leider @josefnewgarden laat zijn motor afslaan na zijn tweede pitstop!! 😱 #IndyCar #RevGroupGP
NTT INDYCAR SERIES ()
What an opening lap for the first race of the REV Group Grand Prix! #INDYCAR // #REVGROUPGP // @roadamerica
Sprint Car Racing ()
Grand Prix at Indianapolis Results: July 4, 2020 (Indycar Series)
SPEED SPORT ()
QUICK REPORT: @scottdixon9 stomps the field en route to his first victory on the @IMS road course
IndyCar da Depressão ()
Adendo: Celso Miranda, Ricardo Molina e Paulo Carcasci no BandSports; André Duek e Matheus Leist no DAZN. FINALMENTE o Brasil bem servidos de belas transmissões. #IndyCar
NTT INDYCAR SERIES ()
REPLAY: Earlier incident involving @oliveraskew. Watch the #INDYGP live on NBC. #INDYCAR | @AMomentsNotice_
Catherine 😇🎈🧭 ()
Went to have dinner, came back to a completely different running order and I have no idea why. Oh,
Ryan Vargas ()
I accidentally end up at Indycar races at least once a year and I'm not complaining
💙 ()
3rd of July party with my family before the 4th, the sound of Indycar qualifying on the TV whenever I go inside, and cold drinks in hot weather 👌🏻 #livinthedream! 🏎💙

Flyin18T Motorsports ()
#IndyCar #IndyGP Power soars to pole on Indy road course
John Morris ()
1st missed race for @JimmieJohnson since his Cup career started. Plus he'll miss the IndyCar test he was supposed to do. Bummer. Hope they reschedule that. 👍🏻
Simon Pagenaud ()
Special moment for @MenardsRacing No. 22 cars this morning at @IMS! #BrickyardTriple #IndyCar