#SonicMovie Twitter Trend : The Most Popular Tweets | Canada
WE ARE CURRENTLY CERTIFIED FRESH AT 70% ON ROTTEN TOMATOES FOR A MOVIE BASED ON A VIDEO GAME!!! GAMERS REJOICE!!! #SonicMovie
#SonicMovie on Twitter
Sonic the Cosplayer ()
Hey @dog_rates, what's my rating? 💙🔵💨 #SonicMovie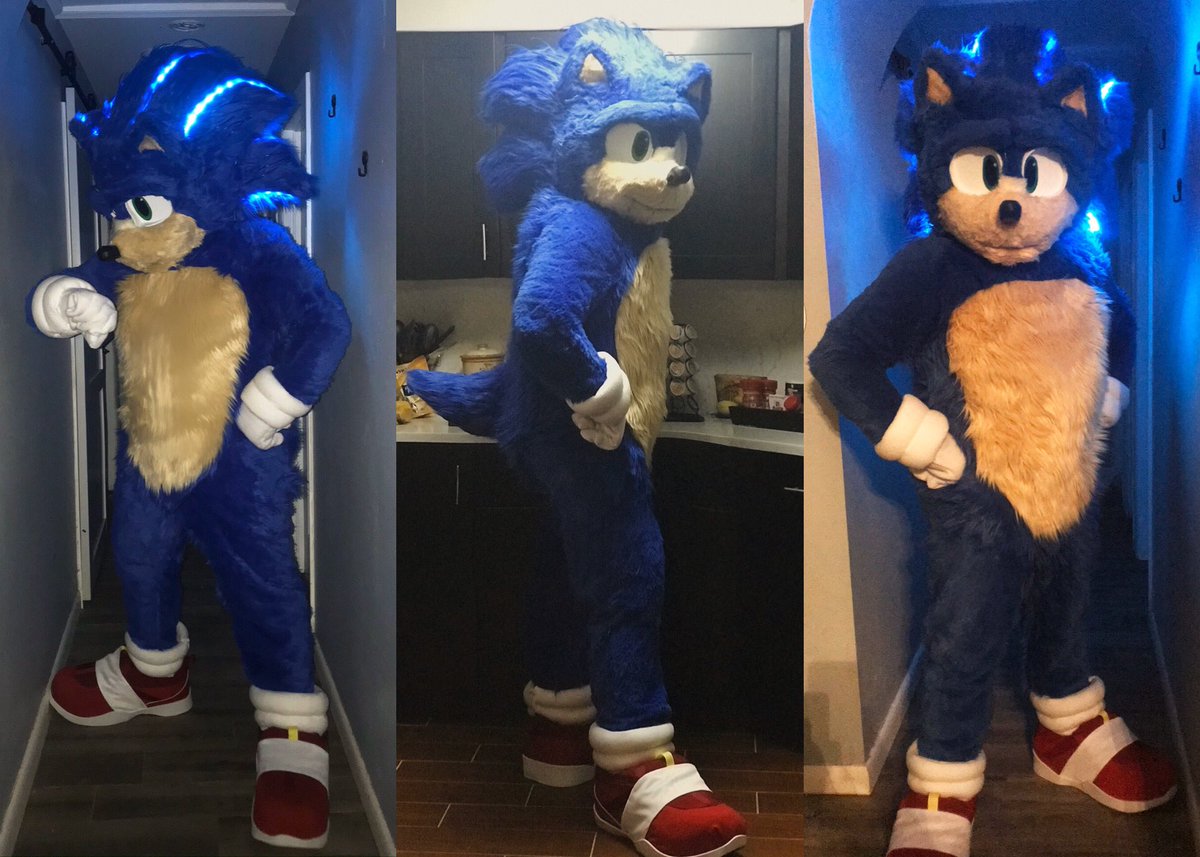 Draskia🌓🌕🌗 ()
Happy Saturday friends! I'm taking my kiddos to see #SonicMovie at some point today and I think I'm more excited lol. Also Biscuit says hi.
Crawler ()
i got back from watching the #SonicMovie and i actually liked it, i went in with low expectations and i ended up having fun watching it. i was even smiling throughout the movie, so i would give the movie a
DerMothMan ()
The terrified animator cries. A gun held to their head by an executive. "The focus groups say children will relate more if he does it. So do it. Make the hedgehog floss", he orders, all humanity long gone. The animator tearfully complies. Its this another minions. #SonicMovie
Glitch ()
I was the biggest fan girl in the theatre when I saw & heard @HyperPotions 👏🏾👏🏾👏🏾 #SonicMovie The movie was also hype af
Leví con acento en la i ()
Tal como predije; lloré con la película de Sonic. Gracias Paramount Pictures por hacer muy, muy feliz a un fan de muchos, muchos años. #SonicMovie
Cheer🔜Katsucon🎡 ()
life floats on a movie screen, you're the star of my scene ⭐️ Happy Valentine's Day, Sonic! ❤️ the #SonicMovie was an absolute blast! please go out and see it! #CatchSonic
Dr. ProphetGuyd ()
saw the #SonicMovie and the moment I saw Sonic Generations in the beginning logo, I knew this was gonna be a good Movie lol wasn't expecting to see a GOAT game
Nathan ()
Just saw the #SonicMovie it was really funny, and I had a great time. definitely worth the watch.
1stPlayer #MambaMentalityForever💜💛 ()
I EVEN GOT A POSTERRRRRRRRRRRRRR AAAAAAAAAAAAAAAAAAAAAHHHHHHHHHHHHH #SonicMovie
❤️✨Style✨❤️ ()
@kunksus @SonicMovie Yeah Kat told me it was really good, I have to wait a few months for it to release online so I can watch it
Game Booth ()
So my #ValentinesDay started with having a filling and a tooth out and has ended with just getting back from #SonicMovie having absolutely loved it! Seriously guys, go see this at the cinema. Not just because we hounded them into making changes but also because I want a sequel!
👑 MICHI 🔞 ()
@sonicmovie Thank you guys for your hard work!!!! The new Sonic model is gorgeous and adorable! I can't wait to see what comes next! 💙💙💙💙💙💙💙💙💙💙💙💙💙

Ben Schwartz ()
WHOA BABY!!! #SonicMovie is already out there collecting those rings! So excited people are showing up to see the blue blur! Our movie is finally out!!! You can see it right now!!! HOORAYYYYY!!!!
Joaquin Baldwin ()
He is still behind me, isn't #SonicMovie #CatchSonic
Chapter Arts Centre ()
Sonic the Hedgehog races into our cinema today and is here all month. #SonicMovie. Dates/times & tickets:
Lady Fadga Era Cody ()
He hates girl power, we knew the #SonicMovie would have this effect when it had Sonic spit in the face of gender equality.
Jose Humanes™ ()
Os dejo mi crítica de #SonicMovie . Me aburrí un poco, pero es perfecta para los críos.
✨Il_Kamui_lI✨ ()
Sooo I just came back from seeing the #SonicMovie and it , not as good as #DetectivePikachu in my opinion but still a good movie to watch if u want something fun to watch and if u have nothing else to do
The 100 Percenter ()
@SonicMovie "You're too slow" I've already seen it and I love it!! And I'm gonna see it again! #SonicMovie
M I U S C O P E ()
@paramount_kino erntete nach dem ersten Trailer Release vom #SonicMovie massive Kritik an der CGI Umsetzung der Figur. Nach längerer Produktionsverzögerung kommt nun der Film mit überarbeitetem Look raus. Die Macht der sozialen Medien!
Jazmin's Voyage ()
@raisingwhasians @SonicMovie Appreciate the review. My son, who is 5, has been requesting this since seeing the trailer when we went to see Frozen 2. His favorite line so far is, "I have no idea!" 😂 Lets see how much he'll enjoy it tomorrow.
Nerddom United ()
THE SONIC MOVIE IS HERE !!! comment below if you're gonna see it this weekend !!! 💙🔵🌀#SonicMovie #NerddomUnited
Noozed228 ()
о, blu-ray на английском языке, заказываю (нет) (на русском не будет, в россии DVD и Blu-ray здох) #СоникВКино #SonicMovie
💕Springles💕 ()
Going to see the #SonicMovie today sometime and yes I will tell everyone if it's worth watching or not and I have been a sonic fan since his first game came out!
Red Giant ()
Got a need for speed? Well, we're here to deliver with another episode of Cheap Tricks covering VFX from @SonicMovie! You'll learn about 3D, compositing, color correction, creating crackling electricity, particle-based dust and much more. Watch it now:
Nathan Stranding ()
@fowltown @SonicMovie #SonictheHedgehog saw it yesterday 😂😝🙂
Trash art/games ()
Actually really good!! Everyone cheered at the end when that something or someone showed up #SonicMovie
Steff/Vin ()
6:30 PM, in the super-nice CINEMATIC EXPERIENCE auditorium, i got a date with a little blue hedgehog~ o/ #SonicMovie

Ben Schwartz ()
WE ARE CURRENTLY CERTIFIED FRESH AT 70% ON ROTTEN TOMATOES FOR A MOVIE BASED ON A VIDEO GAME!!! GAMERS REJOICE!!! #SonicMovie