Trinity Bellwoods Twitter Trend : The Most Popular Tweets | Canada
This photo was taken by someone today at Trinity Bellwoods. A park in Toronto. This is absolute stupidity and very selfish. Give your head a shake people!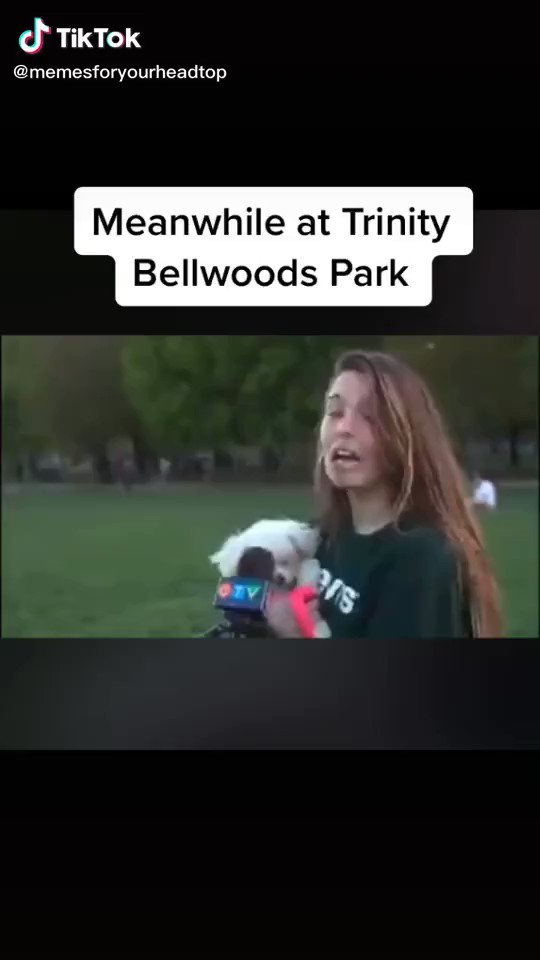 Trinity Bellwoods on Twitter
Ian Hugh Scott (Scottopoulos) ()
What a disgusting and outright racist headline, @torontostar - no wonder your paper is irrelevant today. Shame on you.
Toronto Star ()
Yes, it was crowded at Trinity Bellwoods — but outside Toronto, in Brampton, Mississauga, St. Catharines, tickets were also being written up for gatherings of more than five, PPE littering, and more.
Mitch ()
THIS 👏 DOESN'T 👏 MEAN 👏 SATURDAY 👏 PICNIC 👏 AT 👏 TRINITY 👏 BELLWOODS 👏
BDF (Black diaspora faggotry) ()
Between the Karens, Shaun King and the Trinity Bellwoods apologists this week has been three weeks in two days. Christ!
Toronto Star ()
Pandemic shaming might feel good, but it's not the best way to change people's behaviours, says ER doctor
Carl hanstke ()
Social distancing circles could be coming to Trinity Bellwoods Park as pilot project to promote proper physical distancing. Large white circles painted on grass would indicate where people can sit. These circles are already being used in cities like Brooklyn/San Francisco
Mike Gibbs🏳️‍🌈 ()
If you attended the Trinity Bellwoods gathering, please ignore every single word of the premier of Ontario. And listen to instructions from Doctor de Villa. Do not get tested now. It is too early for an accurate result.
Jeff Veillette ()
Toronto has a loT of planning issues, but please stop using Trinity Bellwoods this weekend as an example of them. It's not. Those specific people weren't stuck without another option - they were there FOR the crowd. Don't maintain their privilege by absolving their selfishness.
Dr. Jennifer Kwan ()
Great chat this AM w/ @CBCStephenQuinn from Vancouver about the infamous Trinity-Bellwoods park, #Masks4Canada, & racial discrimination. BC: 2500 cases ON: 25000 cases 🤔
Carolyn Snider ()
Sure, get angry about Trinity Bellwoods park — then find a better way to talk to people about risk, says ER doctor via @torontostar

Bruce Arthur ()
Trinity Bellwoods befuddled our leaders in Toronto and beyond. What in the world is Ontario doing?
Toronto Star ()
If you truly take the pandemic seriously, you don't attend a party of thousands, @EmmaRoseTeitel writes.

CBC Toronto ()
If weekend crowding at Trinity Bellwoods causes a COVID-19 outbreak, how will we trace it?
Josh Matlow ()
Dr. Barbara Yaffe is advising everyone who gathered at Trinity Bellwoods Park on Saturday to self-isolate for 14 days. This is a critical public health measure. If you were there, and ignore this, you are putting lives at risk and could be personally responsible for more deaths.

CP24 ()
Premier Ford urges people who packed into Trinity Bellwoods Park to get tested for COVID-19
CityNews Toronto ()
Ford urges those who were at Trinity Bellwoods to get tested for COVID-19
G_Penalosa ()
Stop shaming people on Trinity Bellwoods Park for not #PhysicalDistancing. What if instead we think of options? Open 20% streets for people & close to cars? Open all outdoor areas of schools? Bridge to islands? Immediately, turn public golf courses into public parks (as San Fco)?

Robert Benzie ()
NEW: Premier Doug Ford urges everyone who was at Trinity-Bellwoods Park on Saturday to go get tested. #COVID19 #onpoli
The Beaverton ()
Editorial: I went to Trinity Bellwoods, but only because I miss urinating in bushes
Dr. Ricardo Duchesne ()
Race hustler Shree Paradkar calls whites covidiots for hanging out in parks in Trinity Bellwoods. Trinity is racist b/c it has a higher concentration of white folks compared TO. Whites have a racist sense of inoculation not afforded to browns.
Front Burner ()
There's more than just Trinity Bellwoods Park causing concern in Ontario. The province's COVID-19 cases are up and testing is failing to meet benchmarks. What's going on? Mike Crawley (@CBCQueensPark) explains:
Breakfast Television Toronto ()
After seeing Trinity Bellwoods park crowded this past weekend, Dr. Abdu Sharkawy has made an emotional plea. WATCH:
Swiss chalet jerk 🐓 ()
White people love Trinity Bellwoods because it makes Bryant Gumbel look like Malcolm X.
John Tory ()
I want to apologize for my personal behaviour yesterday. I visited Trinity Bellwoods Park to try to determine why things were the way they were.
Toronto Star ()
#Opinion: No doubt there were racialized folks among those gathered at Trinity Bellwoods but had that been a sea of Black and brown folks, we'd be having a very different conversation today. @ShreeParadkar:
Max Domi ()
This photo was taken by someone today at Trinity Bellwoods. A park in Toronto. This is absolute stupidity and very selfish. Give your head a shake people!
Dr. Eileen de Villa ()
I understand that the photos of people in Trinity Bellwoods were disappointing today. It was a beautiful day & we all want to enjoy our city together, but this could be selfish & dangerous behaviour that could set us back. (1/3)

David Carr ()
7-10 Days from we will be over 500 cases per day It is painful to see pics of Trinity Bellwoods today. One can only foreshadow that park to look like my ED waiting room
Benjamin Rayner ()
Today's remote-therapy session in Trinity-Bellwoods will be rendered somewhat magical by the portly gentleman softly strumming Tracy Chapman songs on the bench up the bank behind me.
Jonathan Goldsbie ()
CTV News issues a forceful apology for the Trinity Bellwoods clip that went viral on Twitter this morning: