#COVID19 twitter tendance - top tweets | France
Comparto públicamente que tengo #COVID19. Inicié con síntomas ayer por la noche, afortunadamente son leves. La prueba de antígenos dio resultado positivo y espero el de la PCR. Estaré trabajando desde casa, pendiente de la estrategia de vacunación.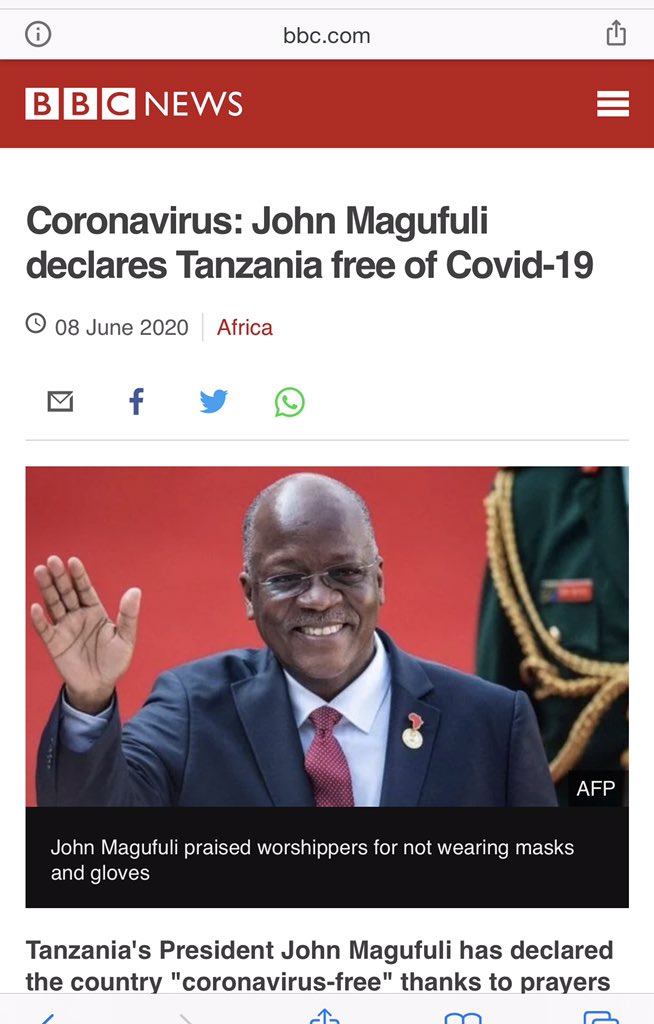 #COVID19 on Twitter

Eric Feigl-Ding ()
NEW—CDC warns #COVID19 is on the cusp of potential resurgence, with cases & deaths rising. Highly-transmissible #B117 variant can hijack our successes, as fatigue leads precautions being flagrantly ignored. Been warning for over a month. So tired.

Rep. Jim Jordan ()
When Republicans don't wear a mask, Democrats scream "you're killing people." But when the Biden Admin releases #COVID19 positive migrants into your community? No problem!
Eugenio Giani ()
📊I nuovi casi registrati in Toscana sono su test di cui tamponi molecolari e test rapidi. Il tasso dei nuovi positivi è 4,54% (9,1% sulle prime diagnosi). #COVID19
BNPB Indonesia ()
Yth Penggiat Kemanusiaan di Indonesia. Awal tahun 2021, sudah serentetan bencana melanda tanah air tercinta. Gempabumi di Sulbar, Banjir di Kalsel, Longsor di Sumedang, dan lain-lain. Epidemi Covid19 juga masih belum berakhir.
Stoke-on-Trent CC ()
🏉Our newest testing venue #Trentham Rugby Club opens tomorrow, 10am-3pm. 👍Even if you have no symptoms please get tested for #COVID19 regularly for your own peace of mind. ➡️You can book a rapid result test at 🚶‍♂️Walk ins are welcome

KKMalaysia🇲🇾 ()
Terkini. 1 Mac. Kes baharu hari ini 1,828 dengan 5 lagi kematian. Ini menjadikan jumlah keseluruhan kes #COVID19 ialah 302,580 kes dengan 1,135 kematian.
Naveen Patnaik ()
Happy to share that I took my first dose of #COVID19 vaccine today. Grateful to our scientists, health workers for their race against time to deliver the vaccines to people. Appeal to all eligible people to come forward and get vaccinated for a #CovidFreeOdisha.

Eric Feigl-Ding ()
FIRED FOR DEMANDING AIRBORNE & VENTILATION SAFETY—I want to say kudos to bravery of @BenBonnema for speaking out for safety of workers and shoppers at Trader Joe's. Corporate HQ didn't like him speaking out on #COVID19 safety—fired him instead. Disgusting.

Eric Feigl-Ding ()
HUGE—CDC just released NEW indoor air guidance for schools & #COVID19! Now emphasize: "Opening windows, using portable air cleaners, improving building-wide filtration are ways to increase ventilation in school or child care program." Good, but caveats:🧵

KKMalaysia🇲🇾 ()
Terkini. 25 Feb. Kes baharu hari ini 1,924 dengan 12 lagi kematian dan 18 kluster diisytihar tamat. #COVID19
FLIP ()
#AlertaFLIP | Rechazamos la presión ejercida por la oficina de comunicaciones de @infoPresidencia a la prensa que realiza la veeduría de la gestión de recursos públicos de la emergencia por #COVID19. 🧵Abrimos hilo.👇🏽

Eric Feigl-Ding ()
This bothers me so much— 📍There are still no official CDC guidelines for ventilation for schools—no rules on adequate air exchanges—despite so much science on >=5 ACH/hour. 📍And 6 feet is not safe for airborne virus, says ex-OSHA chief. #COVID19 🧵

Leana Wen, M.D. ()
To heal, we must remember, as President Biden has said. Today, we will reach the unimaginable milestone of 500,000 Americans who have died from #covid19. We need to move forward to expedite vaccinations & recover our economy. And we must also remember the lives lost.
Ameliarueda ()
#ÚltimaHora El ministro de Salud, Daniel Salas, informa que acogieron la recomendación de la Comisión Nacional de Vacunación de hacer obligatoria la aplicación de la vacuna contra #COVID19 a funcionarios del sector salud.
Office of the Governor of California ()
CA has administered + #COVID19 vaccine doses. Together with local partners, we continue to accelerate safe & equitable vaccinations. Here in Long Beach, they are vaccinating thousands of teachers & school staff - moving us closer towards in-person instruction.
📡 GUSTAVO MIRA V 🇨🇴 ()
🆘@METROCALI CALI es un CAOS de🚍BUSES, POLUCIÓN, RUIDO y ENFERMOS de😷COVID19,FARINGE OÍDOS, OJOS, ASMA, PULMÓN etc. En Zaragoza 1700 Personas, en 3 y 1/2 años construyeron 1TRANVÍA que disminuyó el TRÁFICO 30%, la Polución12% y 💯% elCOVID19! ⤵ 🚍
Oscar muñoz ()
Santa Cruz informo 50 nuevos casos de COVID19(domingo): 7 Río Gallegos, 9 El Calafate, 1 Caleta Olivia, 3 Pto San Julián, 15 Rio Turbio, 7 Buena, 3 en 28 de Noviembre, 3 Puerto Deseado y 2 El Chaltén.
Esteban Albornoz ()
Considero que por un sentido de responsabilidad y transparencia ante el país, los asambleístas y autoridades debemos señalar si hemos sido vacunados contra el #COVID19 En mi caso personal NO he sido vacunado, jamás lo haría antes de lo que me corresponda. #DóndeEstánLasVacunas
Zuzana Palkova ()
Výskumný projekt @PoliRural_H2020 zameraný na zatraktívnenie vidieka pre život, prácu a investície sa aktuálne venuje dopadom #COVID19 na #vidiek a hľadá možnosti jeho reštartu. Zapojte sa prosím cez Dotazník: Viac info o projekte:
𝕊𝕙𝕖𝕡𝕙𝕖𝕣𝕕 𝕆𝕗 𝕋𝕙𝕖 𝕆𝔸𝕊𝕀𝕊 ()
#COVID19 #Reynosa Esta foto de López-Gatell es de cuando se vacunó contra la influenza en octubre de 2020, verificó El Sabueso
Rocco ()
@_VicenteSerrano @lopezobrador_ Oye idiota alcohólico defraudador evasor de impuestos Y cuándo ésta maldita BESTIA q llamas presidente va a Solidarizarse con las Familias de fallecidos por COVID19 ? Por su CULPA al NO SABER MANEJAR LA PANDEMIA!!

सिद्धार्थ ()
👉(1st death tracked post 2nd dose COVID19 vax) Ranjit Rout, 56yr HCW @ Achia🏥, Puri, 2nd dose on 20 Feb, died after chest pain on 21 Feb 👉24yr/F/KL- intracarnial bleeding, COVISHIELD 👉49yr/F/KL- myocardial infraction Post-COVID19 vaccine deaths: 44*

KKMalaysia🇲🇾 ()
Terkini. 22 Feb. Kes baharu hari ini 2,192 dan kes discaj 3,414 dengan 6 lagi kematian. #COVID19
#FreePalestine 🇿🇦 🇵🇸 ()
@Neo_Mvundla President declared the Covid19 free last year already

The Giant Otter resistance. ()
@melissamedinavo I literally post the Covid19 numbers each day there and then close it
HTMumbai ()
Maharashtra: Vidarbha reports highest number of #COVID19 cases (Reports @faisalmushtaque)
Lahiru Dushmantha ()
Lahiru Kumara has tested positive for Lakmal likely candidate to replace. #lka #SLvWI

Eric Feigl-Ding ()
Sobering NYT cover tomorrow—almost 500,000 confirmed deaths from #COVID19 in the US. Excess mortality in the US is even higher. Don't look away. Pandemic is not over. Be vigilant. #doublemask

KKMalaysia🇲🇾 ()
Bagaimana pemberian vaksin #COVID19 akan dilaksanakan di Malaysia? Infografik ini menerangkan secara terperinci. #LindungDiriLindungSemua

Hugo López-Gatell Ramírez ()
Comparto públicamente que tengo #COVID19. Inicié con síntomas ayer por la noche, afortunadamente son leves. La prueba de antígenos dio resultado positivo y espero el de la PCR. Estaré trabajando desde casa, pendiente de la estrategia de vacunación.