Eminem twitter tendance - top tweets | France
Look, if you had another shot, another Thanks for having me @TheAcademy. Sorry it took me 18 years to get here.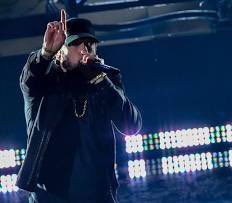 Eminem on Twitter
🤡 ()
Es que vaya fantasia verlo desde el principio anthony ramos presentando a lin manuel miranda que presenta un mix de canciones de peliculas para presentar a eminem es q no puedo mas
Angélica González ()
Tuvo sus momentos divertidos (creo que uno de los mejores fue la presentación de Kristen Wiig y Maya Rudolph). La parte musical: Janelle Monáe y Eminem. El triunfo de Parasite, del cualquier cosa.
Rapper BreakDown 🇧🇷 ()
Rap performance show com @Eminem 🇺🇸 UP! #Oscars  8 Mile - Rua das ilusões 2002 #hiphop🗽
USA TODAY ()
Eminem finally performed his Oscar-winning track Lose Yourself at the Academy Awards. It just took him 17 years to get there.
Valdi V. D. WoodSen ()
@Mikyuu21 Con eminem se me pone durísima cantar esta canción al mismo tiempo que é ufff brutal!!!
+57 🇨🇴 ()
Je vais me faire l'album de Eminem mais ça m'étonnerait que ça soit meilleur qu'à l'époque de la charnière Dehu-Pierre fanfan
Heidi N. Moore ()
I am just saying that between this and the Eminem thing at the Oscars it feels like emo hipster Marley dragging his aughties chains into the Culture
Brad Pritt ()
Pinche niño tener 10 meses y seguir pensando que Eminem es el mejor rapero de la historia ya es preocupante
Mr_Jek. ()
Look If you had One shot Or one opportunity To seize everything you ever wanted In one moment Would you capture it Or just let it slip? - Eminem 🤞🏾
Lix ()
There is i mean ABSOLUTLY NOTHING as musically addictive as @Eminem when he is performing with an orchestra! #Eminem #EminemattheOscars
Alyssa worth ()
I can't describe how much I love Eminem's songs and just him in general. All time legend. @Eminem
Cerol finin ()
eminem: não tenho mais nada pra inovar nem de diferente pra mostrar eminem: speed flow
El—man THE Man ()
Eminem is one of the reason why Hip-Hop is still alive. He is a blessing & symbol to generation
Tyrone ()
Eminem performs randomly at Grammys. This. All in time for R&L tomorrow. Music scene moves months in advance, its crazy
Vincent ()
Jamais j'aurais pu m'imaginer un jour qu'Eminem aurais réussi à faire un banger avec Ed Ce son et incroyable 😭
Kenny Wade ()
Eminem & Sir Elton John Reunite Backstage At 2020 Oscars #news
HOT 94.1 ()
#Eminem was one of the many highlights from last nights #Oscars

Sand ()
@Eminem @eltonofficial SO EXCITED SEEING YOU SEEING ON THE STAGE!!!!! 👍🏻👍🏻👍🏻👍🏻👍🏻
Brian and Pete ()
I think #Eminem 's sound guy was a surprised as the rest of the audience when he showed up on stage. He was so flabbergasted he forgot to do his job
Joshua Schramm at AEW Dynamite ()
@NoOneIsChris They performed a duet together at the 2001 Grammys and have been friends since then. Eminem talks about reaching out to Elton for advice when he was going through rehab in an interview a few years ago.
Monilove54 ()
Awesome job Mr Mathers we hope it doesn't take 18 years to be back! You were great! 👏🏽👏🏽👍🏽✊🏽👊🏽
Jennie ()
Let's break down Eminem's Oscars performance, frame by frame - The Washington Post
Indigo ()
Non mais le public des oscars face à Eminem on en parle ? J'me serais levé et j'aurai dansé comme si ma vie en dépendait
❌ KARYNA HARLEIK ❌ ()
8 años después Eminem estuvo en el escenario de los Oscars interpretando aquella canción que lo hizo ganador. Y lo hizo sin decir una palabra al término, retirándose like a legend✌🏻
📸 @Louis1695 ()
@ you missed an opportunity at the #Oscars, you could have gave us one last performance in your old outfits XXXL tops and jogger bottoms with the bandana 👀🙄 @rosenberg
Daryl R. Conrad ()
Did anyone see the Detroit D in the backdrop of Eminem's appearance at the Oscars? Detroit Pride!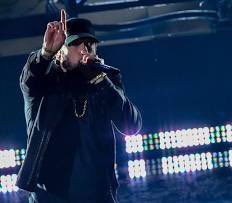 Mathias ()
Eminem me parece despreciable de pies a cabeza. Si es verdad que Billie Eilish lo miraba con desprecio durante su presentación, paso de ser un simpatizante más a barrabrava de esta chica
Amigo Conductor ()
La sorprendente actuación de Eminem en los Oscar que dejó a Hollywood boquiabierto
Joaquín ()
@CristianAmorinn Igual pará no le hizo cara de asco a Eminem le hizo cara de asco a unas que estaban haciendo chistes
Marshall Mathers ()
Look, if you had another shot, another Thanks for having me @TheAcademy. Sorry it took me 18 years to get here.