#Outlander twitter tendance - top tweets | France
Coucou les fans d'Outlander, on a une petite surprise : la date de sortie du premier épisode de la saison 5 a été avancée… C'EST DISPO TOUT DE SUITE !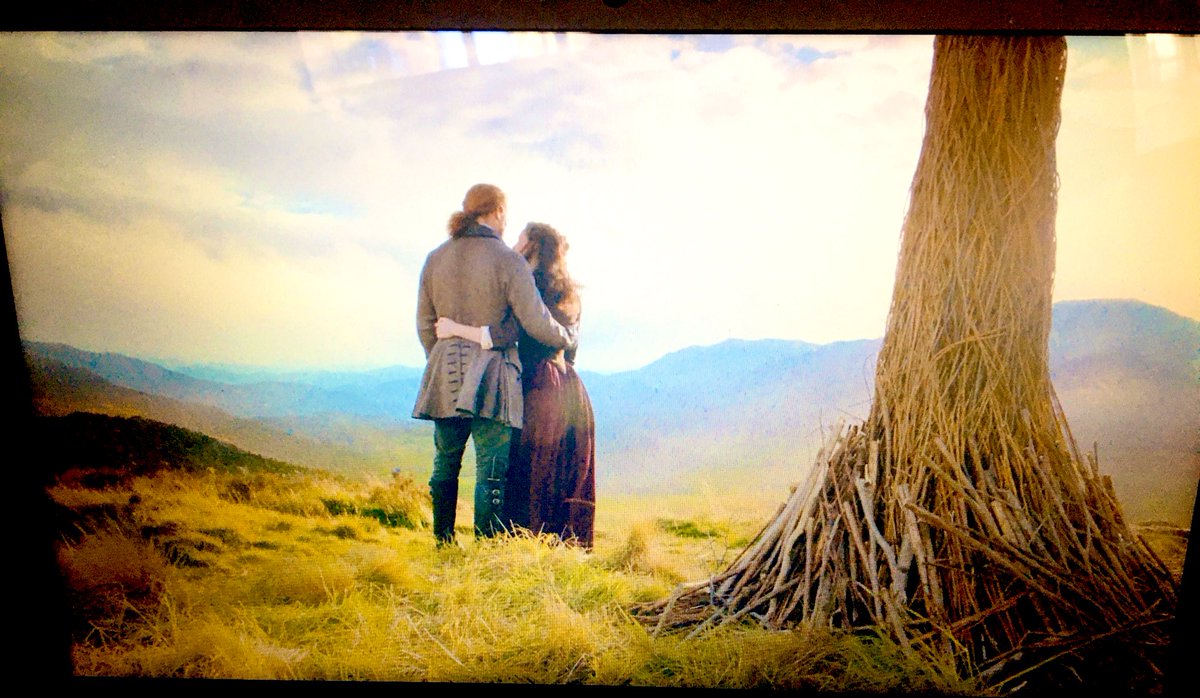 #Outlander on Twitter
🐯cherilynn ()
@Outlander_STARZ This scene brought so many things full circle for Claire and 've gone through for each other and love, and the family they now have.❤️ Stunning !
Outlander Online ()
*SPOILER ALERT* 2,410+ HQ Screencaps from Episode 5x01 of #Outlander The Fiery Cross Be patient, it might take a while for the gallery to load.
My 1st Death ()
Sam Heughan looks like the hulk in all his outfits when they go in for a close up. He's so fit 😂 #Outlander
Susanne Armborst ()
Very happy to see you again Tim 👏🏻👏🏻👏🏻👍🏻 #Outlander
Laura Thornton ()
Well @Outlander_STARZ is back and I've been crying for 13 minutes straight for this first episode. 😍😭
Jennifer Noricks ()
Will this be the season @SamHeughan finally gets some #emmy love? The man brings it every season but The Fiery Cross (S5, E1) is one of his best yet. Bravo! #Outlander
E. ()
so today i'm going to make a outlander s5 cw, i need to comment about the episodes as they are being released. 🥺✌🏻
OutLander é uma série linda baseada no romance Best Seller, vale muito apena assistir, sou apaixonada pelo casal Clair e Jamie aaah meus romances kkk 🥰🥰🥰
Linda V~RAF Godmother 🧔🏻💙💙💙 ()
@jongarysteele I just found out that you will be leaving #Outlander Thank You for the most stellar incredible sets, ever! Kudos to you and your team! Much success in the future! I will follow you ( in a good way) in your future projects. You will be sorely missed! ❤
"PatheticLizStan" #1 😎😛 ()
I don't ever want #Outlander to end! ❤️ It's already made TV history, there never has been anything like it nor probably ever will again. We can thank @Writer_DG for this! 😍@Outlander_STARZ
Save the Wildcat (Ronald Russell Hannah) ()
@BottyBolingoli @Frecklish1 Unfortunately one other effect that Outlander has,is the fact that so many of these tourists believe that what they read is real. 😏
Emilie Goncalves ()
@MisterCat_mp4 @NetflixFR Nous on est trop fans des garçons qui aiment Outlander, qui l'assume et même qui le revendique 😜😜😍
Netflix France ()
Coucou les fans d'Outlander, on a une petite surprise : la date de sortie du premier épisode de la saison 5 a été avancée… C'EST DISPO TOUT DE SUITE !
Raquel ()
@ClanLallybroch Exactamente!!! Es que este capi es todo lo que la season 4 debería haber sido y la supera completa DE LARGO. GANAZAS de comentarlo todo en la review del lunes. Hay mucho que #Outlander
Variety_TV ()
'Outlander' Team Says Season 5 Wedding is a 'Big Family Party'
Best of sophie skelton ()
the leading ladies of #Outlander! miss sophie and caitriona balfe being absolutely adorable ❤️
Aileen Geraghty ()
@STARZ if I have (and pay for) STARZ through @Xfinity how do I get to watch the Outlander premiere on the STARZ app? Thanks! 🙏🏻
Jessica Mendes🌊 ()
On top of that, he crammed Sam in to the last 5 minutes of the show. A leading man of an international series into SEASON FIVE. #Outlander @StephenAtHome @colbertlateshow

FANdemoniumNetwork ()
#Outlander Season 5 Los Angeles Red Carpet and Premiere Pictures and Video Inside @Outlander_STARZ
Kyndle Nance 🤜🏽✊🏾🤛🏿 #BelieveInTheFight ()
Sam Heughan: Expect Lots Of Drama In The New Season Of Outlander via @YouTube
Dori ()
@Outlander_STARZ @STARZ I have to pay to watch it? I subscribe to stars through my cable.
Scottish Photography Experience ()
The Scottish Photography Experience Outlander Photography Tour. Discover and photograph the #Outlander TV series locations. 6 days + 5 nights - hotels included. Based from Edinburgh, this is the most comprehensive outlander tour available in Scotland.
Vicki of Lallybroch ()
@Outlander_STARZ @STARZ Thank you for being the best cast anywhere! Your true hearts show in your characters, which endears us all to you❤️ Happy Valentine's Day to you all! I know your exhausted from giving so much of yourself to the fans this week👏❤️🥰.
Hannahgant ()
@TallShipProds @Outlander_STARZ 501 was incredible. The land and big house were exquisite. Bree's wedding dress was gorgeous and loved the flowers in her hair. Sophie and Richard really came into their own with major acting chops. Finally seeing J&C Fraser on screen made me weep. I'm back. Kudos to all.
Genna ()
Outlander dropping the first episode of season 5 early was the best thing to wake up to and Yes I've already watched the whole episode and I AM READY SEASON 5
Emilie Goncalves ()
Bon alors Néné...tu confirmes pour Outlander demain ou pas ?? Tu comprend, c'est vital pour nous de savoir 😇😇😝 @NetflixFR
Amy march stan account ()
Voy a ver el episodio de Outlander sin subtitulos, ojalá entender el acento de Sam y Richard.
Beth ()
Been marathoning #Outlander like crazy over the past couple of weeks (that S2 finale & 1st half of S3 😭). Only 3eps left on Netflix.
Pato Daniele ✈ ()
El lunes @FOXPremiumLat estrena la quinta temporada de @Outlander_STARZ y yo entrevisté a las coordinadoras de los clubes de fans argentinos más numerosos. Cómo es ser fan de adulto?
Elsi ()
Dont talk to me for the next 66 minutes #TheFrasers #Outlander