#AttackOnTitan139 Twitter Trends - Top Tweets | Germany
We dedicate this Titan carry to all the fans of the now ending AoT. #AttackOnTitan139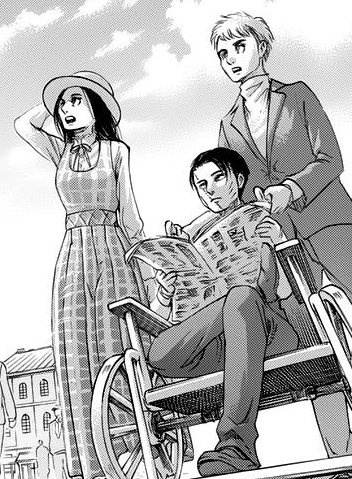 #AttackOnTitan139 on Twitter
Lachimolala_baby ()
Terimakasih bang isayama untuk karya mu yang luat biasa No word cant describe how much i love u Wajar kan nangisin anime Wajar kan? Kan? Kaaaan? :( #ThankYouHajimeIsayama #AttackOnTitan139
хочу, как Готтфрид Ленц ()
Этот момент я просто не могу #AttackOnTitan139
Muhammad Fauzi ()
Ending yang luarbiasa, terimakasih Hajime Isayama telah membuat cerita yang hebat yang telah menemani hidupku sejak 2013 #AttackOnTitan139
Padiansyahh ()
Terima Kasih Telah membuat dirimu menjadi pembunuh massal demi kami - Armin #AttackOnTitan139 #ThankYouHajimeIsayama
Ana ()
Aot started with Eremika be near the tree and Eren was sleeping. Aot also ended with Eremika be near the tree and so Eren is sleeping (forever) :) #AttackOnTitan139
Kito ()
Attack on Titan ended and I must say I am pleased with this ending. Frankly I expected it to be a bleak future but it looks like fate has finally been overturned #AttackOnTitan139
Audrey 🂽 ()
Thank you Isayama for giving such an amazing story and beautiful characters. It's sad to finally let go of such an amazing plot but it's time for them to rest. I haven't read it but the amount of people crying rn it's probably gonna make me cry as well. #AttackOnTitan139 ❤️
Peh ()
Eren kasian amat gabisa bareng sama Mikasa lagi😭😭 #AttackOnTitan139
Aki | anisd 📌 ()
#aot139spoiler #AttackOnTitan139 WARNING SPOILER AOT 139 This is so 💔💔💔
ミanvi aot spoilers ()
wow 11 years of working on this story, isayama probably feel so much happiness and freedom lol, now he can stop working AoT will feed him and his grandkids and their grandkids #AttackOnTitan139 #AttackOnTitan
Carlson ()
I will never recover from #AttackOnTitan ending after 11 good years. Even for 9371810037 years. Yes, even longer than Ymir's love for King Fritz. #AttackOnTitan139
ARM ()
So according to #AttackOnTitan139 freedom is the ability to say no to someone you love?
𝘼𝙢𝙧𝙖𝙣𝙚 ()
Quand un fan vas croisé Isayama #aot139spoiler #AttackOnTitan139
Linda❀ ()
#AttackOnTitan139 #aot139spoiler - - - - - - My man, Levi, what a legend! He went thorough so much, seeing the people he cared about dying over and over again ever since he was a kid. Yet he never lost sight of his goals and carried the Scouts mission and purpose until the end
Bratty ()
Im not anti eremika but that ending was so tragic. Homegirl stuck at the tree and mourning after 3 years while everyone moves on and is happy . Shes shackled to him even after death. Thats sad. You won but at what cost? #AttackOnTitan139
Richie ()
One last Shinzou wo Sasageyo! #AttackOnTitan #AttackOnTitan139
イザベラ ♕ ()
OKAY MU TWEET LANG GYUD KO FOR THIS: unsa man to nga ending Isayama?! HAHAHAHA ambooot #AttackOnTitan139

Who Trended it ? ()
You know who sent #AttackOnTitan139 trending in the US ? I do. Well done @TNCPredator. I make no mistakes.
September ()
Now I want some AMV of Jean and Mikasa with Ghostin by Ariana as soundtrack. #AttackOnTitan139
Shinro ()
I would prefer to see Mikasa and Eren died together in D end So they can be together in Afterlife #AttackOnTitan139
Nissa Nissa ()
Aray 😭 but atleast my ship kinda sailed hahah 😭😂😂💔😭 #AttackOnTitan139
Dania Marafi ()
احنا من اول المانجا مآسي وقتال وجاي يا ايسياما في اخر شابتر ترمي الحمل على حب مش مفهوم لا فعلا نهاية تعيش العمر كله 😂💔 #AttackOnTitan139
JENchuriiki ()
Idk if this sounds weird, but AoT really helped me grieve from the loss of my mom & distracted me to get through this pandemic. It transported me to a dystopian world that (I hope) will not exist in the real world, though it was very realistic. #AttackOnTitan139 #ThankYouIsayama
Lorena Leonardi ()
#AttackOnTitan è finito, e finalmente posso tornare ad usare internet senza vivere nel terrore di trovare spoiler, prima del manga e poi dei leaks. Sono io lo spoiler, adesso.❤️ #AttackOnTitan139
Shinro ()
Warning Spoilers!! I guest this is Goodbye!!! #AttackOnTitan139
𖧵 Rin 𖧵 ()
You win Eren, the world without Titan that you leave for them. Aaaah, manga paling menguras emosi akhirnya tamat. #AttackOnTitan139 #ThankYouHajimeIsayama
💫 ()
#AttackOnTitan139 . . . . LEVI ACKERMAN IS ON HIS WAY TO OPEN HIS FIRST TEA SHOP IN PARADIS. GABI & FALCO TAKING GOOD CARE OF THEIR DADDY.
Khu⁷✨ ()
#AttackOnTitanSpoilers #AttackOnTitan139 He understood the assignment.
Ransan 🇵🇭 ()
That was a good [or at the very least above average] ending. All of you people complaining saying this ending is just bad must have some ungodly standards that no one can satisfy. #AttackOnTitan139 #aot139spoilers
TNC Predator 🇵🇭 ()
We dedicate this Titan carry to all the fans of the now ending AoT. #AttackOnTitan139