#Bayer04 Twitter Trends - Top Tweets | Germany
🗣️¡Cabezazo, gol! ¡Goool de Alario! ¡Lo grita el Pipa, lo grita el Monumental 🤩🙌👏 ¡Histórico! #UnDíaComoHoy pero de 2015 @lucasalario13 marcó el camino para la tercera Libertadores de @RiverPlate. 🏆 ¡Qué remate, qué emoción, qué hinchada! 🖤🔴⚪️❤️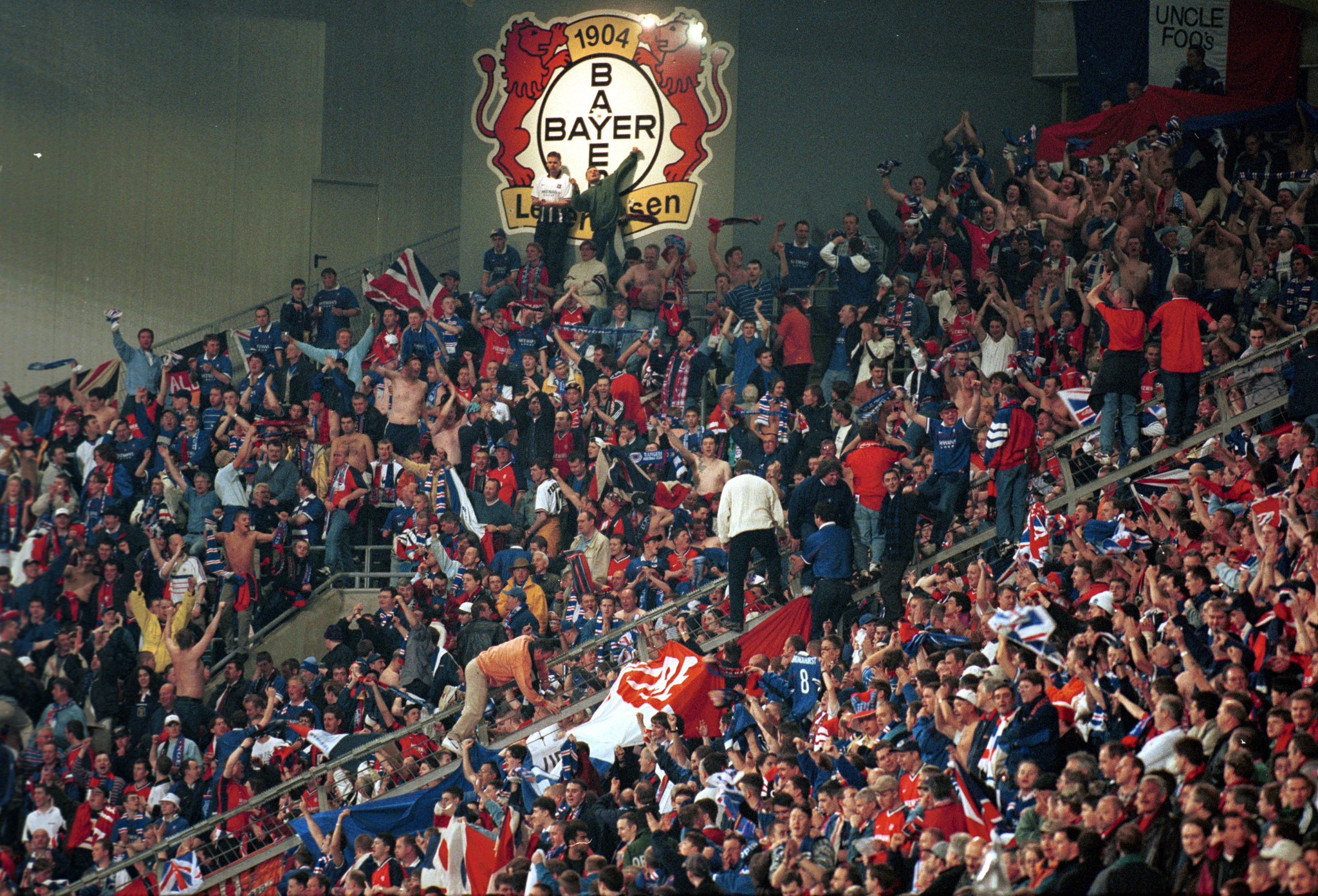 #Bayer04 on Twitter
AJ ()
You'd never see @bayer04_en do this Only one admin runs that league
Dancan Odaga Jr.🇰🇪 ()
@Blue_Footy *Leverkusen manager, Bosz when asked whether he suspects Havertz has played his last game for Bayer04* "I can tell you that Kai will join Heracles Almelo next season 😂 *this is pretty useful information, Heracles Almelo has a lion as the centre crest of their badge, just CfC
90min ()
Leverkusen manager Peter Bosz on if Havertz has played his last game for 🗣️ "I can tell you that Kai will join @HeraclesAlmelo next season Finally this transfer saga is over! 😉
NewAgeNexus / NazisRaus! ()
Wenn Havertz dann weg ist fehlt uns dann unser Torgefährlichster und kreativster Spieler und irgendwie habe ich keine Hoffnung das man in der offensive irgendjemanden holt, damit sich das offensivspiel bessert. #Bayer04
NewAgeNexus / NazisRaus! ()
Das größte Problem war: Wir haben uns spielerisch definitiv verschlechtert, zu wenige Chancen rausgespielt und auch zu wenig Chancen genutzt. Außer Havertz sehe ich keinen der in der Lage ist/war wirklich Chancen zu kreieren. Man hat Brandt einfach nicht ersetzt #Bayer04
NewAgeNexus / NazisRaus! ()
Also nach dem gestrigen Spiel muss man schon sagen, die Saison war eher eine Enttäuschung als ein Erfolg. #Bayer04
Bayer 04 Leverkusen ()
¡Ya tenemos a nuestro ganador de la camiseta de @lucasalario13! 👏🦁 ¡Muchas felicidades, @nicobarreiro17! 🖤👕❤️ #SomosBayer04 👊
Jonny Nelson ()
@BracingBroja @bayer04_en How nice of free Havertz to visit you, incarcerated Chelsea, in prison after you were caught in a murder case. (See image below) Wonder if this is what he sees looking into your cell:
Xavi ()
🇩🇪 @kaihavertz29 (21 años) ▪️36 goles en Bundesliga ▪️3 goles en DFB-Pokal ▪️7 goles en Europa League 46 goles con @bayer04_es
Drew(mcintyre, world champion) ()
@bayer04_en You were the lucky ones tbh, we missed so many good chances and we deserved to win by a bigger margin
Daniel amaya ()
@bayer04_es @HradeckyLukas arquerazo, atajo todo, uno de los defensores no paraba a Lukaku, de entrada hubiera ordenado a Ta, q lo siga toda la cancha.
Daniel amaya ()
@bayer04_es se nota a lo lejos el parate futbolistico q ocasiono la plandemia, pero bueno uds ya pueden realizar las actividades aca en Argentina nos tienen presos en nuestras casas.
Hot bread andy ()
@bayer04_en I really hope leon and kai leaves this club next week they are too good for this club.
Bayer 04 Leverkusen ()
¡Hoy no logramos ganar el partido, pero aprendimos mucho! Las ultimas estadistas de la temporada 2019/20:
Noah🇸🇪 ()
#Affinitweet Famous Followers 🥇 bayer04_en 🥈 dlanniebrown 🥉 enverkoparmal 🏅 eli___k 🏅 MrFilipeOrlando 🏅 myoddballs 🏅 FeelThree via
Nonso🧢 ()
@bayer04_en And plzzz our on loan player Kai Havertz back to his club Chelsea ..Thank you
StaunchLaudrupRFC ()
@bayer04_en Well played over the two legs Bayer, class team 👏🏻 Thought we held our own and more in spells in the second leg. Hope you go on to win the EL 🏆 After some of the sell havertz to any EPL team 👍🏻😂
INFOCANCHA En Semáforo 🟡 ()
#EuropaLeague @bayer04_es no tuvo mayores contratiempos para dejar en el camino a Glasgow Rangers ;
Rincón del Deporte ()
⚽ #RDDInternacional | @bayer04_es eliminó al @RangersFC de Alfredo Morelos. #CanteraDelPeriodismo
Xavier Bucheli ()
#EuropaLeague @bayer04_es no tuvo mayores contratiempos para dejar en el camino a Glasgow ;
Macca ()
@EuropaLeague Really hope @bayer04_en win it. Class act over the 2 legs. Havertz is different gravy!
Leon "rock solid" Balogun ()
@bayer04_en Congratulations on your victory probably deserved it on the whole. Best of luck for the rest of the competition 🟥⬜️🟦
Marisol Padilla ()
El @bayer04_es avanzó a los cuartos de final de la @EuropaLeague al vencer al Rangers por marcador de 1-0.
HARRIS PROPERTY ()
@bayer04_en Congratulations to Leverkusen, the best team won. Good luck in the remaining rounds. It would be nice for us to say we were knocked out by the eventual winners.
Vanessa Müller ()
@CFCKonark @bayer04_en No solo tú, son varias personas que solo entran a la cuenta del leverkusen a hostigar con este hastag y la verdad es una falta de respeto. Si tanto quieren a havertz deberian pedirselo al presidente del chelsea pero no al Leverkusen. Saludos
🎩¡TIPSTER DECENTE!🎩 ()
@edgard_raudales @bayer04_es En el premium la traíamos combinada, over Ni hablar así es esto. Perder es parte de ganar
🅷🅾🅼🅸🅴 ()
#Bayer04 - Glasgow Rangers 1:0 (Hinspiel: 3:1) Im Viertelfinale (Montag) trifft die #Werkself auf Inter Mailand. Gespielt wird in Düsseldorf (Merkur-Arena) um 21 Uhr.

George Cruikshank ()
@bayer04_en well done and good luck guys - you deserved it tonight. steve G - final next year?
Bayer 04 Leverkusen ()
🗣️¡Cabezazo, gol! ¡Goool de Alario! ¡Lo grita el Pipa, lo grita el Monumental 🤩🙌👏 ¡Histórico! #UnDíaComoHoy pero de 2015 @lucasalario13 marcó el camino para la tercera Libertadores de @RiverPlate. 🏆 ¡Qué remate, qué emoción, qué hinchada! 🖤🔴⚪️❤️
Rangers Football Club ()
📸 PIC OF THE DAY: #RangersFC fans at the Bay Arena in 1998 as we faced @bayer04_en.