Israel Twitter Trends - Top Tweets | Germany
After decades of division and conflict, we mark the dawn of a new Middle East. Congratulations to the people of Israel, the people of the United Arab Emirates, and the people of the Kingdom of Bahrain. God Bless You All!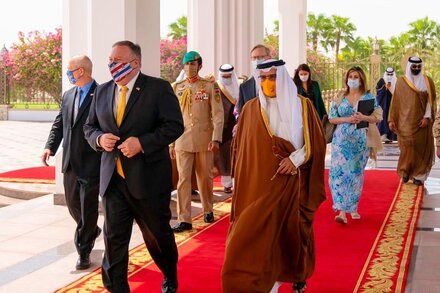 Israel on Twitter
Baaghi TV باغی ٹی وی ()
معمرفلسطینی خاتون کے اسرائیل معاہدہ پر تصویر کے ساتھ احتجاج نے عربوں کواپنا غصہ ریکارڈ کرادیا #palestinian

One America News ()
President Trump predicts more Gulf nations will normalize ties with Israel via @YouTube #OANN @_StephanieMyers

Heshmat Alavi ()
24 hours after the landmark agreement between Israel, the UAE & Bahrain. #MiddleEastPeace
The View ()
[email protected] says deal normalizing relations between Israel and Bahrain and the United Arab Emirates "is getting very little attention in the scheme of things for just how big it is": "It really is an amazing step forward for peace in the Middle East."

Richard N. Haass ()
UAE, Bahrain normalization w Israel a truly welcome development. But not to be confused w Mideast peace. Iran closer to nuclear weapon than it was 3 1/2 years ago; wars in Yemen, Syria, Libya; & a Palestinian state still essential if israel is to remain both Jewish & democratic.
Anshul ()
@OpIndia_com Israel knows how to handle We also want Israel model in india🇮🇳

Donald J. Trump ()
After decades of division and conflict, we mark the dawn of a new Middle East. Congratulations to the people of Israel, the people of the United Arab Emirates, and the people of the Kingdom of Bahrain. God Bless You All!

Donald J. Trump ()
HISTORIC day for PEACE in the Middle East — I am welcoming leaders from Israel, the United Arab Emirates, and the Kingdom of Bahrain to the White House to sign landmark deals that no one thought was possible. MORE countries to follow!

Donald J. Trump ()
Left California for Arizona. Leaving Arizona after a GREAT meeting with our incredible Hispanic community. Heard fantastic and inspiring success stories. Will be landing in Washington () soon! Big White House ceremony tomorrow morning with Israel, UAE, and Bahrain.
Operation Heal America ()
If YOU, Israel, will RETURN, then return to me, declares the LORD. IF YOU PUT YOUR DETESTABLE IDOLS out of my sight and NO LONGER go THE NATIONS WILL INVOKE BLESSINGS BY HIM and IN HIM they will boast. Jeremiah 4:1

Keith McCullough ()
ISRAEL: + on the bounce after being down last week, remains Bearish TREND @Hedgeye
Rana Brightman ()
Why has Israel decided on a second national lockdown? Whhhyyyy??!! Come surely this is not the way to 🤦🏻‍♀️🙄😩
Linda kristine ()
Israel imposes second nationwide COVID-19 lockdown as cases surge
Cantieny ()
@jameswillioms @LionelMedia Right. You think moving the capital helped obtain that? Or did it just further leverage Israel?
El Principito ()
@sabinaberman Sabina, Israel tiene servicio militar para mujeres y hombres, todos los días madrean y matan a alguien de Líbano, tiran y reciben bombas, tienen comunas y agua racionalizada todo el tiempo. Para ellos un lockdown es cosa del diario.

Rudy W. Giuliani ()
[email protected] has been nominated for a second Nobel Peace Prize. He brokered peace between Serbia Kosovo. As well as Israel, and UAE Bahrain peace and recognition agreements. That's .#realnews, but gets little coverage in.#FakeNewsMedia .

The White House ()
There have been two peace agreements with Israel in the last 72 years. This is now the second peace agreement that we have announced in the last month, and I am very hopeful that there will be more to follow. — President @realDonaldTrump

Rep. Jim Jordan ()
President Trump's foreign policy wins: -Out of Iran "deal" -Embassy in Jerusalem -ISIS defeated -Hostages home -USMCA -Israel/UAE agreement -Serbia/Kosovo agreement -Israel/Bahrain agreement Imagine what else he could do if Democrats didn't attack him at every turn.

Cecile Braconnier ()
Trump annonce un « accord de paix » entre Bahreïn et Israël — via @LaMatinale_M
Noticias Internacionales ()
🇮🇷 | URGENTE: El Ministerio de Exteriores de Irán calificó este sábado de vergonzoso el acuerdo entre Israel y Baréin y advirtió a este último país de que ahora es cómplice de los crímenes contra los palestinos y el mundo musulmán.
Lean ()
@BolsonaroSP @jairbolsonaro Me fala ai sobre o Lockdown de Israel?Ou vai ficar caladinho? Estranho neh a pandemia não existe, fala também do general brasileiro de 53 anos morto pela covid? Ou vai jogar a culpa na comorbidade pra ele também? Quero ver as eleições e os vídeos em looping de não morrerá nem 800

Meritocracy ()
@SDGMasterglass Both USA & Israel must be expelled from all International bodies they must also be considered as one country . The whole world must join together to fight their non compliance of ICC WHO Rules Climate change & Unilateral sanctions International invasions sieges occupation etc
Jo Ann Capik Aprile ()
Joe Biden: Trump 'Accidentally' Making Peace Between Israel and Arab States via @BreitbartNews
Standing with Marco ()
#News via #NYT by Michael Crowley and David M. Halbfinger Bahrain Will Normalize Relations With Israel, in Deal Brokered by Trump

Guanare ()
Bahrain Says It's Time to Embrace Israel. The Gulf Hears a Saudi Voice.
Gail newman ()
Trump announces deal between Bahrain, Israel to normalize relations in push for Mideast peace | Fox News
Imran ()
@HerNameIs_Bea Pakistan Will never accept the Israel if any Pakistani govt try to do this Will be set back by the pressure of public of Pakistan it Will never been happened
Vic Valenzuela ()
@JeffreyGoldberg Jeff, Soo, let me get this straight. Barack Obama gets a Nobel Peace Prize for becoming the first African American President! No real peace deals. As it turns out, spied on the Trump Administration, Trump has two Peace deals UAE and Israel Serbia more coming b4 election.
Art Now Israel ()
summer in iceland, Reuven Dattner #reuvendattner #figurative
Joaquim ferreira ()
O pacto de Israel com os mulçumanos e árabes será quebrado pelo próprio Deus , no dia da sua visitação conforme Isaías 28 v 14,15 e 18 e Matheus cap 24 verá 15 a 22