#BollywoodDarkSecrets Twitter Trend : Most Popular Tweets | India
Bollywood has always worked in a well nexus with a section of a media to derail and kill any question that arise. #BollywoodDarkSecrets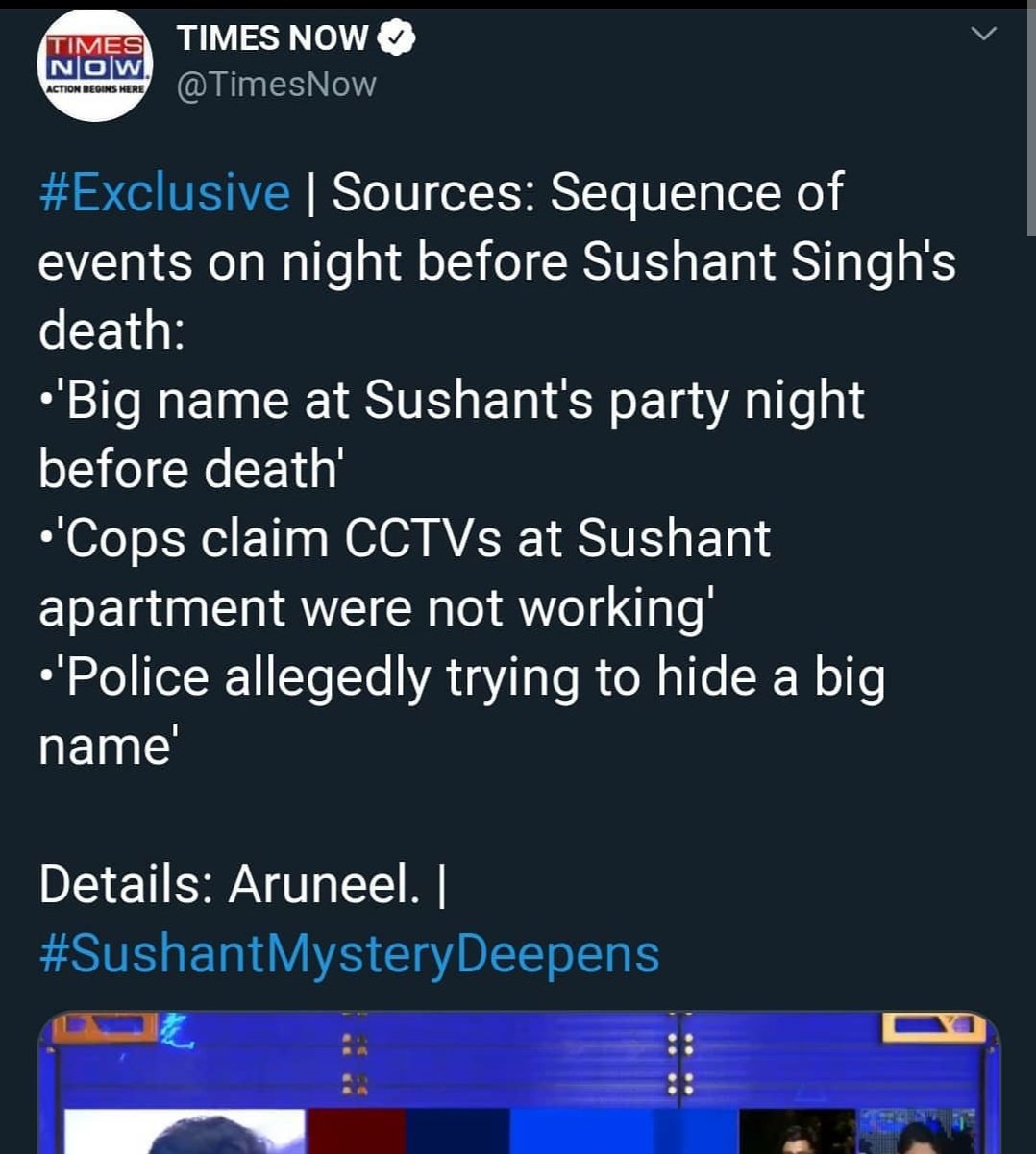 #BollywoodDarkSecrets on Twitter
@republic Those who watch Gunjan Saxena ask Jahnvi her #mom died. I am not being apathetic. I am concerned, coz @SrideviBKapoor did not die a natural death.#BollywoodDarkSecrets
Möńå ()
Make your own movies, watch your own movies and award your own movies. #EndofBollywood #BollywoodDarkSecrets
Irene Shiva ()
The only person everyone right now is watching who has given people power/ and the one man army right now stronger than any government or Bollywood or mafia #ArnabGoswami hats off to you #BollywoodDarkSecrets @republic @ArnabGoswamiRTV
GauRav GuleRia ()
Star kids in their mind: ab to Mera career bhi gya. #BollywoodDarkSecrets #MahaGovtExposedInSSRCase
Nishant ()
#BollywoodDarkSecrets When someone company employee millions of employees but does fraud, does it means because the company owner and CEO should not taken under Bollywood needs discount to break law????why their financial not put under scrutiny???Dear SSR, we r with you.
Lucifer ()
The mysterious deaths in bollywood have been continuing from long back. In every era some new mafia rules it and all the deaths connected to it are deemed to be suicide. The death of Sushant has been an inflexion point where we cannot accept this anymore. #BollywoodDarkSecrets
Suraj singh ()
@arnab5222 Krk Chakraborty's father Dr Indrajit Chakraborty is Head of Admin of Kohinoor Hospital. And Kohinoor Hospital is owned by Manohar Joshi, ex Maharashtra CM, a prominent Shiv Sena leader! Now you do the calculations! #BollywoodDarkSecrets #SameOnMumbaiPolice
Anju ()
#BollywoodDarkSecrets bollywood is separate own world In which many people feel like he is God of bollywood.
Udita Upadhyay ()
@ishkarnBHANDARI @XoItsMoana You are challenging an age old labyrinth of mysterious death investigations. They are visibly shaken by people of country, Republic and law coming together, where they only had to deal with helpless family members before. #JusticeforSSR #BollywoodDarkSecrets
Naveen Kumar Dey ()
#BollywoodDarkSecrets Nepotism, Blackmailing, Anti Socialism, Anti Nationalism, Fake Love, Unethic Se*ual Affair -- All this Shits explain ▶
Abhay Anand 🇮🇳 ()
@h_m_n_t_X Gupteswar babu bole hai, zameen aasman ek kr denge case k liye. Mumbai Police, Bihar Police ko tehla rha idhar se udhar, is thana se us thana. Isi time lagta hai police center ke control me hona chahiye, na ke state ke. 🙄 #DishaSalian ka file nahi diya. #BollywoodDarkSecrets

Kumar Vaibhaw ()
@arnab5222 @arnab5222 have the ball to question the #BollywoodDarkSecrets ..donot see any except hobonobbiing with dirty India demands justice for SSR n Disha saliyan after all how these mutual admiring group promote each other.
Ajay ()
#BollywoodDarkSecrets pls for God sake and to the humanity, boycott Urdu film industry
Ricks ()
#IndiaScreamsCBI4SSR did timesnow delete this tweet #BollywoodDarkSecrets
Arnab Goswami ()
Bollywood has always worked in a well nexus with a section of a media to derail and kill any question that arise. #BollywoodDarkSecrets
Suryakantha Reddy G ()
#BollywoodDarkSecrets No dark secrets as such because it is a OPEN SECRET that nepotism plays major role in this filthy industry
Prasoon Sinha ()
#BollywoodDarkSecrets Arnab Goswami may I request you not to take persons like Bharti, Rahul & likewise please. You are doing the great job to find the justice for murder of SSR. They have been paid to disturb your intelligent work. Please go ahead. God bless you.