#BoycottIPL Twitter Trend : Most Popular Tweets | India
I appeal to Sports Minister Shri @RijijuOffice ji to stop the monstrosity of BCCI-IPL being sponsored by Chinese companies. What is the point of banning Tik Tok otherwise ? #BoycottIPL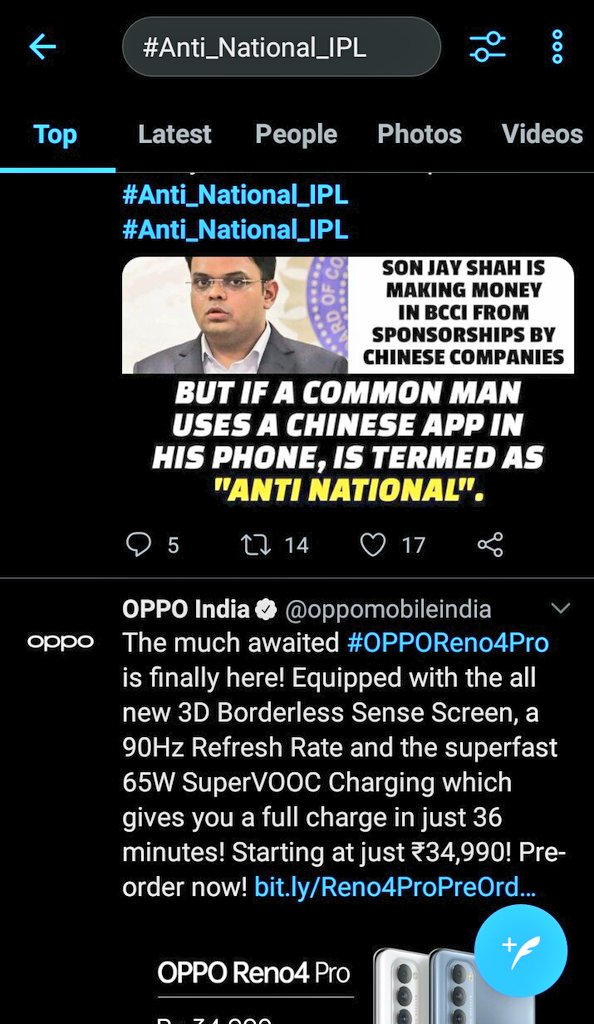 #BoycottIPL on Twitter
Yogesh Tambare ()
@SGanguly99 @JayShah Sir aap Chinese sponsership cancel nahi kar skte hai kya all over India all Chinese is ban how can you do that in case of ipl sponsership You should cancel theChinese sponsership because nation first our army soldiers get betrayed by Chinese army #BoycottIPL
Arko Chakraborty ()
#BoycottIPL #BoycottIPL2020 This is not an Aatmanirbhar Indian Premier League! Is it?
Gaurav Gogoi ()
I appeal to Sports Minister Shri @RijijuOffice ji to stop the monstrosity of BCCI-IPL being sponsored by Chinese companies. What is the point of banning Tik Tok otherwise ? #BoycottIPL
ANNUBRATA ROY (অনুব্রত রায়) ()
#BoycottIPL Trending Irony many people will tweet from Vivo/Oppo/MI all Chinese Phones 😌
Shunmukh Katragadda ()
To the people who are thinking to ban vivo as sponser,Just think does vivo really make 100 cr business in India for the next years? No way, vivo already lost its image,so just think this is a payback from vivo to India,And I am not supporting this trend (#BoycottIPL)
Robert Starc Jr (Tony Downey) ()
Sattebaaz and fixers to the people who are trending #BoycottIPL
LoksattaLive ()
#जाणून घ्या सोशल मीडियावर का होतोय आयपीएलला विरोध??
Rishit_Sachinist •EF• ()
#BoycottIPL A valid call? Not removing Chinese sponsors mayb the reason! The father & his govt. r vocal abt local & banning Chinese apps, goods, etc. And the BCCI, where the son is a decision maker, refuses to terminate sponsor contracts with china brands. Double standards much!
Noufal K S ()
ആർക്കാടാ IPL boycott ചെയ്യണ്ടത്.. ഇറങ്ങി വാടാ.. #BoycottIPL 🤧
R A B ! N (2.0) ()
Peoples are using Chinese phones & Saying #BoycottIPL 😌 Wow ! This is our Humanity 🙌 Great Going Guyss ! Keep Continue 🤲 #IPLinUAE
Citizen_Garima ()
Ab Kahan gayi deshbhakti?? China se Paisa lene wale to communists - naxal hote hai na so Arnab and jai Shah are biggest Communists and Anti national. #Anti_National_IPL #BoycottIPL
Jethiyaa ()
Me Who Just Woke Up And See #BoycottIPL Reaction -
Bhaskar #GetVaccinated ()
Shame on you @SGanguly99 , how can you allow Chinese companies to sponsor #IPLinUAE when Chinese killed our bravehearts and our govt banned Chinese apps @IPL #BoycottIPL

Pikesh k gupta ()
#BoycottIPL Exactly! Boycott IPL Bade log Chinese product ka khule me advertise kare ar hm mobile me v na Shame on bcci @narendramodi
Sourav Deo Rajput ()
राष्ट्रीय से ना बड़ा कोई धर्म,, ना कोई जाति ना कोई पार्टी और ना कोई भी। राष्ट्रहित सर्वोपरि-Nation First @srv_deo_jaihind🇮🇳 #BoycottIPL #BoycottChinaProducts
داویکانت 🖤🍁🕊️ ()
#BoycottIPL This is what in Mann ki baat said to not to boycott Chinese products if we are boycotting then why not @BCCI & @SGanguly99 not denied for sponsoring for IPL 2K20
ASHWANI MAHAJAN ()
Indian Premier League (IPL) is a business & those running this biz are insensitive towards the nation and it's security concerns. Whole world is boycotting China, IPL is sheltering them. They should understand that nothing is above nation, not even cricket. Ppl may #BoycottIPL
@rahulrajoria ()
#Anti_National_IPL This is what marketing in reality. Bad publicity is good publicity for them. @oppo is playing ads in #boycottipl trending tweets.
Rahul Gandhi's fan ()
@IPL #boycottipl - im a single fan but we should #boycottipl which has chinese dark money - the same chinese who attack our country every year and ki!!ed our 20 soldiers , you ppl have no shame
Vandana yadav ()
@cricbuzz Sponsor vivo, great, un 20 jawano ki shahadat ka kuch nhi, roz jo fauji border pr marre hai unka kuch nhi, wo fauji jo hamse atleast Chinese chize use krne ko manaa karre hai unki baaton ka maan bhi nahi rakhsakte tumlog, mein IPL keliye wait Karri pr ab nahi, shame #boycottipl

Shubham ()
#BoycottIPL @SGanguly99 Sir, please remove vivo . It is my request, please sir do it . I still remembered when u always stand with ur country during ur time . If anyone else in ur place , i m not going to request but sir i believe in u and i have strong felling that u will do it
Digvijay Powar ()
Come on India! What is happening everywhere? #boycottipl #BoycottBollywoodMovies
Shushant singh rajput ()
Sala bhenchod ham yaha nuksan kha KR Indian product le rahe or ee Sala ipl hi Chinese sponsor se krwa rahe Sala chutiya Kat diyya be #BoycottIPL
ಶಾಂತರಾಜ್.ಕನ್ನಡಿಗ ()
Shame on you bluddy better than your money hungry thoo @BCCI #BoycottIPL
ठाकुर रॉकी ! ()
#BoycottIPL विराट को एक और हारने के गम से बचाने की साज़िश लगती मुझे तो
Himanshu ()
😂 😂 😂 😂 😂 😂 😂 😂 😂 😂 😂 😂 😂 😂 😂 😂 😂 #BoycottIPL
Siddharth hulmani ()
Nothing is bigger then our country so when our army is garding our country we should respect our soldiers. #IPL2020 will be having same Chinese sponsors. #boycottipl no sports is bigger than our country. @SGanguly99 shame
Bharath ()
@FrontalAssault1 @Anand_108_Om #BoycottIPL, shame on BCCI. When young soldiers keep fighting with their lives these guys can't do their bit?
Hazard26 ()
@GargiRawat Insult to our brave soldiers who laid down thier lives. #boycottipl #BoycottChina
𝓓𝓻 𝓛𝓲𝓼𝓪 𝓢𝓪𝔁𝓮𝓷𝓪🇮🇳🇬🇧 ()
#ShameOnBCCI @BCCI This is the way you pay tributes to our soldiers? #BoycottIPL