Sir Alex Twitter Trend : Most Popular Tweets | India
Absolute brilliant shithousery there from Sir Alex 😂 #PSGMCI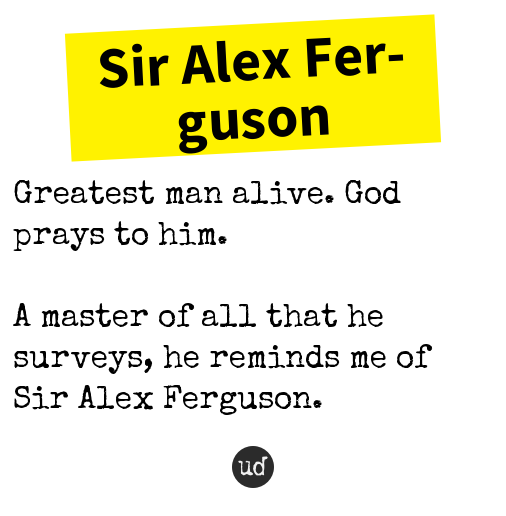 Sir Alex on Twitter

Gessler sanguino ()
@marieferro98 digan lo q digan de guardiola ya pronto sera el segundo tecnico mas ganador de la historia y si sigues este ritmo muy probablente alcanse sir alex ferguson
Wesley ()
@durangojohnny If thats the case why did he turn down Manchester united to go to city. He knew he would have unmatchable amount of money to his disposal. He is a fraud when he doesnt have money look what happen at bayern he had to actually coach he failed. And by the way sir alex won it all
RISBO 🏴‍☠️ ()
@me_pite @Pfutfemmedindon Guardiola a gagné 2 ligue des champions dans sa carrière, les deux finales étaient contre Sir Alex Ferguson.
XxSoussiXx ()
my man nasser rly went and brought Sir Alex to try and win this game dkm 😭😭😭 WHYYY
DarrenRawDogTill ()
Absolute brilliant shithousery there from Sir Alex 😂 #PSGMCI
La Serrure ()
Je n'ai que de l'admiration pour Sir Alex mais c'est quel message pour Pochettino qu'il passe 1h30 avec les joueurs du PSG le jour du match le plus important de la saison
Kacper 🇵🇱⚽️👹🔴 ()
@PSG_English Sir Alex in the building. PSG comeback incoming.
YMA🔰 ()
Man city is so screwed sir Alex actually went to the hotel to teach poch a few things
He-Who-Must-Not-Be-Named ()
@noneairai Ну блин это для тебя они очевидны, а для него нет, выключи мамку ну😀
Moss 🇾🇪⚽️🏃🎸 ()
I had a feeling PSG were going to pull off another away masterclass tonight. Now Sir Alex is involved I'm off to see my mate William on the Hill. 💷🤑
Felix Moses Habu ()
@ManUnited_Nam You just don't get it do you. Ask yourself why Sir Alex went to Lowry hotel today where PSG players are staying
Hugz ()
Il leur a dit d'aller enfiler la racaille citizen, vive ManU(je deconne mais j'aime sir alex)
Shantanu Bharvirkar ()
Sir Alex came and reminded them cross and inshallah but with a proper number 9 in Mauro icardi , not some pace abusing roadrunner.
Hon. Muhammad Magaji🔴 ()
@Justgooners kaga bakin cikin mutanen ko?? Toh wane sir Alex bayan guardiola bi takan shi ya ringa
Urban Dictionary ()
@ole_bin_laden Sir Alex Ferguson: Greatest man alive. God prays
FeedMeGoal ()
Sir Alex was there to see PSG President Nasser Al-Khelaifi, who is a friend of Ferguson and were both two significant voices in opposition of the European Super League. #MCIPSG
Lyle ()
@UnitedsUpdate Nothing to see here just sir Alex dropping some of the notes he gave ole to beat pep 🤣🤣🤣🤣🤣🤣
The Football Professor ()
@MOVIESTVMAD Not judging anyone and definitely not denying the greatness of Sir Alex.