SHINee Twitter Trend : Most Popular Tweets | Indonesia
7th Album『Don't Call Me』、UNIVERSAL MUSIC STORE限定オリジナル特典付きは只今ご予約受付中☎️✖️ 商品詳細も公開中なのでぜひチェックしてください✔️ 限定ビジュアル使用の特典A5クリアファイルは数に限りがございますのでお早めに🎁 💿 #SHINee #Dont_Call_Me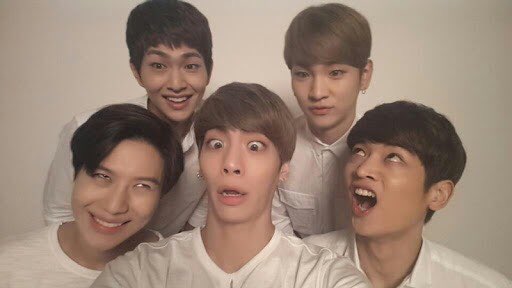 SHINee on Twitter
## faith ! ★ loves Jjong ()
i think i'm going to try to go to bed early so i can be well rested for the shinee comeback. and my midterm too i guess
R.I.P Jonghyun ()
@alsghyidlsl też mam myś baaardzo złe ... bo collab Shinee, dlatego piszę do Linkin Park, czy by nie wzięli na nowy wokal do siebie Może tak mi się odechce odchodzić.
Hira • ()
안녕하세요~ 빛나는 샤이니입니다! #SHINee #SHINeexhello82
BUMMIE `ㅂ´ ()
ช่วงที่ชายนี่โชว์ความสามารถพิเศษ แทมิน: เวฟนิ้ว / ทำตาชั้นเดียวหลบใน คีย์: หักข้อมือแล้วเอานิ้วโป้งชิดกับแขน / โชว์การยืดหยุ่นกล้ามเนื้อ อนยู: ควงสิ่งของด้วยปลายนิ้ว จะบอกว่ามันคือความสามารถพิเศษจริงๆ ในนี้เราทำไม่ได้สักอันอ่ะ 😂 #Dont_Call_Me #SHINee
Ky 💎 #SHINeeIsBack ()
I FEEL ATTACKED KIBUM LOOKS LIKE HES READY TO FIGHT SOMEONE LOL
SHINee is BACK D-1 ()
Hello guys~ To those who wants to buy super junior stickers~ my sister is selling her artwork (stickers) Here is the shopee link: PLEASE WAIT FOR THE SHINee VERSIONS OF THE STICKERS HEHE~ i am still making the layouts atm 😂 #SHINee #SuperJunior
Gui ()
DERAM UM DESCARTE DO SUPERM PRA ELES NAAAAAAAAAAAAAAAOOOOOOOOOO
ً ()
jaehyun gonna meet shinee on his last day of mcing THIS IS EVERYTHING I COULD HAVE ASKED FORR
SHINetter シャイニッター ()
7th Album『Don't Call Me』、UNIVERSAL MUSIC STORE限定オリジナル特典付きは只今ご予約受付中☎️✖️ 商品詳細も公開中なのでぜひチェックしてください✔️ 限定ビジュアル使用の特典A5クリアファイルは数に限りがございますのでお早めに🎁 💿 #SHINee #Dont_Call_Me
あさ ()
アルバムは当然楽しみにしているけど、発売後にテレビやラジオにいっぱい出演してくれることを考えると幸せ! #SHINee
てゅみん☆ ()
Vliveしてくれるのはすごく嬉しいけど、きっと疲れてるだろうし無理しなくていいよ…😣SHINeeみんなが元気でいてくれることが何よりだし💎
Dont_Call_Me._.おにいゆ ☎️❌ 🐰🍗 ()
I went shopping today and found Jinki ✨ #SHINee @SHINee #StanWorld
엘스 ☎️❌²²² ()
Dadah~ 🔗 #stanWorld #SHINee @SHINee
탬 탬(δvδ)♡From Now On ()
ここのやり取り可愛かったwww ツンデレなキー君やなと思いましたw
Jujuba ❌☎️ ()
@chittapxn imagina, amg. foi bom vc comentar pq assim não pensam que é uma crítica ao nct, o e erro foi que a fanbase postou quais foram os únicos grupos que ficaram em primeiro, mas não falaram do shinee e nem do tvxq
Mr.태 ()
@SMTOWNFESSAREA Taemin disini mukanya polos amat, kek blm tau dosa😅 Di SHINee dia evil bgt ampe nyungnya nyerah😅
Shawolzenny ()
@winkobee the whole Dotae session ( I stopped in between to watch SHINee VLive) and Now Taeyong Instagram
Noy ()
shawols get your daily dose and keep voting and promoting to make our babies proud n happy @SHINee #SHINee #StanWorId
Lua 🎀 HOBI, DK E VERNON DAY | ex binniehy ()
eu e o ni-ki começamos a dançar com 3 anos de a diferença entre a gente? ele dançou num show do shinee e agora com 15 anos debutou em um grupo de kpop e eu com 16 anos tô chorando vendo coreano, japonês, chinês e tailandês e dançando pros cachorros da minha casa
Hira • ()
@hello82official @SHINee ♥️💕💙💚🤎🖤🤍🧡💛💜💗💖💖💖💖💖💎💎💎💎💎
❤️💎SWTOKYODOME💎❤️🐾 ()
7目つの新しいアルバム出すかと思ったら、すごいところからテミンのNever Gonna Dance Againアルバム出すミノ😂 #SHINee
Krupuk emping 🐆 ()
I am very sorry for the person i will become when exo, ikon and shinee will make their cb.
💎✨yuri✨💎 ()
@eritaem_0718 大好きなshineeとシャヲルチングちゃん達に会える日を楽しみに待ちながらその日までお互いファイティンだよー😊✌️早くえりちゃんとハグできますように ♥(っ´>ω<))ω<`)ギュッ♥
Vota por SHINee♡ ()
✨SHINee's Calling: Answered✨ Shawols tiempo de dar muchos corazones😍💓 #SHINee #StanWorld @SHINee
🧁 ()
sm is going through a phase of these big ass albums that won't fit on my shelves pls i don't want it :( (and what's up with jewel case albums? are you finally getting rid of kihno's?)
° ()
and a few years after, the vintage old school, retro theme became a trend. its everywhere. SHINee are always ahead of their time.
Jessica ()
In SNSD's new mini-album, Jessica's tender voice and SHINee's Onew's sweet and warm vocals are featured in the ballad song, "One Year Later" -Jessicafact
💜🐱tomo🐭💜 ()
懐かし画像が出てきた けどいつのかな🤔 変顔SHINee(笑) ミンホの顔ヤバくない ですか🤣🤣🤣 #SHINee #SHINeeIsBack2021
Shawna C⁷ ()
@NazzG1995 @saywhatreacts These are both Shinee members. Jinki (Onew) in the black and Kibum (Key) in the blue.
Yucchi💎 (ㅎㅅㅎ) ()
@shinee_keylove1 ゆきちゃん、さむい(((゚〰゚)))❄ チラチラしてるよね😣 うんうん、emewちゃんとオソロ💕 もしやゆきちゃんも?とさがしたけど😅 ゆきちゃん、風邪ひかないようにね〜⛄