Yemen Twitter Trend : Most Popular Tweets | Israel
-Trump ripped up Iran Nuclear Deal -Increased Iran sanctions/assassinated their top general -Increased drone strikes at unprecedented levels -Ended reporting on civilian deaths -Vetoed bill to end US involvement in Yemen Maybe mention these when giving him credit on no new wars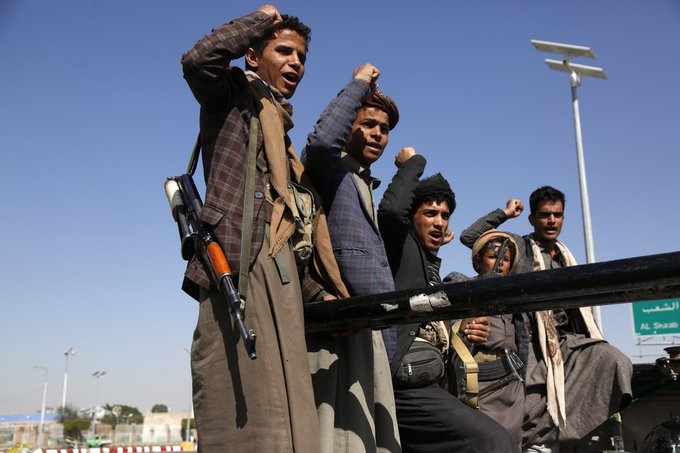 Yemen on Twitter
Yousafmehdi05 ()
This picture is enough to make the world demand an end to the war on Yemen, as childhood was slaughtered in Yemen from vein to vein by the forbidden American bombs #DayofAction4Yemen
Ben ()
a libertarian guy came to our Yemen rally today and tried to bond with me by talking about the ads they played before Joe Rogan youtubes it rocked
Partners Relief & Development ()
In #Yemen where over 3 million people have had to flee their homes, and million - almost 2/3 of the population - are in need of humanitarian and protection support, this blanket distribution is a precious sight. #YemenCantWait
Simon black ()
Kudos to @TOAdamVaughan for following his conscience, not the Prime Minister. "I believe the humanitarian crisis in Yemen requires us to suspend military shipments to the region and provide more in the areas of food and medicine," Mr. Vaughan said.

Shehab alkibsi ()
Encyclopedias have been written to document the US crimes and aggressive interventions in other countries #DayofAction4Yemen #Yemen
ناصر علي ()
@alihashems والله الشرف لنا يا اغلى الاحرار لم تشغلك مظلوميتك عن الوقوف معنا جمعك الله بفلذات كبدك واسرتك في القريب العاجل بحوله وقوته♥💙
Shar jeel🇵🇰 ()
child was slaughtered in Yemen from vein to vein by the forbidden American bombs. About Six years they are looking for the remains of their children under the world is watching the crimes of the Saudi coalition in Yemen. No one can stop it? #DayofAction4Yemen
أحمد حمود جريب الصبيحي ()
لأمريكا في اليمن سجل كبير ومفتوح من الجرائم المروعة، سجل مكتوب بدماء آلاف الشهداء والجرحى، سجل لا يمكن أن يمحوه قرار ولا يمكن التهرب من تبعاته، ولن ينسى الشعب اليمني جرائمها مهما طال الزمن. #DayofAction4Yemen #Yemen
ذو الجناح ()
@WHO Please listen to the voice of the Yemenis. They stood by their side against the terrorist Houthi militia, which destroyed every beauty in Happy Yemen.#HouthiTerrorismInYemen #Yemen
TOP ()
#DayofAction4Yemen Silence on what is happening in Yemen in terms of crimes. Come on, participate in those crimes. Tomorrow we must all come together like a building, to tell the world to stop the war on Yemen.
باسل جباري ()
A Houthi mine stole the seven-year-old girl Elham Shouei, her legs while she was playing her daily games with her brother, as usual in her village in Bani Hassan, Abs District Mines affect humans and animals #HouthiTerrorismInYemen @Yemen
حكيم الزمان اليماني ()
@MalekaA49481744 تتشابه الوجوه وتتآلف القلوب ولكن لا تتشابه
يمن فيوتشر ()
اليمن: الحوثيون يقولون ان الوضع التمويني بالمشتقات النفطية، وصل الى مرحلة حرجة في ظل عدم دخول اي شحنات جديدة الى موانيء الحديدة منذ بداية العام الجاري، ما ينذر بأزمة وقود حادة في مناطق نفوذ الجماعة المصنفة على لائحة العقوبات الاميركية. #يمن_فيوتشر

Liveuamap MiddleEast ()
Arab Coalition: Intercepted and destroyed an explosive boat in the southern Red Sea via @AlArabiya_Brk #Yemen
Lasse Brandt🇩🇰🇮🇸🇱🇹🇵🇸🌍 ()
@svendbrinkmann @frausing Demonstranterne fik stadig tæv, Palæstina er stadig under belejring, bomberne faldt stadig i Yemen. Venter lige til imorgen med optimismen 😏
The New Humanitarian ()
A new variant of the coronavirus originating from Brazil has been identified in Japan, an earthquake in Indonesia kills 34 people, injures 600+, and displaces 15,000. The latest in our Cheat Sheet:

Ana Kasparian ()
-Trump ripped up Iran Nuclear Deal -Increased Iran sanctions/assassinated their top general -Increased drone strikes at unprecedented levels -Ended reporting on civilian deaths -Vetoed bill to end US involvement in Yemen Maybe mention these when giving him credit on no new wars
Chris ()
1994 Crime Bill NAFTA War in Iraq / Afghanistan Wars in Libya, Yemen, Pakistan 2009 Coup in Honduras Wall Street bailouts Pro Fracking Talking down at Civil Rights leaders Gun walking into Mexico (aka arming cartels) Did I miss something?
لبنى الميسري ()
يافرحة ما تمت: وزير الخارجية الأمريكي بلينكين يقول إنه سيراجع على الفور تصنيف بومبيو للمتمردين الحوثيين في#Yemen مؤكدا أن التصنيف لا يحقق شيئًا عمليًا بشكل خاص في تعزيز جهود السلام ، بينما يزيد من صعوبة تقديم المساعدة.
SFD-Yemen ()
The Social Fund for Development-Yemen (SFD) is deeply saddened by the passing of Abdulkarim Ismail Al-Arhabi, the founder and former Managing Director of SFD. Yemen and SFD has lost one of the leading actors in development
The New Humanitarian ()
Extreme winter dzuds are becoming more frequent in Mongolia, threatening livestock and destabilising food security. More in our Cheat Sheet:
Action Foundation ()
"I just fled the war from Yemen and I came to the UK to seek safety, but in the end I might end up dying from coronavirus in a barracks." Conditions at Napier Barracks leave asylum seekers fearing for their lives
İnsan Vakfı ()
📍 Yemen Soğuk kış günlerinde içimizi ısıtan sıcak tebessümlere vesile olmaya devam ediyoruz. #yemen
Caribbean disaster ()
The #UN continues to worry about the consequences of the designation of Houthi rebels in Yemen as a terrorist organization, said a spokesman
Filiz🌸 ོ ()
Bir arkadaşım, köye gideceğim, derdi. Köy dediği yer de 2 saatlik yol. Halbuki köye gitmek dediğin öyle mi olur; en az 8 saatlik yolun olmalı, dinlenme tesislerinde durup gözleme neyin yemen lazım.
The Second Angle ()
Yemen continues to suffer at the hands of the Saudi-led coalition
Yusuf Metin ()
ANALİZ - (Yemen) BM ve Yardım Kuruluşlarının Hûsileri Terörist Olarak Sınıflandırmayı Reddetmelerinin Sırrı Nedir? Yûsuf Hammûd 📌Enternasyonalist baskı 📌Uluslararası kuruluşların baskısı 📌Bariz bir çelişki 📌Geri çekilmek değil 📌Çoklu motifler
Max Abrahms ()
For me the craziest thing about the war on terrorism wasn't that we spent so much on the military but that we ended up pursuing foreign policies that helped Al Qaeda from Iraq to Libya to Yemen and of course Syria.

Rep. Ro Khanna ()
The moral urgency to end the war in Yemen is unparalleled. We must cut off any funding to the Saudis used for their brutal war of attrition this week.
Javad Zarif ()
Dear colleague: You kick-started your cabinet career with arms sales to Saudi war criminals. Avoid absurd nonsense about Iran. Reality check: YOU are destabilizing OUR region. Stop protecting criminals who chainsaw their critics and use YOUR arms to slaughter children in Yemen.