#DisneyPlus Twitter Tendenze - Top Tweets | Italy
WAKANDA. FOREVER. Happy anniversary to Marvel Studios' #BlackPanther, coming to @DisneyPlus March 4. #DisneyPlus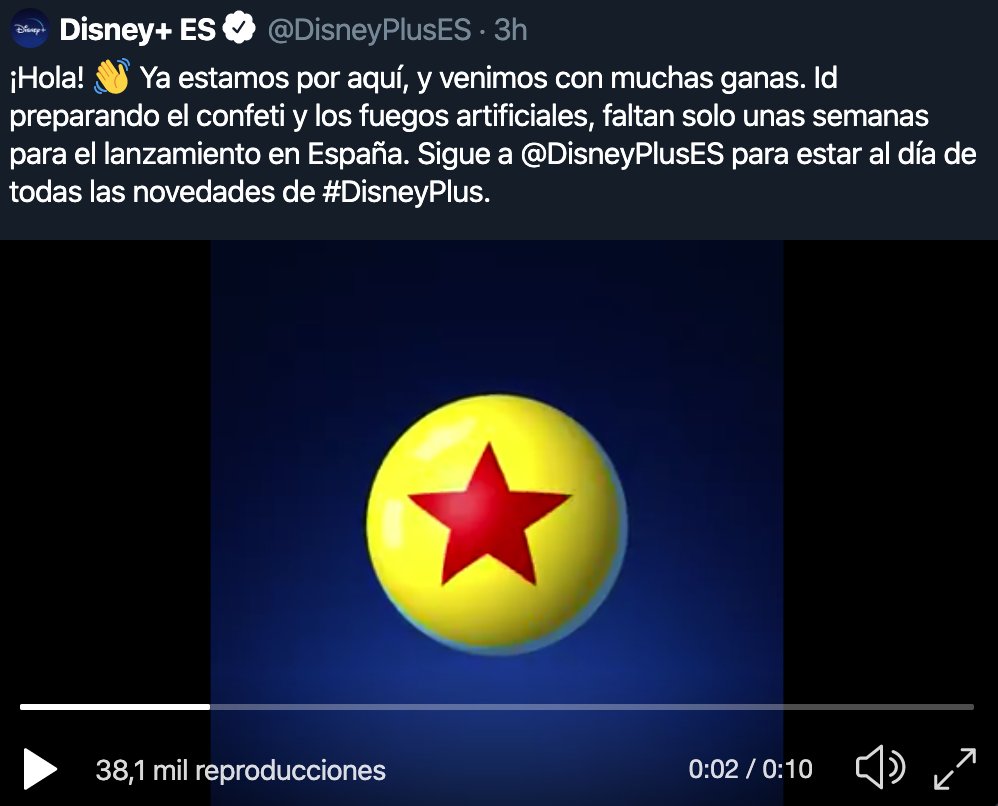 #DisneyPlus on Twitter
Disney+ Tea Party ()
Check the link below for everything coming to #DisneyPlus March 2020!
JWalk ()
@correctortimes4 @disneyplus The entire Simpsons library lives on Disney + no problem. The Simpsons is definitely adult and there's no issue with that series
LetsQuoteXmen ()
@disneyplus @MarvelStudios #SheHulk THANK YOU for the tweet- your absolutely right!'
Camryn Garrett ()
@ShaunieDarko @disneyplus Between this and all their "first queer characters" who appear for one scene that they can easily edit out, I'm beyond disgusted
Mr. Fantastic's Elongated Eggplant ()
I didn't know how much I would love this. I LOVE Allison Brie! I'm not mad at this possible casting AT ALL @disneyplus @marvel
Mori ()
Alle reden über #DisneyPlus und schließen das Frühbucher Angebot ab. Meine Frage: Kann man irgendwo sehen was drin ist? Zum Release? Und wie sieht es mit Smart-TV Apps aus? Bei Samsung? Bei Amazon Fire TV?
Noktara ()
Shawarmachine: MARVEL kündigt muslimischen Superhelden an #DisneyPlus
Dudeface Geoffy ()
Just preorder @disneyplus for € So excited, 24th March can't come quick enough
CINEMANIA_ES ()
Disney+ sale a 5 euros/mes en España con esta oferta especial #DisneyPlus
Sergionópolis ︽✵︽ ()
No entiendo a la gente que dice que #DisneyPlus por 60€ al año es ¡Que son 5 putos euros al mes!Entiendo que no te interese el contenido,que tengas ya muchas plataformas contratadas o que simplemente no quieras tenerlo por lo que sea.¿Pero por caro?Venga ya no jodá
#BeKind - Theversion.co.uk ()
Disney+ announce incredible annual subscription deal for only£! #Disneyplus #Disney
Mikel Antero ()
@Gaizka_Izagirre @disneyplus Orain dela urte batzu gobernura idatzi nuen. Erantzuna tamalgarria izan zen. Gezurra gainera, euskera umeei elarazteko ezjakintasun nabarmena isladatuz, aitzaki pare bat eta agur.

GamesRadar+ ()
Discount alert! You can save just over £20 on a year of Disney Plus UK if you act fast #DisneyPlus
Pol ()
A pocos días de que llegue #DisneyPlus, @XLSemanal dedica un reportaje a la burbuja de las plataformas en streaming. Gastan mucho más de lo que reciben y, al final, solo quedarán unas pocas, según los expertos.
Rafael Zeier ()
@fabnapp @disneyplus Musste auch herzlich lachen. Sehr schlau! Wird nachher mal gekauft.
Carmen. ()
Queda un mes para que #DisneyPlus me termine de quitar la poca vida social que me queda 🤗
Raz ()
So Disney+ is available to pre-order in the UK now - one year at £, not bad!
《Previously SERIES》 ()
#DisneyPlus 🔴NOVEDAD🔴 ¡¡ QUEDA UN MES !! Y lanza una nueva oferta por tiempo limitado: 1 año de suscripción a #DisneyPlus por solo 59,99€. Oferta válida hasta el 23 de marzo. Suscríbete ahora 🔽DENTRO VIDEO🔽
What's On Disney Plus ()
Disney+ UK & Ireland Pre-Orders Open With Special Discount Price #disneyplus
Disney+ España ()
5 mundos maravillosos te esperan. Aprovecha nuestra oferta por tiempo limitado: 1 año de suscripción a #DisneyPlus por 59,99€. Términos y Condiciones aplicables. Suscríbete ahora , disponible a partir del 24 de marzo. Oferta válida hasta el 23 de marzo.
Disney+ España ()
Ser cazarrecompensas es una profesión complicada. #TheMandalorian, una serie original de Star Wars, disponible el 24 de marzo solo en #DisneyPlus.
José Ignacio Stuven ()
#DisneyPlus llega oficialmente a Reino Unido 🇬🇧 , España 🇪🇸 , Italia 🇮🇹 y Francia 🇫🇷 el 24 de marzo. Ni rastro aún Latinoamérica 🙁
SHF ()
$DIS - No change: EU/UK launches covering equiv of US population - 300M+ - Mar 24 Then #StarIndia Mar 29 Looking to double existing #DisneyPlus subs within a matter of weeks, taking total $DIS subs to just shy of 100M mark This is the way ⚔️ $SPY $NFLX
Magic Mouse🐭 ()
Yesss, la com sur #DisneyPlus commence réellement entre les compte Twitter et Insta, et les affiches qui commmencent à apparaî On y est bientôt !
Sena, a clown ()
@MCU_Direct @disneyplus Kid Loki and now Kang? Young Avengers are coming yup
MCU Direct ()
RUMOR: The #Loki @disneyplus series will reportedly set up the introduction of Kang the Conqueror to the MCU!
Cinéfago ()
Pensar al ver este fotograma del anuncio de Disney+ ¡Anda! Han comprado también los derechos de DRAGON BALL #DisneyPlus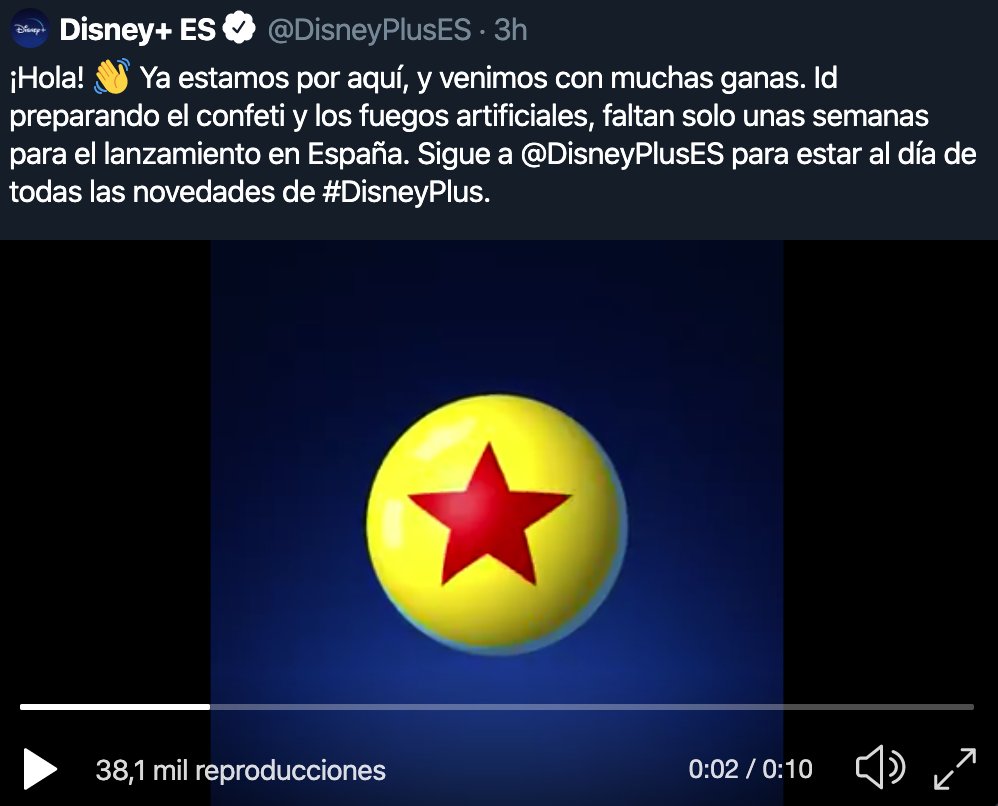 Marvel Entertainment ()
WAKANDA. FOREVER. Happy anniversary to Marvel Studios' #BlackPanther, coming to @DisneyPlus March 4. #DisneyPlus
Disney+ ()
WAKANDA. FOREVER. Happy anniversary to @MarvelStudios' #BlackPanther, coming to #DisneyPlus March 4.
Disney+ ()
Growing up is its own group project. Stream the first five episodes of #DiaryOfAFuturePresident now on #DisneyPlus!