Alex Smith está en tendencia en Twitter - Los tweets más populares | Mexico
Breaking: Alex Smith announced on Instagram that he is retiring.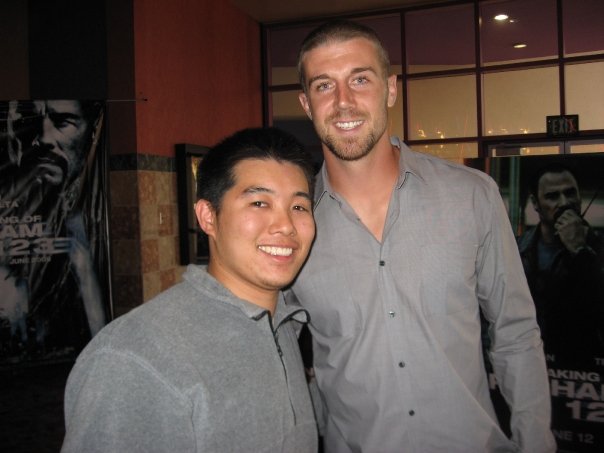 Alex Smith on Twitter
Jose Sanchez III ()
Alex Smith officially retired today after 16-years in the league, so how should his #49ers career be remembered? I discuss it along with @OmarDRuiz who eloquently summarizes his journey.
Scott MacArthur 🏳️‍🌈 ()
Alex Smith was a true pro. The 2011 NFC Divisional Round playoff win vs. New Orleans, capped by the game-winning TD pass to Vernon Davis, was his finest game as a 49er. He had a nice career and he leaves with his life and health intact and that was no sure thing not long ago.
Andre ()
Got to watch the warriors and the SF Giants win three titles each and somehow none of them compare to the joys I had watching #AlexSmith and Harbaugh lead the #49ers into battle. Wouldn't trade the memories for ten Super Bowls. Smith is a Niner for life. So long, Alex!
Justin 🎸 Reeves ()
So this BYU fan wants to wish Alex Smith the best. I was a 49ers fan until they did him dirt. Him playing this last season was probably the best story to come out of the NFL. Congrats!
Dan Treacy ()
Alex Smith 2005 - 1 TD/11 INT as a rookie 2008 - Misses season with injury 2009 - 5th OC in 5 years 2011 - NFC Title Game 2012 - Benched for Kaepernick 2013 - Traded to KC 2017 - First 4,000 yard season 2018 - Traded, devastating injury 2020 - Returns to go 5-1 Resilient.
ESPN 700 ()
LISTEN: Josh Furlong recaps Utah spring ball, Alex Smith's retirement + the Red Rocks 3rd place trophy at nationals @JFurKSL
D. Case🧢 ()
@adamrank I appreciate Alex Smith, a lot, but Jason Verrett was my 2020 vote for CPOY.
Jacob Bowman ()
What Alex smith did for the 49ers and chiefs is underrated and shitty chiefs never Liked him and Alex remembers
Social Sports Austin ()
Amazing how Alex Smith was able to make such a comeback after his terrible injury. Congrats on his career! #NFL #NFLTwitter
Neil Bhukta ()
@joe35279 Qnd another thing about Alex Smith. His career is why I hate giving up on Sam. Brees is q more extreme example but he was starting to get it by his third year.
WILLIAM M BAKSHI ()
Not surprising I saw this coming, I will say this Alex Smith was one of our best quarterbacks during the time when we needed an uplifting when things were looking down well done Alex Smith and I hope you enjoy your retirement and whatever Endeavors you decide to do

NBC Chicago ()
Alex Smith Announces Retirement From NFL

Dov Kleiman ()
Statement from Washington Football Team owner, Dan Snyder and his wife Tanya about Alex Smith. Washington released Smith earlier this off-season.
Justin Weyer ()
Alex Smith belongs in the @Chiefs ring of honor. No question. Thank you, Alex #ChiefsKingdom

WokeCutler ()
Aaron Rodgers watching fellow 2005 draft class member Alex Smith retire
KingdomWagon ()
Former KC Chiefs quarterback Alex Smith announces retirement from NFL
Brotha Man ()
@NFL I wish Alex Smith could have played a few more years. His comeback was one of the greatest I have ever witnessed in the NFL.
Genna Mark 🇺🇸 ()
Alex Smith is retiring! What a competitor & incredible human. He'll be missed in the #NFL but his next chapter finally starts. Hope it's exceptionally good to him! Here's his announcement.
Alex Scherer ()
Damn onions 😭 Alex Smith is just such a good dude. I'm happy he will be able to enjoy life with his family.
Tyler Worden ()
Few players have ever inspired me like Alex Smith has. Consider me a fan for life
MexDolfan ()
@trejogaray @NFL Pero los logros deportivos no respaldan su candidatura. Si a Zach Thomas me lo han relegado, no veo a Alex Smith entrando.
Coronel J.F. Cards ()
@49ers sign alex smith to a 1 year we need another viable backup trust we will need him in the near week 8
Samuel Lam ()
All the love for Alex Smith as he announced his retirement today. A professional with me every time I talked with him on the beat. I am happy that he as able to make that comeback after the leg injury and now can see what life is like outside of football. Good luck, Alex!
Pato Rebollar ()
No hay una historia de más resiliencia que la de Alex Smith de estar apunto de perder su pierna a regresar al emparrillado el año pasado. Fue una hazaña, hoy ha decidido colgar los botines. #NFLTwitter #AlexSmith
Dan Colucci ()
Congrats to Alex Smith on his retirement. Great career. I'm glad he got to come back on the field and finish it on his terms
Michael Shibley ()
If Alex Smith coming back from his injury is not a miracle, it is pretty damn close.
StarStock ()
Alex Smith hangs up the cleats after a 16 year career, which included winning Comeback Player of the Year in 2020, three pro bowl selections and four playoff wins!
Audacy Sports ()
NFL Comeback Player of the Year Alex Smith announces his retirement from football.

Bleacher Report ()
Alex Smith announces that he's retiring from the NFL after 16 seasons What a career 👏

SportsCenter ()
Breaking: Alex Smith announced on Instagram that he is retiring.