#SurvivorSeries está en tendencia en Twitter - Los tweets más populares | Mexico
For every ride I'll never forget, #ThankYouTaker #SurvivorSeries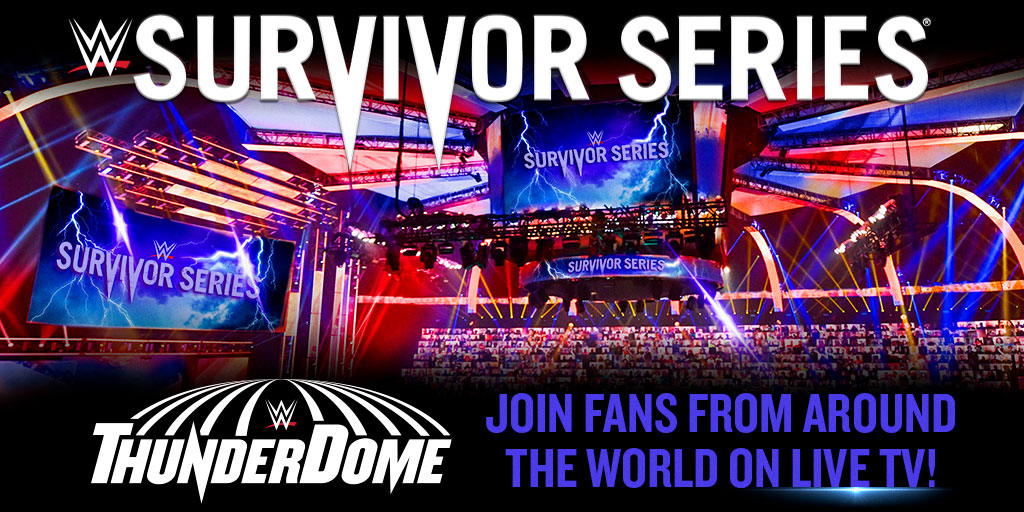 #SurvivorSeries on Twitter
Sam Roberts ()
I think I might have just gone and come up with the greatest #SurvivorSeries team of all time. Thanks again to the crew from @WWETheBump for having me on- they do a great job and I love doing it. And I swear, as long as I am breathing, I will win over @KaylaBraxtonWWE
Triple H ()
For every ride I'll never forget, #ThankYouTaker #SurvivorSeries
NoDQ.com: #WWE #SurvivorSeries 2020 news ()
Several wrestling stars reach out to Lana after an emotional video clip from her documentary goes viral #WWE #SurvivorSeries
BeatDownWrestling ()
#WWE SPOILER☎️ WARNING HEYMAN ON REIGNS (BEST PROMO OF 2020) ROMAN REIGNS SURVIVOR SERIES PROMO via #SurvivorSeries
Shaz Acess All Areas 🎬 ()
The legend lives on! @undertaker #Undertaker30 #SurvivorSeries
Kyle ()
What're the odds we see a Miz cash in tonight at #SurvivorSeries ? We discussed that live this past Thursday on @PodOnTheMark
JDA ()
AAAAAAAAHHHHHHH!!!!! WWE UNIVEEEERSSSSE!!! DON'T YOU DARE BE SOWAAAAAHH!! CLAP FOR THE 34TH #SurvivorSeries PPV AND FEEEEEEL THE POWAAAAAAAAAAHHHHH!!!!
Andrew Pereira ()
November 2020 marks the 30 years of @undertaker in the @WWE. Undertaker is very much respected by all the Wrestlers and also one of the loyal towards WWE. There will be no other wrestler like him in WWE ever again #Undertaker30 #SurvivorSeries
El calvo de la WWE ツ ()
Os dejo su evento para que también activéis recordatorio y disfrutéis de las 2 previas de #SurvivorSeries que haremos en el WWE 2K20
Álvaro Sipos ()
Hoy se cumplen 30 años del debut de Undertaker y supuestamente en #survivorseries se le hará una ceremonia de retiro. Por eso hablo del legado y de todo lo que ha significado el enterrador en esta nueva entrada #thankuTaker
El calvo de la WWE ツ ()
Siendo tan pocos creadores de contenido de WWE me parece absurda la idea de que tengáis que elegir entre un directo u otro, así que para no coincidir con mi hermano @Sabe99_ adelanto el directo un par de horas y así disfrutáis de ambos, hoy es día de #SurvivorSeries panitas!
Robbie Fisk ()
Tribute to @undertaker, what a absolute legend! Gonna be sad if he does bow out/retire completely tonight #Undertaker30 #SurvivorSeries
🎄 Sara ⛄ ()
Queria ver o #SurvivorSeries live logo à noite mas acho que não vou aguentar porque fiz noite ontem e hoje não vou dormir de dia
JAYANTH KUMAR REDDY ()
@WWEIndia 1. ROMAN REIGNS 2. RANDY ORTON 3. SETH ROLLINS 4. CM PUNK 5. UNDERTAKER #WWE #SurvivorSeries Make Your Team
Joe Scott ()
Tonight #SurvivorSeries Champion vs Champion @WWEAsuka v @SashaBanksWWE
Joe Scott ()
Tonight #SurvivorSeries Champion vs Champion @fightbobby v @SamiZayn
Si @ACEcastNation ()
Coming later today all new episode of #Wrestling Round Up Show like no other @KeepinItReaal_ w/ @ADThompson__ We will be previewing #SurvivorSeries & talkin as many wrestling stories as we can into 45 mins Watch video DL audio -
Chef Coley ()
New 5km PB ( 24:46 ) ✅ Day off ✅ Now we just need @Everton Win Host bingo madness online tonight with @Konnanov Then #SurvivorSeries 🍻
Ruby Riott ()
11-21-17! On this day 3 years ago my life changed forever. I debuted with two of the most incredible women I've ever known. Tomorrow @yaonlylivvonce & I head to #SurvivorSeries with our wolf patches on our jackets (for @sarahrowe) and defend the brand that brought us together. 💙
Wrestle_Club ()
#SurvivorSeries 2003 - Team Austin vs Bischoff. Shawn Michaels was fucking awesome towards the end against the three heels💯
𝐌𝐚𝐭𝐡𝐞𝐮𝐬 ()
Sério se Smackdown perder o #SurvivorSeries desse ano eu mudo minha foto de perfil para a logo do Raw!!!
𝐌𝐚𝐭𝐡𝐞𝐮𝐬 ()
Nossa Captain Smackdown Bayley pronta para trazer a vitória ao Smackdown!!! #SurvivorSeries
Sanjo Sam ()
Ahead of their much-awaited champion vs champion match at #SurvivorSeries 2020, Universal Champion Roman Reigns and @WWE Champion Drew McIntyre signed the contract. #RomanReigns
Nagew ()
Smackdown la non participation de Big E aux SurvivorSeries m' il devrait avoir son role a jouer durant le New Day vs Street Profits je pense. J'espere pas de
Nee Club é para todos ()
Esse #SurvivorSeries é sobre Drew McIntyre Vs Roman Reigns, único combate que importa. #SmackDown
#WWEColombia Sociedad ()
Noooo y la mesa partida en dos??? 😟 Nos pusieron a esperar hasta #SurvivorSeries ; Roman Reigns esta más agrandado que volverlo a decir. #SmackDown
WWE on BT Sport ()
Drew, you will always be my favourite number 2. - @WWERomanReigns This match is OFFICIALLY ON for Survivor Series! ✍️ #SmackDown #SurvivorSeries
Eshan ()
That was a great contract signing with Roman and McIntyre, so hyped for that match #SmackDown #SurvivorSeries
Kalind Patel ()
@_TeeRay @commandercrissy I thought it was pretty wholesome when Liv Morgan and Ruby Riott were smiling ear to ear during that pose. Is this their first #SurvivorSeries event?
WWE ()
Join fans from around the world live on TV! Register now for your virtual seat in the #WWEThunderDome at #SurvivorSeries on @WWENetwork!