Ski star Feuz laments lack of ski buzz in Olympic host my ex-wife | AP News - Associated Press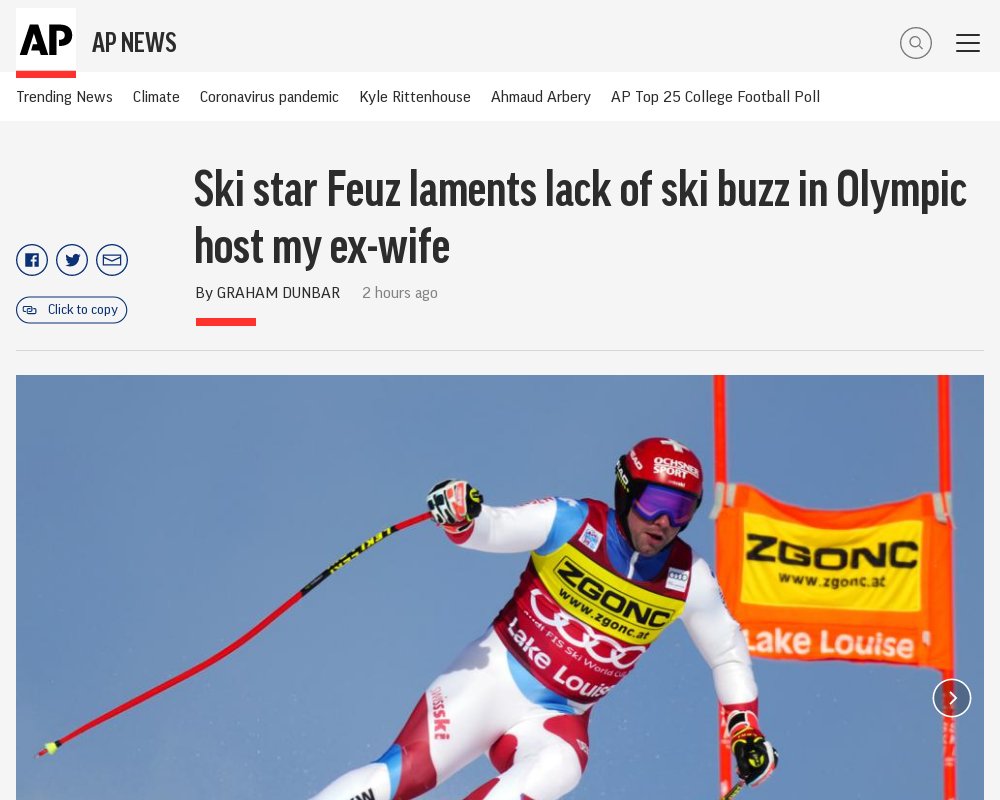 This copy is for your personal non-commercial use only. To order presentation-ready copies of Toronto Star content for distribution to colleagues, clients or customers, or inquire about permissions/licensing, please go to: www.TorontoStarReprints.com
GENEVA (AP) — Two-time Olympic medalist Beat Feuz is not thrilled about heading to Beijing for another Winter Games in a host nation with little ski tradition.
The expected favorite in men's downhill on Feb. 6 said in comments reported on Thursday by Swiss media that it was "unfortunate" his third straight Olympics will again lack the atmosphere of classic European races in January.
"They've been great competitions," Feuz said of racing at Sochi in 2014 and Pyeongchang in 2018, "but when you go after Wengen and Kitzbühel, it's a bit of a culture shock."
Only Chinese residents can buy tickets for Beijing Olympic events, including alpine ski races on courses created for the games at the new resort of Xiaohaituo in Yanqing district.
Still, there were no public health rules in place at the 2018 Olympics where Feuz took bronze in downhill and silver in super-G on a sparsely attended and quiet hill at Jeongseon, South Korea.
"I find it a shame that we're again in a place where skiing doesn't have a big tradition," said the Swiss star, who will turn 39 during the 2026 Olympics. Then, alpine racing will return to heartland venues at Cortina d'Ampezzo and Bormio in Italy.
Hosting the Olympics is key to Chinese President Xi Jinping's target to have 300 million people taking part in winter sports, even if the games venues get little natural snow. World Cup venues in Europe and North America routinely use artificial snow to help prepare more reliable surfaces.