The 3 Zodiac Signs Who Have Exceptional Weekly Horoscopes March 12 -18, 2023.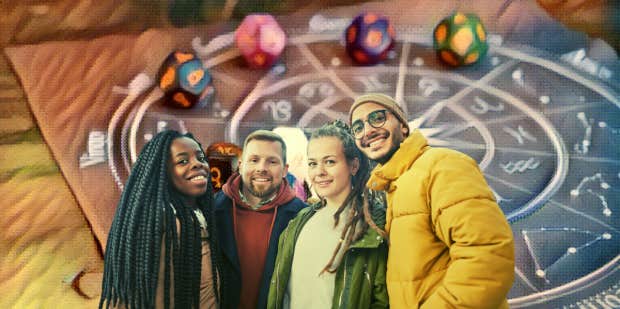 Its easy enough for zodiac signs to have a great week when you start your week off with the Sun trine Moon as your opener. This transit sets us up with fantastic moods and an optimistic spin on all we will do during the week of March 12 - 18, 2023. As we proceed into the Sagittarius Moon, we can take all of that super positive energy and put it towards focusing on something ambitious. With Moon trine Jupiter backing that up, we may feel we are destined for accomplishment.
Moon trine Venus makes us know that our love lives are in good shape, and with the Moon in Capricorn following shortly behind, we can take stock of the idea that our romantic situations are not only loving, but they are also realistic. In this sense, we gain confidence in the people we are with. Trust rules during this week because it has been earned.
If we feel as though we are being tested, its because of the many Neptune transits that come up; however, each time Neptune squares, trine or conjuncts with another celestial body, we benefit because this is essentially the planet that instills in our trust.
With Venus in Taurus coming our way towards the latter part of the week, we can finally relax in our love lives. No more fear, no more distrust, no more paranoia. Its time for romantic partners to kick back and simply enjoy their lives together. And as we pull together with the Moon in Aquarius as our final stop, we can feel good about the weeks to come, as we are finally at peace with our home lives and work situations.
Youve been on somewhat of a positive streak these days, and during the week of March 12 - 18, youll be saying things like, "Worrying is such a sham," and "Oh, Im not worried about money..." You have taught yourself that the idea of worrying is a waste of your precious time here on earth, and because you are so supported by the influential transits of the week, youll be a living example of your enlightened state of mind.
This week brings you every opportunity to flip out over things you cannot control, but you, being the Taurus you are, will witness what goes on around you. Your attitude will affect others, too, as they will see that if you can remain calm during the storm, so can they. You are the teacher this week, whether or not you sign on for the job. And it pleases you to know that you will be helping others.
Its a great week for you, Virgo, because you have finally learned one of the greatest lessons: its better not to take everything too seriously. Taking it all with a grain of salt is whats started to make your life feel easier and more tolerable. During the week of March 12 - 18, 2023, youll be fully supported by the universal transits as you put your newfound wisdom into practice. Youve come to see that respect gets you respect, and even though youve had a hard time showing certain people that you do indeed respect them, you havent really given this respect thing a solid chance.
This week, you get to see how you get what you give, and now that you see it in action, it becomes second nature to you. While it may be called rose-colored glasses, you may want to call it a pleasant week. Not too shabby.