Updates From Broadway's Reopening: Lin-Manuel Miranda Visits 'Hamilton'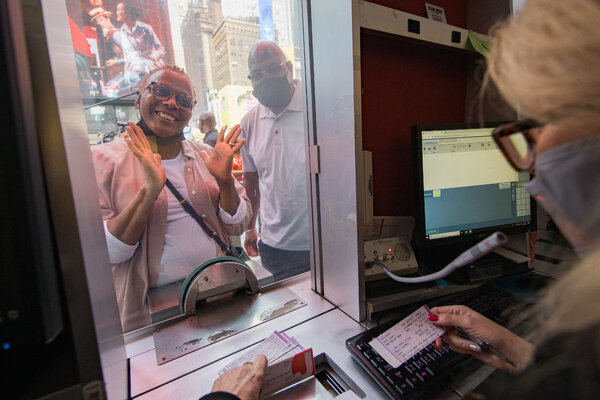 Some of Broadway's biggest shows, including "Hamilton," "The Lion King" and "Chicago," reopened tonight. "Lackawanna Blues" started previews and Kristin Chenoweth made a guest appearance at "Wicked."
Tonight, some of the biggest shows in musical theater, including "The Lion King," "Wicked" and "Hamilton," resume performances 18 months after the coronavirus pandemic forced them to close.
They are not the first shows to restart, nor the only ones, but they are enormous theatrical powerhouses that have come to symbolize the industry's strength and reach, and their return to the stage is a signal that theater is back.
Of course, this moment comes with substantial asterisks. The pandemic is not over. Tourists are not back. And no one knows how a long stretch without live theater might affect consumer behavior.
But theater owners, producers, nonprofits and labor unions have collectively decided that it's time to move forward. The reopening of Broadway comes as a variety of other performing arts venues, in New York and around the country, are also resuming in-person, indoor performances: In the days and weeks to come the Metropolitan Opera, the New York Philharmonic, New York City Ballet, Carnegie Hall and the Brooklyn Academy of Music will all start their new seasons.
"Broadway, and all of the arts and culture of the city, express the life, the energy, the diversity, the spirit of New York City," Mayor Bill de Blasio said at a news conference Tuesday. "It's in our heart and soul. It's also so much of what people do to make a living in this town. And that makes us great. So, this is a big night for New York City's comeback."
Top Tweets About The Story