Kevin Bacon responded to the death of his Tremors co-star Fred Ward with a touching tribute. When it came to battling underground worms I couldn't have asked for a better partner..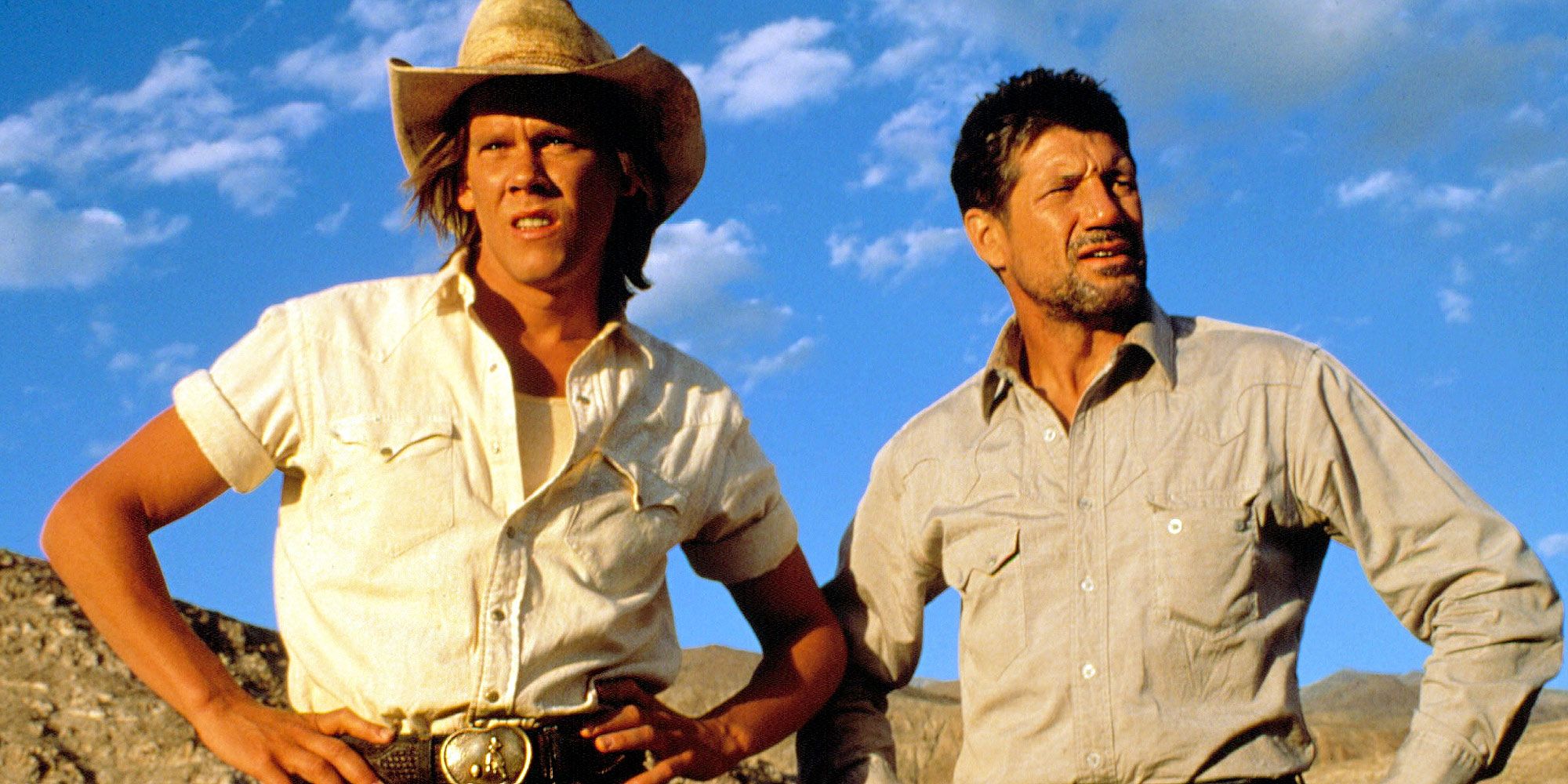 Actor Kevin Bacon has posted a response to the death of his Tremors co-star Fred Ward. The two actors starred in the 1990 horror comedy as two friends working in a small desert town that gets attacked by mysterious underground creatures. The film was directed by Ron Underwood and quickly became a cult classic, spawning a number of sequels, the first of which, Tremors II: Aftershocks, also co-starred Ward.
Ward passed away on May 8 at the age of 79, leaving behind a notable body of work throughout a 50-year career in Hollywood. Ward appeared in a number of revered films, including The Right Stuff, Silkwood, Remo Williams: The Adventure Begins, Miami Blues, The Player, and many, many more. Bacon started his career around the same time as Ward in the 70s and has had similar success throughout his career, from Footloose to A Few Good Men to Apollo 13 to Mystic River and beyond.
On May 13, Bacon posted a tribute to his Tremors co-star, saying he was "sad to hear about Fred Ward" and going on to elaborate about the time they spent together making Tremors in 1990. Bacon jokingly said that "when it came to battling underground worms I couldnt have asked for a better partner" and went on to say that hed never forget conversing with Ward about his love of jazz guitarist Django Reinhardt (whom Ward named his son after) during their "hot days in the high desert" making the cult classic film. Read Bacons full post below:
So sad to hear about Fred Ward. When it came to battling underground worms I couldn't have asked for a better partner. I will always remember chatting about his love of Django Reinhardt and jazz guitar during our long hot days in the high desert. Rest In Peace Fred. pic.twitter.com/WLOB0iVwkd
Bacon attempted a return to the Tremors franchise in 2017, filming a pilot for a Tremors TV series for Syfy, but the show failed to move forward and never aired. Aside from Ward appearing in the first sequel and Bacons attempt at a series, the duo never returned to the franchise together, even with the well-regarded chemistry they exhibited in the initial film. Wards last role was in HBOs True Detective season 2 as Eddie Velcoro, while Bacon recently wrapped production on The Toxic Avenger reboot.
Wards passing is a sad one, but his contributions to his craft will long be remembered. Bacons tribute is a testament to Wards legacy, showing an appreciation for one of the most celebrated films in both of their careers. While its too bad the duo never appeared in another film together, Tremors will long be remembered not only for being a great horror-comedy, but for the friendship and chemistry both actors shared in the film.
Paul Shirey is a senior news writer for Screen Rant. Formerly the Editor-in-Chief of JoBlo.com, he has over a decade of writing and reporting about the entertainment industry and has covered everything from Comic Con to CinemaCon to Star Wars Celebration, as well as covering numerous set visits and junkets all over the world. He is passionate about film, comics, TV and spends way too much on collectibles. A proud father, a combat veteran, dog lover, gym rat, coffee enthusiast and all around equal opportunity doughnut devourer, you can follow his daily exploits on Twitter and Instagram, as well as YouTube Videos on The Arctic Ninja Network.