Letitia Wright Speaks Out on Claim She Shared Anti-Vax Views on Black Panther 2 Set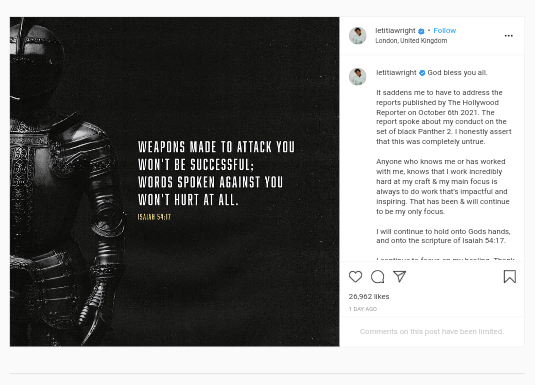 On Wednesday, Oct. 12, the Black Panther actress addressed a recent report by The Hollywood Reporter, in which the magazines source alleged she "espoused [antagonistic] views about the COVID-19 vaccines on the Atlanta production" of the upcoming sequel.
The report also stated, "The British actress quietly parted ways with her entire U.S. team of representatives in the wake of a backlash over posting a controversial anti-vaccine video in December."
The video she retweeted in December featured YouTubes On the Table host Tomi Arayomi, who questioned the efficacy of vaccines, particularly the coronavirus vaccines. Wright captioned the clip with a prayer emoji, seemingly endorsing Arayomis statements.
However, Wright denied speaking about her beliefs on the Black Panther set. "I honestly assert that this was completely untrue," she wrote on Instagram. "Anyone who knows me or has worked with me, knows that I work incredibly hard at my craft & my main focus is always to do work thats impactful and inspiring. That has been & will continue to be my only focus."
Following THRs publication of the article, many Marvel fans poked fun at the situation. One person joked, "not letitia wright spreading the antivax agenda on black panther set when the wakandans wouldve been the first population to make the vaccine."
Wright similarly faced backlash when she posted the video in December. At the time, she addressed the criticism in a since-deleted tweet, writing, "if you dont conform to popular opinions. but ask questions and think for yourself....you get cancelled."
When one Twitter user told the actress she was disappointing her fans, Wright replied, "not my intention to make anyone upset Nor am I saying dont take it. Im just concerned about whats in it thats all. Isnt that fair to question or ask?"
Her followers implored her to do further research about the vaccine before speaking out, but Letitia stated, "[I] still have a right to worry about how my body will react. Its not lazy, its thinking for myself."
He later stated that he was merely joking, explaining he was "jabbing at her for her tweet rhyming letitia with felicia." Cheadle then added that the video she shared was "hot garbage."
"every time i stopped and listened, he and everything he said sounded crazy and fkkkd up," Cheadle said of Arayomis video. "i would never defend anybody posting this. but i still wont throw her away over it. the rest ill take off twitter. had no idea."