Korakuen Hall saw new IWGP Junior Tag Team Champions crowned tonight, as Francesco Akira and TJP took gold for the United Empire! #njroad report: Watch the replay free! #njpw.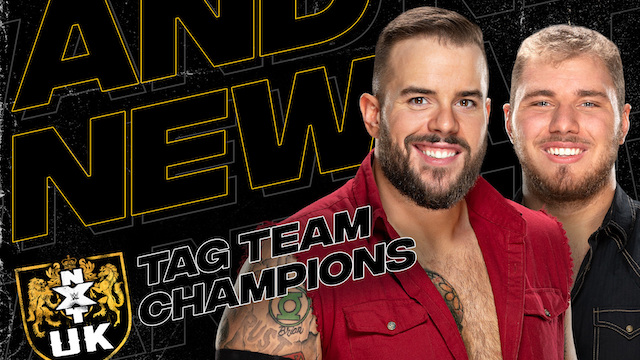 The main event of June 20's New Japan Road event would see the United Empire side of Francesco Akira and TJP make their first challenge to the IWGP Junior Heavyweight Champion team of Six or Nine, Ryusuke Taguchi and Master Wato. 
TJP would start with Taguchi, the United Empire keeping the Coach in place before finding his wrist lock and headscissors countered. With tags both sides, Wato and Akira would have a more strike based exchange, Wato gaining an edge with a rolling sole butt, and though the United Empire side woul dfire off a double team dropkick, it would be the champions in charge as Wato dived to his opponents on the floor. 
Akira and TJP would be victim of some double team B-Triggers in the ropes, but a low bridge sending Taguchi outside would turn the match in their favour. An Akira tope con giro and the challengers took over, separating the Coach from his blue haired protege, who try as he might couldn't make the tag. Even when he did tag Wato it was out of sight of the referee who was drawn to the corner by Akira; the challengers showing chemistry well beyond their time teaming. 
Taguchi was finally able to land a double DDT to his challengers, bringing Wato in for a massive tope con giro. A springboard uppercut would get two for Wato, as did an elevated German suplex, but the blue haired prodigy would taste his own German from the Italian Akira when TJP helped break up a Six or Nine double team attempt.