NXT recap & reactions: I now pronounce you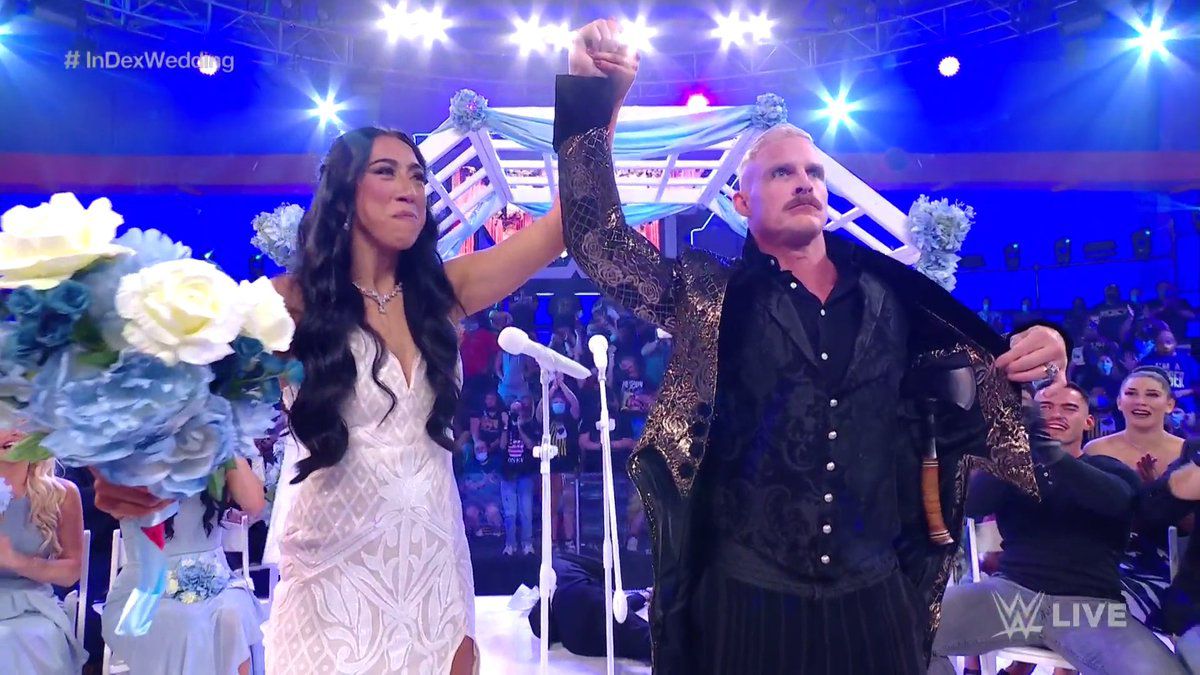 Ladies and gentleman, boys and girls, children of all ages! Welcome to the Capital Wrestling Center WWE Performance Center brightly-lit home of NXT 2.0! I don't know about you, but when I look at that logo and that arena, I think of Zumba pants and the mid-1990s. The show looks more like an independent wrestling promotion now than it did before, which is certainly a choice.
The weirdest thing about the show is the "NXT 2.0" title and constant references. It doesn't make sense, it's weird branding, and once again, evokes the '90s. Do you remember dial-up modems, parachute pants, and cassette decks? NXT 2.0 remembers.
I saw it with my own two eyes and heard it with my ears. While he didn't have much to say by way of vows—a thumbs up goes a long way apparently—he did muster the brain power to say "I do." It was a great payoff and character moment, while also proving me wrong in the process.
The story wasn't building to an end of Indi Hartwell and Dexter Lumis, or even a fight between Dexter and Johnny "Daddy" Gargano. This was was all about Dexter's development as a character. He showed human characteristics, made two genuine connections, and finally spoke. The fact that his first words were inspired by the woman he loves is pretty profound and beautiful. And yeah, it's silly too because it's wrestling.
The wedding was worth the wait and every single minute NXT spent on it. I don't drink but I'll gladly put a glass of tea or water in the air for the happy couple. Especially because the groom carries an axe in his jacket and I don't want that type of static.
For those of you late to the party, Samoa Joesph relinquished the NXT Championship due to injury. What injury? The world may never know, but his absence means the numero uno contender Fatal 4-Way turned into a coronation match for a new ruler of the NXT 2.0 roost.
Would it be former Million Dollar Champion LA Knight? Or perhaps Pete Dunne? Would Tommaso Ciampa get to finish a story that was so rudely interrupted due to injury all those years ago? Or would Kyle O'Reilly finally get the gold around his waist?
Yeah, about that last option. Earlier in the night, Dunne and Ridge Holland rushed Kyle like it was Black Friday and he was a Walmart security guard. With Kyle out of commission and a main event spot open, we got the new cat Von Wagner. Intrigue, right?
It was clear from the opening bell this night belonged to Ciampa. He had the best story going in, and did everything he could to make a four-way dance into a one-on-one competition with anyone in his way. He was also the most focused. Pete Dunne clearly had Kyle on the brain, LA Knight had issues earlier in the night that we'll get to later, and yeah, the new guy wasnt winning. This was a match built around one man's determined to do anything in his power to get back what he never loss.
Top Tweets About The Story