'SNL' Literally Sh*ts The Bed In Johnny Depp Vs. Amber Heard Trial Cold Open.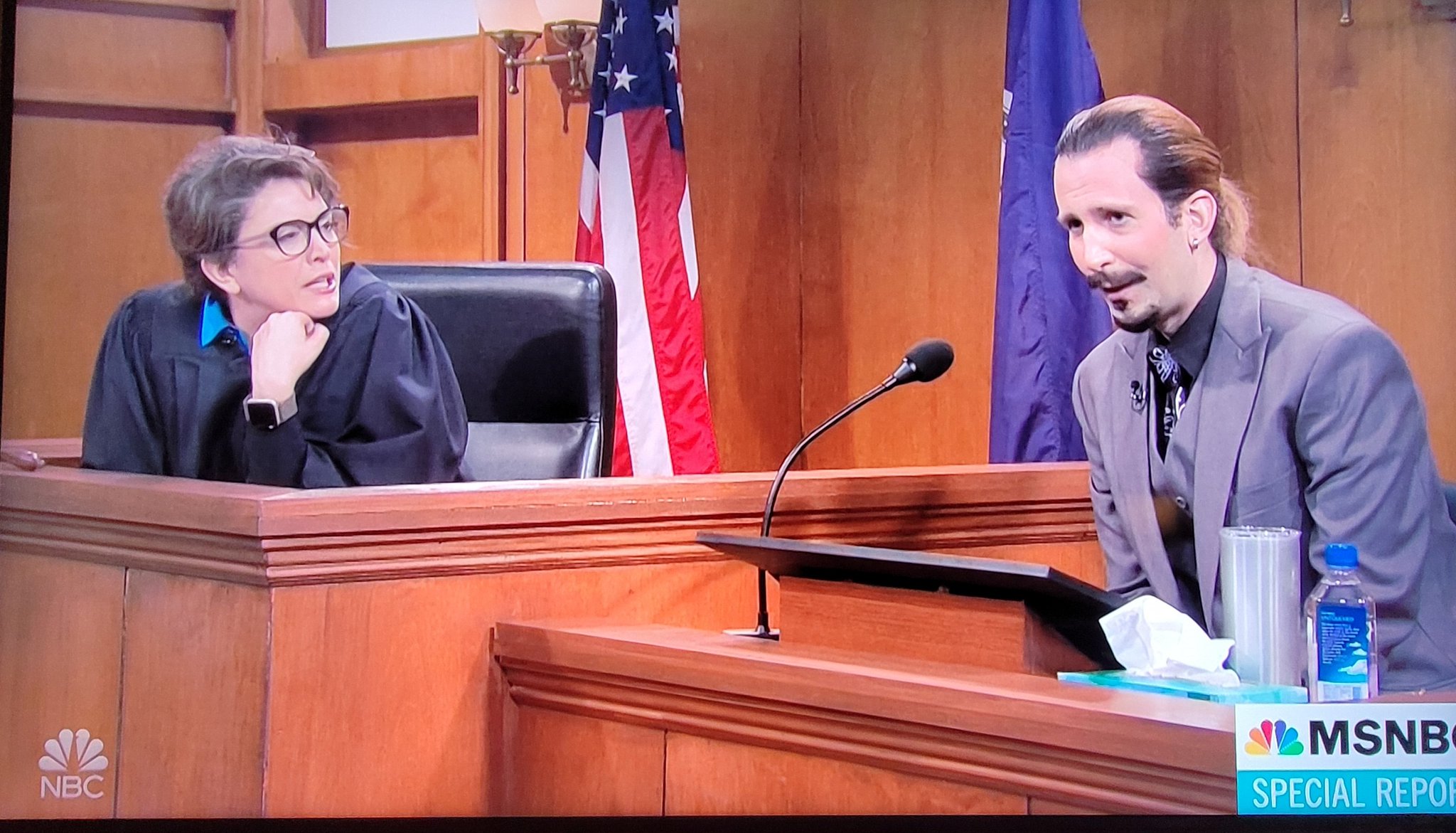 There's been a lot of defecation slung around the past few weeks in Johnny Depp's ongoing $50 million defamation trial against Amber Heard. Tonight, Saturday Night Live successfully threw some of its own against the wall to see what would stick in the cold open.
"I felt very very sad," said a bearded and ponytailed Kyle Mooney as a grinning Depp on the stand when asked by a lawyering Aidy Bryant what was his reaction to discovering "fecal matter in your bed." Hearing frequent objections from cast member Heidi Gardner as Heard's main lawyer Elaine Bredehoft over the messy line of questioning, Judge Penny Azcarte, played on SNL by a bespectacled Cecily Strong, put the whole cold open and the whole real-life trial in perspective.
"I'll allow it because it does sound fun, and this trial is for fun," Strong's Judge Azcarte exclaimed in what was one of best takes on the move star legal dust-up and one of the best SNL cold opens this almost over 47th season.
Set to resume on May 16 in Virginia after a one week pause, Depp and Heard's mutual dirty laundry display has come back to the alleged 2016 incident where feces was found on the actor's side of the duo's bed in their DTLA pad. Supposedly one of the last straws for Depp, the defection was initially said by a Coachella-bound Heard to have been by the couple's small dogs.
Testifying in the ongoing Old Dominion trial, Depp staffer Starling Jenkins II told the court on April 28 that Heard informed him on a ride out to the desert music festival that the "human fecal matter," as Depp called it in his own testimony, was "a horrible practical joke gone wrong."
"We don't have to watch any of it, but we want to, so hush," Strong's judge added with perfect timing of fictional security tapes. "Mr Depp, are you finding this trial amusing," she went on to say, in a nod to the actor's behavior on and off the stand in real-life the past several weeks. "So am I, you're bad Captain Jack," she responded with shout out to the blockbuster Pirates franchise and a raised wine glass to  a "yes" from Mooney's Depp.
Viewing more of that mock surveillance camera footage of Depp security guards, portrayed by Kenan Thompson and Ego Nwodim, discovering the stained bed, Strong's Azcarte went on to say: "I think I've seen enough. This trial has given me a lot to consider. On one hand, I believe Mr. Depp story. But on the other hand, your constant little smirk lets me know that this is not the first woman you made so mad that she pooped in your bed."