"This is the mother of my children and I apologize for any of stress that I have caused." @kanyewest speaks on co-parenting with Kim Kardashian..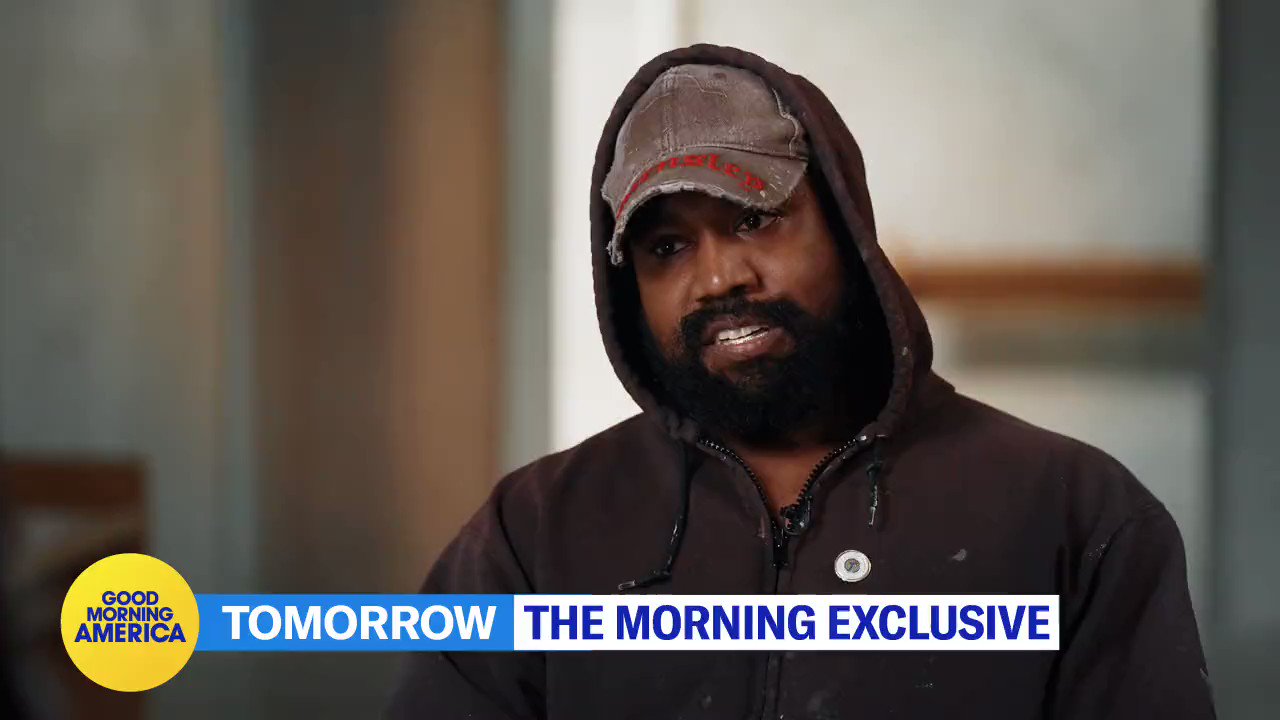 Ye said he has "new respect" for ex-wife Kim Kardashian and felt sorrow for causing stress in the relationship since Kardashian filed for divorce in February 2021.
"This is the mother of my children, and I apologize for any stress that I have caused, even in my frustration, because God calls me to be stronger," Ye, the recording artist and entrepreneur formerly known as Kanye West, said in an exclusive morning interview that aired Thursday on "Good Morning America." "I need this person to be less stressed and of the best, sound mind and as calm as possible to be able to raise those children at the end of the day."
In a wide-ranging interview that covered Donda Academy, a school he started in California, to his plans to once again run for president, Ye repeatedly circled back to the responsibility that he has as a celebrity and his insistence that he have a say in the future of the four children he fathered with the global social media and reality TV star.
"As a dad and as a Christian. And I have a right to have a voice on what my kids are wearing, what theyre watching, what theyre eating," he said. "I have a platform where I get to say what so many dads cant say out loud."
Ye said he "absolutely" wants his children to attend Donda Academy, "a gospel school" he created named after Donda West, his late mother who chaired the Department of English, Communications, Media Arts and Theatre at Chicago State University on Chicagos South Side. She died in 2007.
The private school, which Ye said was originally named the Yeezy Christian Academy, is located in Simi Valley, California. According to the schools website, the academys mission is to help students "learn fundamentals, grow in their faith, and experience two enrichment classes."
Ye said the school gives "kids practical tools that they need in a world post the iPhone being created." He said the school is in its third year and has an enrollment of 82 students.
"So many schools are made to set kids up for industries that dont even matter anymore," he said, pointing out that the focus areas of the school is "on practical skills" such as engineering, computer programming and farming. He added that the school has tutors who focus on specific areas and could "actually turn your kids into, like, geniuses."
Ye told ABC News he hired a female basketball coach to help improve the skills of North, his 9-year-old daughter. He also helps coach North "every morning," he said. The effort, Ye added, showed dramatic results. "She trained every day and I really stayed on her. And when she came back, she had the confidence," he said.
Ye, who created the fashion brand Yeezy, also addressed the dissolving of his partnership with the Gap. Last week, Ye sent the Gap a letter terminating the 10-year partnership, saying the clothing retailer breached its contract to sell his Yeezy Gap line of apparel. Ye said he plans to open his own line of stores simply called YZY.
Mark Breitbard, Gap brand president and CEO, said the company and West are "not aligned" in how they work together, according to a memo sent to employees and reviewed by the Wall Street Journal. "Simply put...while we share a vision how we work together to deliver this vision is not aligned," Breitbard wrote, according to the Journal.