Viral YouTuber MrBeast Officially Recreates Squid Game IRL, And Sh*t Got Real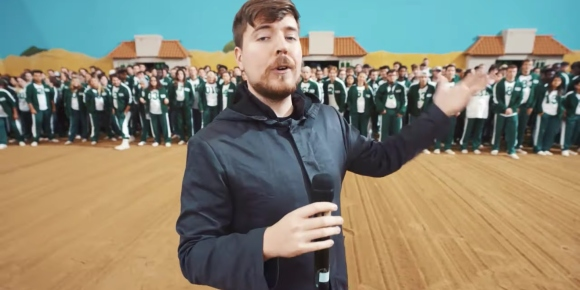 It was so loved that, back in October, YouTube sensation MrBeast announced that he was going to be hosting a real-life version of the show with real people competing to win a cash prize.
On November 24 (EST), the weeks of planning finally came to an end when MrBeast released the video titled "$456,000 Squid Game In Real Life!" In this version of the game, there were 456 players all competing to win a whopping $456,000 USD.
As expected, it started with the iconic "Red Light, Green Light" game. Although the set was pretty damn realistic, there would be no deaths. If someone was eliminated, a pack on their chest would burst to replicate the idea of being shot.
Like in the real show, a large majority of the contestants were eliminated, leaving just 232 participants left. They then went on to compete in the class games such as the Dalgona cookie challenge and tug-of-war. Each time, the numbers went down and the chance to win a life-changing amount of money increased.
What started as a bit of fun eventually began to seem more real as it got to the marbles game. Like in the show, most of the contestants were teamed with people they were close to, such as best friends, and had to battle each other.
Even though there was no chance of actual death, as the teams finished their games, the atmosphere definitely changed as things seemed to become more real.